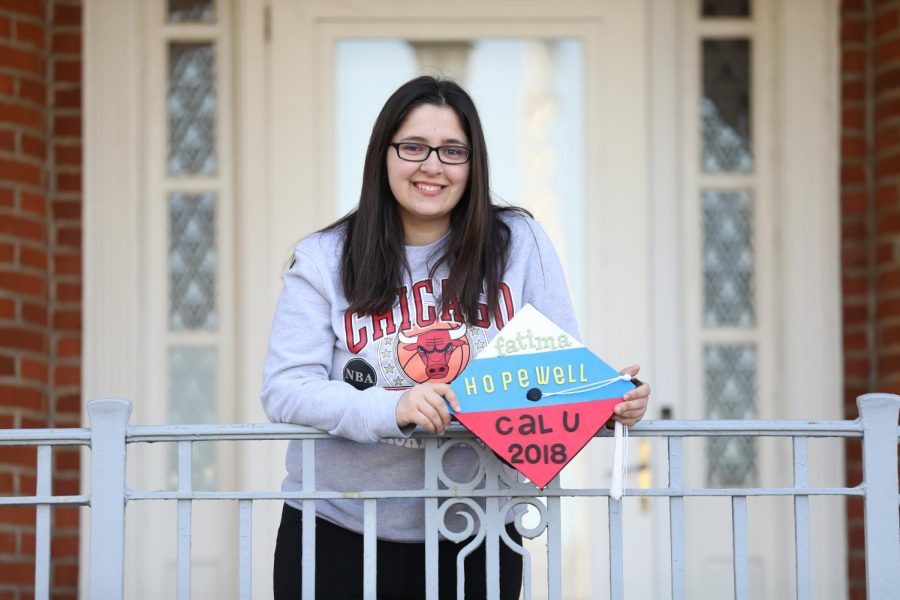 Now a graduate of California Univ. of Pennsylvania (May 2018),
Rachael Kriger
is current a videographer and the multimedia coordinator at Lutheran SeniorLife in Zelienople, Pa.
After graduating from Cal U of PA, she worked at the Butler Eagle for a temporary period and then ventured to DICK'S Sporting Goods as a creative copywriter in the marketing department. She has now been with Lutheran SeniorLife since November 2020.
At Cal U, McKriger studied English with a concentration in Journalism, along with a minor in Sociology.  She was a member of CUTV and the Society of Professional Journalists. With the Cal Times, McKriger started out as a writer her first semester (fall 2015) and then became the Sports Editor in her second semester (spring 2016). She was Editor-in-Chief for two of her three years in undergrad.
In December 2020, Rachael will graduate with her M.A. in Media Communication from Point Park University. She is currently studying for her second master's degree, in Pastoral Theology from St. Joseph's College in Maine.
Links to some of Rachael Kriger's professional work
Rachael Kriger, Editor In Chief
May 02, 2018

A bittersweet goodbye: Thank you, Cal Times

(Story)

May 01, 2018

B.o.B Takes Stage at Cal U

(Story)

Apr 30, 2018

Rachael Kriger's Top 5 Cal U sports moments

(Story)

Apr 11, 2018

SAI budget passes with a final vote of 71-25

(Story)

Apr 10, 2018

Sorry, Mark: Lying gets you nowhere up the ladder

(Story)

Apr 10, 2018

Jae'len Means on his success in track, upcoming tournaments

(Story)

Apr 09, 2018

Zlatan Ibrahimović: Another piece of football royalty lands in MLS

(Story)

Apr 03, 2018

Cal U SPJ chapter attends regional conference at Point Park

(Story)

Mar 27, 2018

K-Love the Poet takes the Vulcan Theatre stage

(Story)

Mar 27, 2018

Carter Krick on final season, leadership among seniors

(Story)

Mar 26, 2018

Christen Press-Houston Dash drama a bad look for NWSL

(Story)

Mar 26, 2018

An end of an era: Highlights for the last Warped Tour

(Story)

Mar 26, 2018

VAR: Is it good for soccer or does it delay?

(Story)

Mar 08, 2018

Concert Review: Lights takes on Mr. Small's Theatre

(Story)

Mar 02, 2018

Carlos Cordeiro named next U.S. Soccer president

(Story)

Feb 28, 2018

Pleas for action rise after Parkland school shooting

(Story)

Feb 27, 2018

Curtis ready for new, challenging adventure at Cal U

(Story)

Feb 26, 2018

Top 10 moments from the Pyeongchang Olympics

(Story)

Feb 26, 2018

Pennsylvania's USL clubs: Penn FC & Riverhounds SC

(Story)

Feb 25, 2018

Rachael's Restaurant Review: El Patron

(Story)

Feb 19, 2018

Boston Breakers folding the NWSL's fault

(Story)

Feb 15, 2018

McBride confident in team, despite injuries

(Story)

Feb 13, 2018

This Is Us reveals Jack Pearson's cause of death

(Story)

Feb 11, 2018

Upcoming shows to see in Pittsburgh

(Story)

Feb 09, 2018

Olympians take center stage in Pyeongchang

(Story)

Jan 31, 2018

Women's basketball on track for PSAC playoffs

(Story)

Jan 31, 2018

Hahn exceeding sophomore expectations

(Story)

Jan 29, 2018

An in-depth look at the U.S. Soccer election

(Story)

Jan 25, 2018

Movie Review: The Greatest Showman

(Story)

Dec 05, 2017

America's Most Dangerous Sport

(Story)

Dec 05, 2017

Parsons prepared to lead the Vulcans

(Story)

Dec 04, 2017

Concert Review: Knuckle Puck "Shapeshifter" Tour

(Story)

Dec 04, 2017

NWSL's growing pain shown through FC Kansas City

(Story)

Dec 02, 2017

A Letter from the Editor In Chief: Fall 2017

(Story)

Nov 16, 2017

Cordell Smith making his name known

(Story)

Nov 08, 2017

Concert Review: Macklemore's Gemini Tour

(Story)

Oct 31, 2017

Save the Crew: A tale of betrayal in MLS

(Story)

Oct 31, 2017

McBride looking forward to second season in charge

(Story)

Oct 31, 2017

Book Review: Forward: A Memoir

(Story)

Oct 18, 2017

Nick Barilla returns to Cal U, Underground

(Story)

Oct 18, 2017

To Kneel or to Stand: The Debate

(Story)

Oct 12, 2017

Rick and Morty leaves fans wanting more

(Story)

Oct 11, 2017

U.S. Soccer, it's time to clean the house

(Story)

Oct 09, 2017

This Is Us changing television drama

(Story)

Oct 08, 2017

Interim chancellor Whitney visits Cal U

(Story)

Sep 27, 2017

Artist Spotlight: High Dive Heart

(Story)

Sep 24, 2017

Emmys bring surprise and – Sean Spicer?

(Story)

Sep 22, 2017

Michaela Colon relishes opportunity to start

(Story)

Sep 18, 2017

Greene, Smorey dominating Vulcans offense

(Story)

Sep 15, 2017

Letourneau celebrates 162 wins with Vulcan volleyball

(Story)

Sep 03, 2017

NWSL needs to raise their salaries for players

(Story)

Aug 29, 2017

Newspapers are dying, but the media isn't

(Story)

Aug 27, 2017

Class of 2021, upperclassmen welcomed at Cal U

(Story)

Aug 11, 2017

Upcoming concerts to see this fall semester

(Story)

Jul 17, 2017

Album Review: Imagine Dragons 'Evolve'

(Story)

Jun 01, 2017

Concert Review: Chance The Rapper

(Story)

May 10, 2017

Book Review: When Nobody Was Watching

(Story)

May 02, 2017

Is there a "just war" in Syria?

(Story)

May 02, 2017

A Letter from the Editor In Chief

(Story)

May 02, 2017

Veronika Mikulis' on-court presence

(Story)

May 02, 2017

NWSL makes significant, and popular, strides

(Story)

May 02, 2017

Concert Review: Mayday Parade & Knuckle Puck

(Story)

May 02, 2017

Cal U hosts 3rd annual Strike a Spark conference

(Story)

May 01, 2017

Does the MLS have a chance in Pittsburgh?

(Story)

Apr 26, 2017

Cal U students create cardboard cities

(Story)

Apr 26, 2017

Students recognized at annual Student Affairs luncheon

(Story)

Apr 15, 2017

Let's talk about St. Petersburg

(Story)

Apr 15, 2017

SPJ, Cal Times members take on Detroit for conference

(Story)

Apr 03, 2017

U.S. Soccer mandates players to stand – right or wrong?

(Story)

Mar 29, 2017

Published author reads fiction at English department event

(Story)

Mar 28, 2017

Joe Yourgal talks senior baseball season

(Story)

Mar 24, 2017

Book Review: The Things They Carried

(Story)

Mar 19, 2017

Miki Glenn on final college season

(Story)

Mar 03, 2017

An Ode to March Madness II

(Story)

Feb 25, 2017

Lana Doran on senior season, ACL injury

(Story)

Feb 17, 2017

Cal U Hockey thrives in 2016 season

(Story)

Feb 15, 2017

Trump Travel Ban: For and Against

(Story)

Feb 06, 2017

Super Bowl LI: Top Five Best Commercials

(Story)

Feb 02, 2017

Vulcans eyeing potential playoff seed

(Story)

Feb 01, 2017

Grayson Allen and lax NCAA suspensions

(Story)

Jan 27, 2017

Arganbright talks Senior Night and senior season

(Story)

Jan 24, 2017

Vulcan Men's Basketball looking for more PSAC wins

(Story)

Dec 12, 2016

Why the NWSL deserves more respect

(Story)

Dec 12, 2016

Ramon Creighton hopeful during freshman season

(Story)

Nov 21, 2016

For or Against: The Donald Trump Protests

(Story)

Nov 18, 2016

McBride leads Vulcans in a "refresh" season

(Story)

Nov 11, 2016

Luka Anđušić ready for new, challenging junior season

(Story)

Nov 05, 2016

Cal U, Edinboro will battle the PSAC West out on ESPN3

(Story)

Nov 01, 2016

Concert Review: Colbie Caillat's "Malibu Sessions Acoustic Tour"

(Story)

Oct 14, 2016

Mike Keir relishes successful start to the season

(Story)

Oct 06, 2016

A perspective on sports through Fernández and Palmer's deaths

(Story)

Oct 06, 2016

Vulcan Football players reflect on their season thus far

(Story)

Sep 25, 2016

Vulcan Women's Soccer Looks To Rebound After Four Losses

(Story)

Sep 09, 2016

Why I'm With Colin Kaepernick

(Story)

Aug 30, 2016

Solo Faces Unfair Punishment, Lochte Gets Off Easy

(Story)

Aug 26, 2016

Cal U Freshmen Welcomed at Fall 2016 Move-In Day

(Story)

May 02, 2016

Honored to be the next Editor-In-Chief

(Story)

May 02, 2016

Recognizing Cal U's Graduating Seniors

(Story)

May 02, 2016

Cal U alumnus, current students play at the Hard Rock Café

(Story)

Apr 25, 2016

James Harris discusses Cal U Pro Day event

(Story)

Apr 15, 2016
Apr 15, 2016

Why the Panama Papers really are a big deal

(Story)

Apr 08, 2016

Mortuary Science Major Inspired by Mother's Passing

(Story)

Apr 08, 2016

Reicoff focused on season, not HR record

(Story)

Apr 01, 2016

Glenn looks back on career-high season

(Story)

Apr 01, 2016

An Ode to March Madness

(Story)

Mar 25, 2016

Paige Wright remembers final Vulcan basketball season

(Story)

Mar 25, 2016

NFL? CFL? James Harris attends NFL Regional Combine

(Story)

Mar 18, 2016

Arganbright back from NCAA with bronze trophy

(Story)

Mar 18, 2016

Richard Smith reflects on senior season and what's next

(Story)

Feb 26, 2016

Sagl ready for NTC games, regular season for softball

(Story)

Feb 19, 2016

Irving looks forward to 2016 track season

(Story)

Feb 19, 2016

Relationship between athletes and media

(Story)

Feb 12, 2016

Manning goes out on top in what could be final season

(Story)

Feb 12, 2016

What should the NFL do about Johnny Manziel?

(Story)

Feb 12, 2016

Top Five Best and Worst Super Bowl Commercials

(Story)

Feb 05, 2016

Cal U Swimming will send seven to PSACs

(Story)

Feb 05, 2016
Jan 29, 2016

Cal Times Athlete Spotlight

(Story)

Jan 29, 2016

Cal U Swim Team look toward PSAC, Pitt Meets

(Story)

Dec 04, 2015

Harris looks ahead to bright future

(Story)

Dec 04, 2015

Supporting the Syrian Refugees in America

(Story)

Nov 20, 2015

Violence by NFL Athletes

(Story)

Nov 20, 2015

Cal Volleyball seniors lead team to playoffs

(Story)

Nov 16, 2015

Despite playoff exit, Kubik ends Cal career on high note

(Story)

Nov 16, 2015

Why Do Women Soccer Players Make So Much Less?

(Story)

Nov 06, 2015

Led by Arganbright, Cal Swimming team begins season

(Story)

Nov 03, 2015

Cal women's soccer needs one win to make playoffs

(Story)

Oct 22, 2015

Golf teams finish fall season at PSAC Championships

(Story)

Oct 19, 2015

New extra point rule causing concerns for NFL kickers

(Story)

Oct 19, 2015

Led by dynamic duo, Vulcan tennis dominant again

(Story)

Oct 08, 2015

Julie Friend looks to qualify for the NCAA championships for the second second straight season

(Story)

Oct 01, 2015

Cal U twirlers hard work pays off in the Fall

(Story)

Sep 25, 2015

Vulcan volleyball looks to rebound from tough start

(Story)

Sep 18, 2015

Vulcan men's soccer team in good hands under Sabic

(Story)

Sep 11, 2015

From Montreal to California, Pennsylvania

(Story)

Sep 04, 2015

Pros: Michael Vick Signing with the Pittsburgh Steelers

(Story)

Sep 04, 2015

New Start, New Season for Women's Soccer Team

(Story)