Greene, Smorey dominating Vulcans offense
Hang on for a minute...we're trying to find some more stories you might like.
The California University of Pennsylvania football team has only featured in two games this season, and Tom Greene and Luke Smorey already have two touchdowns apiece.
The two seniors – who are both wide receivers – have been favored targets of quarterback Michael Keir this season. They can be seen everywhere together: on the same side of an offensive play, talking to each other when the defense is on the field and even directing younger players together.
Needless to say, the two have a good relationship.
However, that relationship isn't just on the field, according to Greene.
"We grew into young men together," Greene said. "From being freshman trying to add what we can to the team, to being senior leaders. We have a bond on the field that complements one another. I think that helps us succeed at the receiver position."
"Tom and I have a great professional relationship," Smorey said. "On the field we seem to always be on the same page because of our ability to communicate. We know how to pick each other up, when the other is down. Not only Tom and I, but it's is essential that the other receivers, including Jordan Dandridge, Chad Livingston and Craig Thompson have a good relationship in order to help our offense operate how we expect it to."
And it's operating – and firing – on all cylinders. The Vulcans are undefeated this season, defeating both Ohio Dominican University and Cheyney College.
Smorey has made 15 receptions for 174 yards, including two touchdowns against Cheyney. As for Greene, he also recorded both of his touchdowns against Cheyney. He has made 13 receptions for 192 yards.
158 yards on eight receptions came against Ohio Dominican for Greene.
The two recognize that their success is different, because they're different players. However, a mutual agreement is that they complement each other with their experience – and their play.
"Tom and I know each other's strengths and weaknesses and our coaches do a good job to get us in positions to exploit our strengths," Smorey said. "As I said before, our ability to communicate on the field allows us to help each other get open and make plays for our offense."
"Us being on the field together stretches defenses," Greene said. "We can both play the inside and outside positions. Which creates favorable matchups for us. I like to believe our best feature together would be blocking and communicating. I can trust him to make up for my mistakes on assignments."
Both wide receivers also credit their relationships with Keir for their successes. Keir has targeted them more than any other receiver on the team. Right behind Greene and Smorey is Jordan Dandridge with 12 receptions.
"We grew into our starting roles simultaneously," Greene explained. "We have good chemistry on the field as well as hanging out outside of football. We both improved our games tremendously and I am proud of how his game play has improved."
It goes even further for Smorey and Keir, who are roommates.
"Mike and I have a good relationship on and off the field," Smorey said. "We are good friends and roommates. We have trouble getting away from football because we talk about it constantly just trying to get better. We both have the same mindset that we are never satisfied and we want to be perfect."
The type of perfection that Smorey – and Greene – strive for isn't just earned by their game-time action. The two men understand that it takes leadership.
Being seniors, they have acclimated themselves into a bigger leadership role. Smorey is even a team captain, along with Keir, Luke Hrapchak, DeVonte Suber and Taylor Nikithser.
"I take pride in setting a good example at all times," Smorey explained. "Coach [Gary] Dunn refers to it as being an 'all the time guy.' I'm not so much the vocal leader but rather try to lead by example."
As for Greene, he uses his leadership to teach younger receivers under him. According to Greene, he used to learn by watching players in front of him.
"I tend to lead the young receivers and help develop them to be ready for when it is they're time to play," Greene said. "I tend to lead by example rather than vocally. I know when I was younger I didn't listen much. I knew that watching the player who was in front of me would teach me enough to add to my game."
Head coach Gary Dunn has coached Smorey and Green for a year now, and has seen them grow as leaders in such a short span of time.
"Luke and Tom are both great leaders and great examples for our younger players of what it means to be a Vulcan," Dunn said. "They both work extremely hard on the field and in the class room. They are both off to a fast start with some big catches and plays in the first couple weeks. They complement each other, along with Jordan Dandridge. I believe we are going to be tough to defend moving forward because of these guys."
As long as the two can remain consistent on the field, and continue to provide leadership, the two receivers are confident that they can make a long postseason run.
"I want to return as PSAC Champions and make a run for the NCAA National Championship," Greene said. "Represent the school positively as a whole and grow into young polished men."
"My expectations for the team are to win the PSAC and have a chance in the playoffs," Smorey explained. "Coach Dunn set those expectations on day one of camp. We constantly stress a day to day mindset because every practice and film session leads to the end results every Saturday."

About the Contributor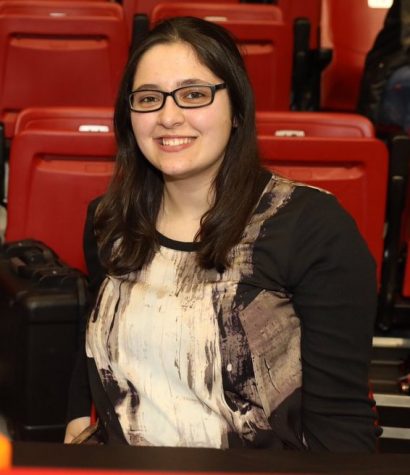 Rachael McKriger, Editor In Chief
In her senior year of college, Rachael McKriger is serving her second consecutive term as Editor-In-Chief of the California Times in the 2017-18 school...