Women's basketball on track for PSAC playoffs
Hang on for a minute...we're trying to find some more stories you might like.
The California University of Pennsylvania women's basketball team is on track to make another appearance in the PSAC Playoffs.
The Vulcans are in first place in the PSAC West, but that's not their only basketball ranking. On Jan. 30, the team was tabbed as the No. 14 team in the Women's Basketball Coaches Association Top 25 list.
The team is led by senior forward Shatara Parsons, who has been named the PSAC West Athlete of the Week a total of five times this season. Parsons has appeared — and started — in every season game under head coach Jess Strom this season.
Parsons has a total of 454 points, 28 assists, 63 blocks and averages 7.9 rebounds per game.
Parsons isn't the only scorer the Vulcans and Strom rely on. D.J. Hahn, a sophomore guard/forward, has become a regular starter, and has already doubled her minutes on the court from last season. Hahn has started 14 out of 19 appearances, totaling 166 points and 18 assists.
Hahn isn't the only young player to take the court as a regular; Bianca Jasper, a freshman from Middletown, Pa., has featured in all 21 games, and started a slew of eight games in PSAC play. The guard has totaled 121 points, 35 steals and 66 assists.
On CUTV's "Jess Strom Show," Jasper said that she chose to come to Cal U because of the coaches, environment and academics. She is studying to become a doctor in the future.
Jasper has been filling a big role left by graduated point guard Miki Glenn.
"It's been a little bumpy at times, because a lot of people forget that I'm not Miki," Jasper said on CUTV. "I'm still learning every day. I look at the tape and see what I did wrong and then what to look for. Trying to lead when I'm still trying to learn has been tough."
The Vulcans (13-2; 18-3) have seven more games, with four on the road. On CUTV, Strom said that the Vulcans have been having harder practices.
"Sometimes you have to adjust to the team you are coaching," Strom said. "We practice hard all the time. After Mercyhurst, we needed something. I don't think we as coaches have held them accountable for the little things."
Strom also said that the main focus is attention to detail. She noted that the defense has "picked up."
"For us, that's huge," Strom said. "That's what we need every single day."
The Vulcans will travel up to Edinboro University on Saturday to face the Fighting Scots. Tip off is slated for 1 p.m. and will air online through CUTV and the PSAC Network.

About the Writer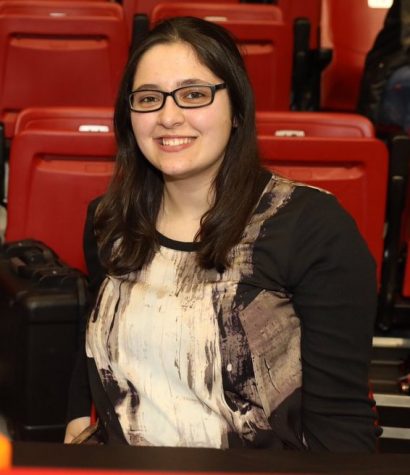 Rachael McKriger, Editor In Chief
In her senior year of college, Rachael McKriger is serving her second consecutive term as Editor-In-Chief of the California Times in the 2017-18 school year. In addition to being Editor-In-Chief, McKriger also serves as a writer (mainly in sports) and photographer.
McKriger also writes outside of the Cal Times, as she's a sports journalist for four websites. She covers the Pittsburgh Riverhounds and Pittsburgh Steelers for Pittsburgh Sports Castle, and just the Riverhounds for The Mon Goals of the Beautiful Game Network. She covers the Seattle Sounders FC — her favorite MLS club — and the National Women's Soccer League for Last Word on Soccer. McKriger also has a freelance photography venture called McKriger Photography, which she started in March 2016.
Furthermore, outside of college, McKriger is a stringer (journalist) for the sports section of the Mon Valley Independent in nearby Monessen. She has held the job since July 20, 2017. Formerly, she was a copy editor at the Herald-Standard newspaper in Uniontown for nine months.
In addition, McKriger is on the W2M Network podcast called "Soccer 2 The Max," alongside Erik Watkins and Sean Garmer. The three talk about anything pertaining to soccer- domestically in the United States and even abroad.
At Cal U, McKriger is studying English with a concentration in Journalism. She is also studying for a minor in Sociology. She is also part of CUTV and the Society of Professional Journalists.
With the Cal Times, McKriger started out as a writer her first semester (fall 2015) and then became the Sports Editor in her second semester (spring 2016).
After her undergraduate career ends, McKriger plans on attending Point Park University to pursue a Master's degree in Media Communications: Journalism.