Veronika Mikulis' on-court presence
Hang on for a minute...we're trying to find some more stories you might like.
Despite results and beginning of the season challenges, Veronika Mikulis has always has a positive, upbeat attitude.
Mikulis, a four-year senior at California University of Pennsylvania, is essentially the undisputed leader of the Vulcan women's tennis team. Mikulis was the player that led young players and two transfer seniors through plenty of program changes, including the changing of coaches.
"It was a difficult adjustment at first," Mikulis admitted. "However, with positive attitudes we were able to push through the adversity and make the most of our season. We did not achieve the success we have in the past, but my team really made me proud with all the effort they have put in and all the improvement we made throughout the season."
Even with the change at coach, Mikulis got along with her new coach, Paul Skrok. Mikulis also credited assistant coach Matt Lynch and strength and conditioning coach Phil Vitalbo for being a "huge help to our team" and "instilling great values and life standards.
"I have known Paul since my freshman year since he is a head tennis coach at the indoor facility we practice and play at," Mikulis said. "Paul shares a lot of the same values and coaching styles as [former head coach] Pablo Montana, which is why he was a good fit for the program, and he already knew the majority of the girls."
"Coach Paul and I really respect each other and the input we have for the team," Mikulis continued. "We cooperated a lot and worked together with this being his first year and this being my fourth. We worked together to help the team with both of our experience."
As for Mikulis herself, she knew she'd be the leader this season. Mikulis counts her work ethic and dedication to the team as her key qualities that helped her lead this season.
"I care a lot for the team and want us to achieve the most success we possibly can," Mikulis said. "I do my best to keep positive and set a good example for the team, and always try to keep everyone motivated and ready to compete. I always encourage the team and could not be prouder of them as long as they are giving 100% in what they are doing, whether that be on the court, in the weight room, in the classroom or in their everyday life activities."
Mikulis said that another aspect that helped her lead was her on-the-court presence, due to her experience, which also includes her being named team captain for her junior season.
"I was able to soak in so much information and knowledge for the game from the upperclassmen my freshman and sophomore year," Mikulis said. "I have dedicated myself to be a good example for my teammates and to set a standard of work ethic that is required to be a student-athlete. The standard was set my freshman year and to me it is crucial to keep that standard going, and hopefully I was able to pass it on to leave with team for years to come."
However, Mikulis isn't alone. Her fellow seniors Jasi Witherspoon, a transfer from Barry in Florida, and Alyssa Savill, a transfer from Lander in South Carolina, also helped lead with Mikulis.
"I could not be happier about their decision to join the Cal U tennis team," Mikulis said. "We all have the same love for the game and push each other to achieve the success we want. Alyssa and I have been doubles partners for the past two years and we compliment each other really well on the court with our different styles of play and our different demeanors on the court. Some of my best memories on the court have been with these girls."
Now that the tennis season is over, Mikulis is focusing on finishing her educational career at Cal U on a high note. She will be graduating in two weeks with a degree in criminal justice with a concentration on homeland security. After her graduation, she plans on returning back to Otterburn Park in Quebec, Canada, to search for a job.
"This is the first time I have not had tennis to think of, which is a super strange feeling," Mikulis said. "I will still continue to work with the girls who will be returning to the team next year, because I always want the best for the Cal tennis team."

About the Writer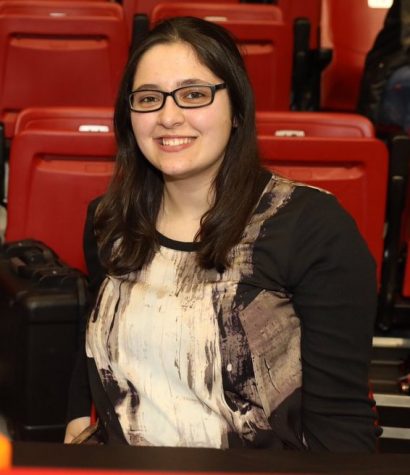 Rachael McKriger, Editor In Chief
In her senior year of college, Rachael McKriger is serving her second consecutive term as Editor-In-Chief of the California Times in the 2017-18 school...