Book Review: When Nobody Was Watching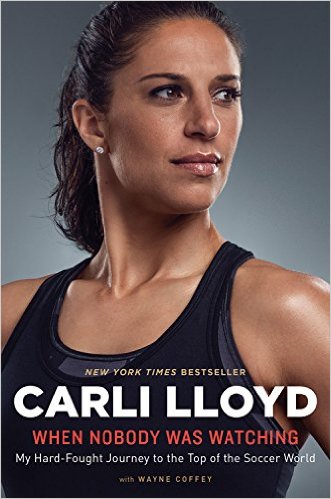 Hang on for a minute...we're trying to find some more stories you might like.
Carli Lloyd is a name most people in the United States – and even abroad – have heard.
Lloyd is a midfielder for the United States Women's National Team. She's two-time Olympic gold medalist and winner of the 2015 FIFA Women's World Cup. For her efforts in the final match of the 2015 FIFA Women's World Cup, where the United States edged out Japan with a final of 5-2, Lloyd was named the FIFA Women's World Player of the Year in January 2016.
Most notably famous for her hat-trick in the final against Japan, Lloyd had an untold story that not many knew about before she published her book "When Nobody was Watching: My Hard-fought Journey to the Top of the Soccer World" in 2016.
Lloyd tells the story of her relationship, or should I say "non-existent" relationship, with her parents and siblings. In addition, she gives readers a behind the scenes look at life on the U.S. Women's National Team. She recalls her coaches and conversations she's had with them, including April Heinrichs, Greg Ryan, Pia Sundhage, Tom Sermanni and current head coach Jill Ellis.
She recalls memories with her teammates, past and present. In one particular scene, Lloyd recalls the catastrophe of the 2007 FIFA Women's World Cup, where Hope Solo, former USWNT goalkeeper, was ousted by her teammates. Meanwhile, Lloyd stood by her side, and against the plentiful amount of veterans (and Abby Wambach).
However, the most compelling parts of Lloyd's book happens to be when she talks about two specific people: her now-husband Brian Hollins and longtime mentor James Galanis.
For Hollins, Lloyd describes a deep love, and not just some sunshine and rainbows relationship. She talks about the best parts of being with Hollins – his dedication to her career and their engagement – but also recalls the bad – taking a break for a while and the countless goodbyes when she would head off for her career.
Her countless stories with Galanis are the best part. Galanis turned Lloyd into the soccer player she is today, and Lloyd never fails to mention that. She recounts training in the early hours of the morning, the tough task of getting her fitness down and even shows readers the letters that Galanis sends her before specific matches.
A common theme of Lloyd and Galanis' relationship is that he always tells her to "Play like it's the final of the World Cup."
Lloyd's memoir is direct, honest and sentimental. Lloyd shows that she's not just the tough midfielder you see in person, or on the TV. She has a soft side, and can be emotional when it comes to her family and her sport.
All in all, I would highly recommend Lloyd's memoir. I give it 4.5 out of 5 stars.