Concert Review: Chance The Rapper
Hang on for a minute...we're trying to find some more stories you might like.
In the midst of NHL playoff hockey, PPG Paints Arena decided to share their space with Chance The Rapper.
Chance – who's given name is Chancelor Johnathan Bennett – titled his tour the "Be Encouraged Tour." Chance didn't have any opening acts listed on his tickets, or his website, but did have a rap duo open up for him.
Let's get the harsh criticism out of the way; the duo was so bad that I honestly can't remember their group name. I asked my friend Abby, who went to the concert with me (you'll soon learn that I rarely go to concerts with anyone else), what their name was. Luckily Abby, who is an encyclopedia of music knowledge, knew that their name was Peter Cottontail.
They didn't really have any chemistry on stage, and their songs, while upbeat, just weren't that catchy.
After they exited the stage, DJ Oreo made his way to the large stage. DJ Oreo was neat, as he played a nice mixture of songs, and even had people tweet him suggestions on Twitter. However, the only annoying part was that he kept having the crowd repeat his name every five minutes. If I had to listen to "When I say 'DJ,' you say 'Oreo,'" one more time, I was going to lose it.
After patiently waiting in section 221 of PPG Paints Arena, Chance took the stage.
His entrance basically told you that it was going to be a good show. Chance rode in on what seemed to be a miniature dirt bike and "crashed" it to the side of the stage, but not before hoping off. Chance then made his grand entrance by a fireworks sound and bright lights.
Chance opened up the tour with his song "Mixtape" and played a total of 20 songs, including an encore.
Personally, the songs that had the best performances with them for me were "Angels," "Sunday Candy" and "No Problem." Chance played songs from different albums, including Free, Acid Rap, Coloring Book and even Surf. Surf is  Donnie Trumpet & The Social Experiment's album, but Chance is featured on it. Donnie Trumpet was a major performer during the show.
The concert was certainly one of the best rap shows I've been too. It's hard to call it the No. 1 best show, since I've seen Macklemore & Ryan Lewis. However, Abby would disagree with me.
Either way, the concert was great, and the crowd helped make it great. The sold-out crowd danced the entire night away, even on the steep steps that PPG Paints Arena has built. When I read previous concert reviews for Chance The Rapper, people wrote that he would "take you to church." They weren't wrong, because Chance had some songs that made me feel like I was sitting in a pew of a baptist church.
All in all, I would recommend seeing Chance The Rapper if the opportunity ever arises. Good luck, though. Tickets sold out fast.
I give the show 4/5 stars, only deducting points because of the opening acts.

About the Contributor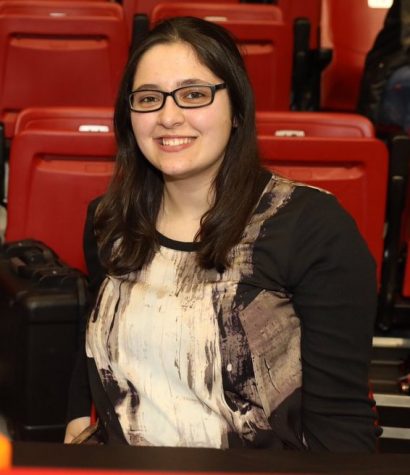 Rachael McKriger, Editor In Chief
In her senior year of college, Rachael McKriger is serving her second consecutive term as Editor-In-Chief of the California Times in the 2017-18 school...