B.o.B Takes Stage at Cal U
On April 23, rapper B.o.B came to the campus of California University of Pennsylvania and put on a performance that those in attendance would not soon forget. B.o.B, known for hit songs such as "Nothin on You," "Magic," "Airplanes" and "Headbands," provided audience members with a high-energy show where he brought girls up on stage, threw out free shirts to the crowd, signed some autographs and ran through the crowd to interact with fans on numerous occasions.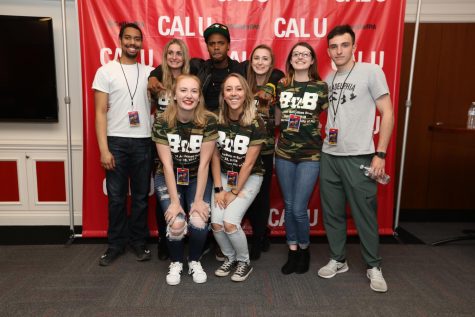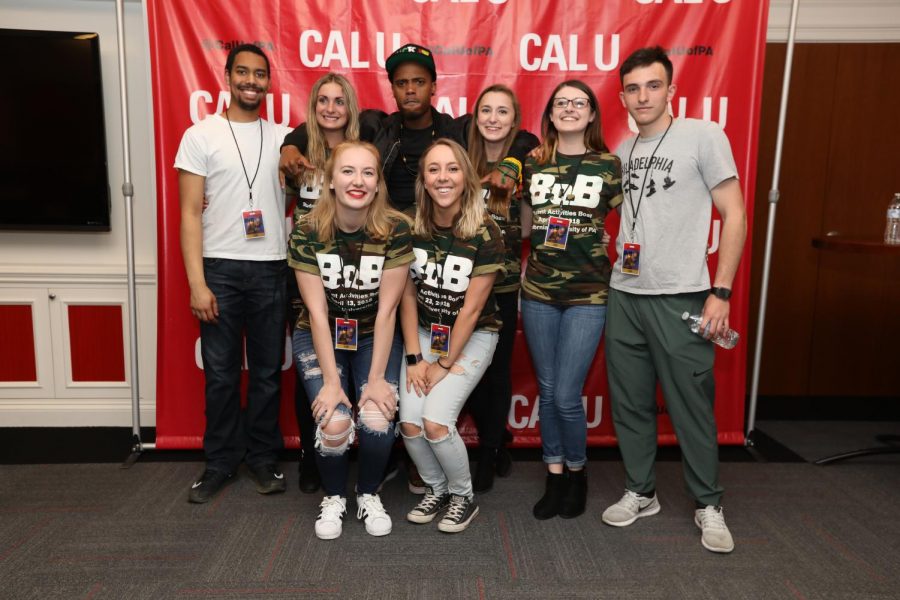 The group that was behind the promotion and production of this spring concert was the Student Activities Board. With day of help from Underground Café, Athletic Promotions and some members of the football team, the Student Activities Board was able to provide new elements to this concert that had never been seen before by students at Cal U.
This concert was the first concert to offer floor access and was a trial to see if it would be something possible to have in at future shows. The last minute approval to have floor access granted gave students the opportunity to get closer to the stage and provided a more intimate experience that seemed to be very well received by students.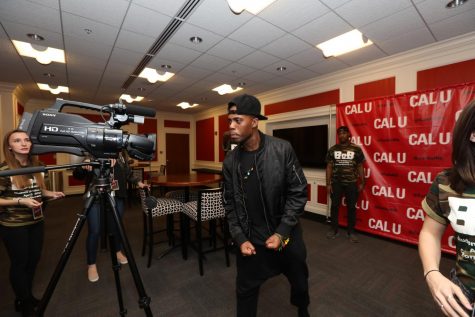 Where ticket sales were not as high as other concerts the Student Activities Board has produced at Cal U, they have received an overall positive response from students who attended this concert. One student even went on to say that this concert "was exactly what Cal U needed" following his experience at the show.
The Student Activities Board would like to urge students to attend their weekly meetings on Thursdays at 5 p.m. in the Vulcan Theater if they are interested in learning about how this process works or want to get involved with the numerous events SAB puts on throughout the academic year.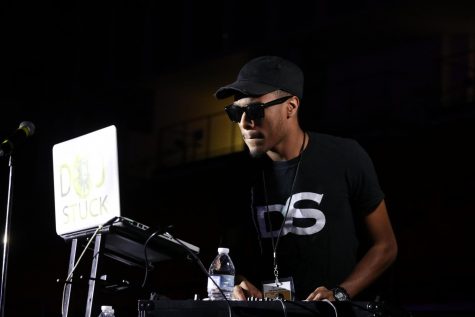 Interview with SAB President and Evenings Chair, Jessica Crosson, conducted by Editor-In-Chief Rachael Kriger:
Being the president of the Student Activities Board, what role did you have in bringing B.o.B. to Cal U and for the event?
Since I'm holding the role of president and evenings chair, I have some different experiences that helped me be able to effectively coordinate this entire event. As the event coordinator, I worked closely with our advisor and our middle agent throughout this entire process. We had to work to get a contract together and then once we received a contract I could assign different roles to our other Executive Board members.
Each member had a specific role throughout this process whether it was marketing, hospitality, or organizing the dressing room necessities. Our secretary, Miranda Anderson, and I worked closely to develop a marketing plan for this event, Makenzie Langer and Cheyanne White tackled a very difficult list of hospitality requirements and the rest of our Executive Board (Skylar Steinhart, Kaylie Rusek and Sean Leftwich) had various tasks thrown at them throughout the planning period of this event in order for us to pull this whole concert off.
What was your feeling when you saw the student body show up excited for B.o.B.?
I always get really nervous before we put on large events like this because I want everything to go off perfectly but I also try to over prepare for the worst just in case so seeing people fill into the seats at this show and enjoy their time was a great feeling of success for us.
What was your highlight of the B.o.B. concert?
I think the highlight for me was looking around the crowd throughout the concert and just seeing everyone having such a good time. The best was when B.o.B came off of the stage and went down into the crowd and just roamed all over the place. It was super stressful for me because you have to be concerned for not only your artist's safety but everyone else's safety as well but the crowd loved him so much more for doing that!
What did you learn from the B.o.B. concert that you'll use for other events?
This was the first time we were able to allow floor access at one of our large scale events and I think it went over really well. Everyone on the floor had a great time and did not cause any problems for our security or staff. I would love to be able to offer that opportunity again in the future and I think students would really love the chance to have that experience!
How important was it to have the large staff you had to help set up and run the event?
Our Executive Board only consists of six students, including myself, so it would not have been possible to pull off this concert without the help of other students on campus when it came down to all of the day of set-up requirements. The Underground Cafe's Executive Board, the Athletic Promotions team and a couple of guys from the football team helped us all throughout the day and that is what helped make this event possible.
What was really awesome about all of us coming together was that it really did not matter whether or not we knew each other before. We understood what needed to be done and how serious we needed to be in order for us to consider this event a success and everyone did a phenomenal job doing their part.
Anything else you'd like to add about the concert?
This was a great step in the right direction for future opportunities in regards to hosting shows at Cal U. This is now the second large scale concert our Student Activities Board has put on and I have been super lucky to get to have a part of both of those shows and watch the growth between the two. I would also encourage anyone who has any questions, comments or concerns about how this process works to come talk to us! We would love to talk about what we do with our fellow students.
Photos from this event, taken by Jeff Helsel, can be found by clicking here.