Concert Review: Mayday Parade & Knuckle Puck
Hang on for a minute...we're trying to find some more stories you might like.
It's hard to believe that Mayday Parade's debut studio album "A Lesson in Romantics" is officially 10 years old.
To celebrate, Mayday parade announced a United States – as well as United Kingdom and Australian – tour to celebrate. Tagging along with Mayday Parade is Knuckle Puck and the Milestones.
On Friday, April 28, all three bands took the stage at Stage AE on the North Shore.
Opening up the concert was Milestone, who are from the United Kingdom. The band played three punk rock songs before they announced that they would meet and greet with their fans by their merchandise table.
I've never heard of the Milestones before, but they got the crowd up and moving. Their music was a softer form of punk rock, but it still pleased myself and my friend Abby, who attended the concert with me.
However, one of the main reasons Abby and I went to the show was for Knuckle Puck, a band we've seen now five times. However, their music never gets old, and they put on a great show every time.
I don't know what they did different this time, but this was the best show I've seen from Knuckle Puck – who is made up of Nick Casasanto, Kevin Maida, Ryan Rumchaks, John Siorek and Joe Taylor. They opened up their set with a fan favorite "Disdain," and followed it with 10 more songs. While I was slightly shocked they didn't play "Bedford Falls," they did play some of my favorites, and fan favorites, including "No Good," "Wall to Wall (Depreciation)" and my personal favorite, "Evergreen."
Lead singer Taylor got plenty of people in the crowd moving around to their set. He announced for fans to get closer to the stage and wanted them to clap in various different intervals.
Then, it was time for the headlining act. Due to it being a tour based on the 10th anniversary of "A Lesson in Romantics," Mayday Parade – who is made up of Derek Sanders, Alex Garcia, Brooks Betts, Jeremy Lenzo, Jake Bundrick – performed all 12 songs off the album, opening up with "Jamie All Over" and concluding the album with "You Be the Anchor That Keeps My Feet on the Ground, I'll Be the Wings That Keep Your Heart in the Clouds."
After, Mayday Parade played fan favorites, and popular songs, like "Terrible Things," "Three Cheers for Five Years," "Kids in Love" and even covered the Beatles' "Yesterday."
After the band finished with "Kids in Love" they exited the stage to chants of "One more song!" Mayday Parade returned to the stage to feature one more song, playing "Oh Well, Oh Well."
All in all, it was a great concert. There was never a moment of boredom, even when Mayday Parade played slow songs, like "Miserable at Best." Knuckle Puck and the Milestones were a great opening act, that truly got the crowd warmed up for Mayday Parade.
I've seen one concert before – Colbie Caillat's "The Malibu Sessions: Tour" – in which an artist played the album all the way through and then performed other songs. Caillat's show was intimate, due to the acoustic set and conversation she had during the set. However, Mayday Parade kept is as intimate as well, with lead singer Sanders providing the same sentiments Caillat did during her show.
If Mayday Parade, Knuckle Puck or even the Milestones go on tour around Pittsburgh (which is common for them), I would certainly recommend buying a ticket.

About the Writer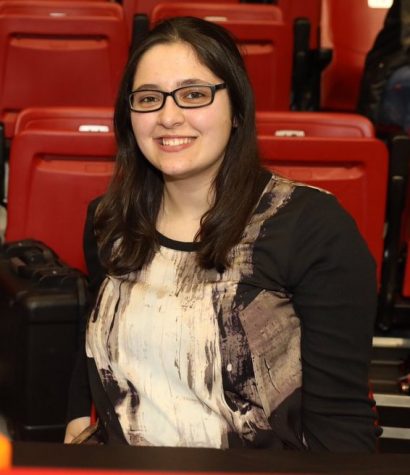 Rachael McKriger, Editor In Chief
In her senior year of college, Rachael McKriger is serving her second consecutive term as Editor-In-Chief of the California Times in the 2017-18 school...