Pleas for action rise after Parkland school shooting
School shootings have become all-too common for schools in the United States.
Another instance of mass genocide occurred on Feb. 14 at Stoneman Douglas High School in Parkland, Florida, where 17 students and staff members were killed. A total of 14 non-fatal injuries were reported.
The alleged shooter is 19-year-old Nikolas Jacob Cruz.
Cruz allegedly used an AR-15 style semi-automatic rifle and carried multiple magazines.
Since the shooting, there have been firm cries against the current policies in place for gun rights. Many students have marched out of school, staged peaceful protests and called on government to take action.
It's not just students that are taking action as well. On Feb. 28, DICK's Sporting Goods announced that they will not continue to sell automatic assault-style guns.
"When we saw what happened in Parkland, we were so disturbed and upset," Edward Stack, the chief executive of DICK's, said. "We love these kids and their rallying cry, 'enough is enough.' It got to us. We're going to take a stand and step up and tell people our view and, hopefully, bring people along into the conversation."
Dick's Sporting Goods is following the footsteps of Walmart, which stopped selling high-powered rifles in 2015.
An 18-year-old student named Emma Gonzalez has taken headlines by storm since the shooting, speaking at different rallies and becoming a public figure and supporter of stricter gun laws.
She recently had an essay published in Harper's Bazaar, titled "Parkland Student Emma González Opens Up About Her Fight for Gun Control."
"At the end of the day, we don't want people to have their guns taken away," Gonzalez wrote. "We just want the people to be more responsible. You don't drive a NASCAR on the street, no matter how fun it might be, just like you don't need an AR-15 to protect yourself when walking home at night."
She also called out opposing adult leaders, writing, "Adults like us when we have strong test scores, but they hate us when we have strong opinions."
Gonzalez also tackled the issue of teachers being armed with guns — or any type of weapon. President Donald Trump recently said that teachers that are armed should receive "a bonus."
"Teachers do not need to be armed with guns to protect their classes, they need to be armed with a solid education in order to teach their classes," Gonzalez said. "That's the only thing that needs to be in their job description. People say metal detectors would help. Tell that to the kids who already have metal detectors at school and are still victims of gun violence. If you want to help arm the schools, arm them with school supplies, books, therapists, things they actually need and can make use of."
The NRA, who has been under rapid scrutiny since the event took place, has lost endorsement and partnership deals from companies. Among those to cut ties with the NRA include FedEx, Delta Air Lines, Hertz, MetLife, United Airlines and many others.
The NRA responded, saying that severing ties was "civic cowardice."
"Let it be absolutely clear. The loss of a discount will neither scare nor distract one single NRA member from our mission to stand and defend the individual freedoms that have always made America the greatest nation in the world," the NRA said in a statement.
The United States has been in a hectic debate about gun rights and laws for many years now. The Parkland shooting isn't the first time this issue has been brought up, as there have been many school shootings to precede the recent Florida shooting.
Many athletes, celebrities and public figures have called for more companies to sever ties with the NRA.
In the athletic world, teams like the Miami Heat and the U.S. Women's National Team have held — or will hold — vigils for the victims.
About the Writer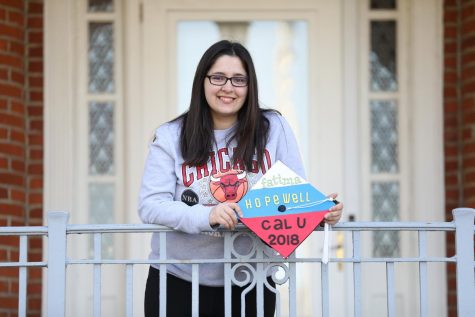 Rachael Kriger, Editor In Chief
Now a graduate of California Univ. of Pennsylvania (May 2018), Rachael Kriger is current a videographer and the multimedia coordinator at Lutheran SeniorLife...