Concert Review: Macklemore's Gemini Tour
Hang on for a minute...we're trying to find some more stories you might like.
Macklemore is known for his work in activism and for having a good time.
The rapper proved both of those things during his Pittsburgh stop of the Gemini Tour, in which he was accompanied by Xperience and Travis Thompson.
Macklemore set up shop at Stage AE, the same venue where he sold out in June 2016 while promoting his album This Unruly Mess I've Made with Ryan Lewis.
This time, without Lewis, Macklemore still sold out, showcasing songs from his new album, "Gemini," as well as others from The Heist and This Unruly Mess I've Made.
Xperience, a longtime friend of Macklemore's opened up the show. Xperience, another Seattle, Wash., based rapper, opened up Macklemore's 2016 show, and delivered an even better performance this time.
Xperience started singing lines from songs he did with Macklemore, including "Church" from Gemini. Xperience closed out his set with a song he wrote after his mother passed away from breast cancer. He thanked the crowd, and promised them that he would be back out with Macklemore.
The more intriguing part of the opening acts was Travis Thompson's set. Last year, Macklemore's second guest was the band The Flavr Blue, whose leading singer is Hollis. Hollis' name might sound familiar, as she sings the chorus on Macklemore's song "White Walls."
Last year, The Flavr Blue was lackluster, and had a boring set. This year, Travis Thompson rocked it.
Thompson came out with high energy, with upbeat songs. It also helped that most of his music had a nice beat drop that the crowd got down with. Thompson was a much better opening act than The Flavr Blue.
Then came time for the man of the hour. Macklemore surprised fans with an appearance by Eric Nally. The first song of the set was "I Ain't Gonna Die Tonight," in which Nally features on the chorus. Macklemore came out on stage with a Roberto Clemente jersey.
Last year, to commemorate the Pittsburgh Penguins' Stanley Cup championship, he wore a Penguins jersey.
Macklemore's next two songs – equally as upbeat and exciting as the first – came off Gemini. He continued the trend by singing "Firebreather" and "Marmalade." Before "Marmalade" was performed, Macklemore told the story of how the song is his daughter Salone's favorite song on the album.
Macklemore returned to his first album for "White Walls" and then serenaded the audience with a passionate performance of "Same Love."
Before he sang "Same Love," Macklemore commented on the political nature of the United States and preached a message of love and acceptance.
"No matter what your skin color is, your sexual orientation is, who you love or whatever else, you're welcomed here," Macklemore said. "This is a place of love, where we share music and love with each other."
Notably, Macklemore performed a stripped down version of the song "Otherside," which is about his past struggles with drug addiction. Before the song played, a recording of the Serenity Prayer was played, stating "God grant me the serenity to accept the things I can not change, and the courage to change the things I can, and the wisdom to know the difference."
Finishing off the first part of the show, Macklemore told the audience to turn off their phones and sing "Can't Hold Us" with him. He jumped into the crowd and he held them up while rapping.
Afterwards, he bid the crowd goodnight, but then returned minutes later to finish the show with "Good Ol Days," "Downtown" and "Glorious."
Seeing Macklemore in concert for the second time was certainly a treat – and something I didn't expect in back-to-back years. The concert was certainly better than the first, especially since I enjoy the Gemini album.
If the opportunity ever arises again, I would highly recommend seeing Macklemore live.

About the Writer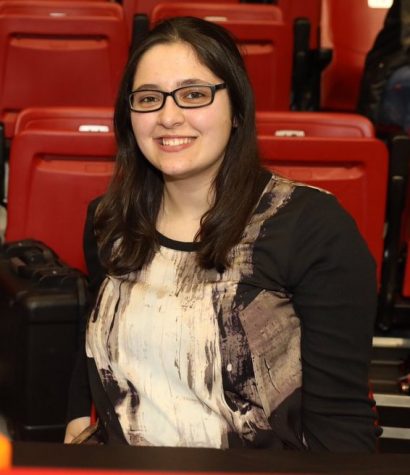 Rachael McKriger, Editor In Chief
In her senior year of college, Rachael McKriger is serving her second consecutive term as Editor-In-Chief of the California Times in the 2017-18 school...