Cordell Smith making his name known
Hang on for a minute...we're trying to find some more stories you might like.
Out of 13 players on the California University of Pennsylvania men's basketball team roster, there is only one person who has been a Vulcan all four years.
Cordell Smith understands that, and he understands the responsibilities that comes with it.
But that's not to say there's an entire fleet of pressure on his shoulders. Instead, Smith credits fellow returners and the coaching staff for "picking up" the pieces, saying they've done an "outstanding" job.
His leadership qualities are well noticed throughout the locker room, and by his coaches. Smith said he provides leadership to the newer players by "simply pushing them to their full potential in practice, as well as games."
"I continue to encourage my teammates to continue giving them motivation if they have a bad game to let that one go and focus on the next," Smith said. "We have a long season ahead of us and I have to make sure those guys don't get down on themselves. I try to remind them that we all are in this together and if they are down I will continue to pick them up."
Despite differences in positions and class rankings, Smith is an example for the six new players that joined the Vulcans roster this offseason: Ryan Dutton, Isaiah Lewis, Donte Williams, Philip Alexander, Jahmere Howze and Terry Davis Jr.
However, Smith is still learning himself, and following the process and groundwork laid out by second-year head coach Kent McBride.
"Coach McBride is a very passionate coach and wants the best for his players," Smith said. "He will push you to your limits and help you reach your full potential as he coaches you. He helps you learn from your past mistakes."
Smith continued to say that McBride has placed a large amount of trust in his players this season.
"I believe Coach McBride knows that we have a very talented team this year and we will continue to shoot for the stars, as long as we all come together and stay together as a unit," Smith said. "We want to reach the same goal that we all want, which is a NCAA championship."
That's only one goal of Smith's – who is a point guard for the Vulcans – this season.
"I want all of us to strive for greatness, play alongside one another as brothers and continue winning," Smith said. "We want to be a team that other teams are afraid of playing. We want to win a NCAA Championship."
"I want to have others in 10 to 15 years from now asking where this team's picture is."
A criminal justice major, Smith is what McBride calls a "basketball junkie."
Smith noted that he's always been around a sports family, with his father playing basketball as well.
"I have always had a love for basketball," Smith said. "The game was installed in my blood when I was just three years old. I remember waking up as a kid and I was required to make 50 shots on my little Fisher Price basketball hoop that I had in the dining room."
Anticipating a graduation next December, Smith said that he decided to come to Cal U because the atmosphere "felt like home."
"I came on my officially visit as a senior in high school and as soon as I talked to the professors and students on campus, I knew Cal U was going to be my home for the next four years," Smith said.
Now, three years later, he's ready to make a name for himself at Cal U, as well as the team he's representing.
"We plan on continuing to win, inviting others out and about to come show support," Smith said. "Most importantly, we want to continue giving them a reason to come watch what we have to offer on the court as we take this journey into are new season."

About the Contributor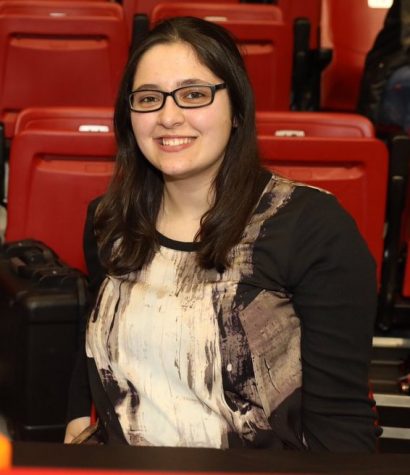 Rachael McKriger, Editor In Chief
In her senior year of college, Rachael McKriger is serving her second consecutive term as Editor-In-Chief of the California Times in the 2017-18 school...