McBride confident in team, despite injuries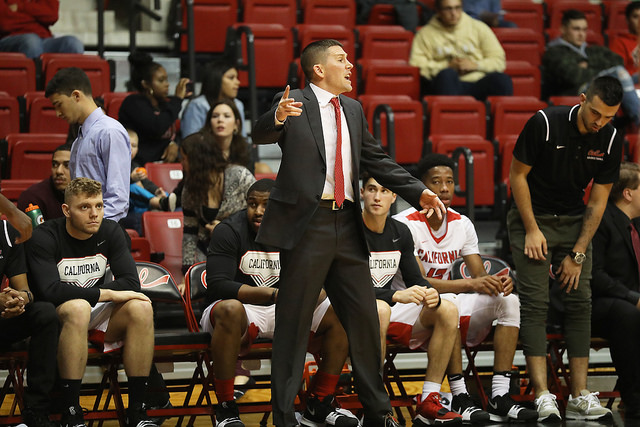 To say that the California University of Pennsylvania men's basketball team has overcome adversity is an understatement.
Kent McBride, second-year head coach of the Vulcans, has been dealt with injury after injury this year. Three seniors have season ending injuries, including returners Luka Anđušić and Jameal Tucker.
For McBride, he hasn't had many bodies on the court as he'd like. He even admitted that a recent practice two weeks ago was the first time that the Vulcans could do a five-on-five practice.
However, that was with assistant coach Justin Caldwell on the court.
"We'll continue to improve, we just need to get healthy," McBride said. "Injuries prevent us from getting in any rhythm. I feel sorry for the guys deeper than just being hurt. It's hard for the guys playing too, because they don't know who is going to be beside them from game-to-game."
The Vulcans are currently 9-15, and looking to improve from last year's record of 10-18. McBride said that if the Vulcans can improve in their record, he would call that a success.
"We still feel confident going into every game," McBride said. "We still believe in one another and what we're doing. It's just about taking it one practice at a time, trying to get in there and do what needs to be done. And we can't get hurt."
Despite the injuries, McBride has been shown a spotlight for the future. With the constant rotation between players, McBride has seen a lot of sophomore Jordan Gessner on the court.
McBride noted that in the games that Gessner has started the defense has picked up the pace.
"For a guy who hasn't gotten a substantial amount of college minutes, him coming off the benching and knowing all of the positions is great," McBride said. "I told him after the game that he is going to be the guiding light, the expectation, for players moving forward in the program. When it's time for him to contribute to the team, he's going to contribute."
Gessner and freshman Phillip Alexander have both grown up over the season, McBride stated, because of the injuries to teammates. It's the classic "next-man-up" mentality most coaches express to their players.
"We put them in positions where they need to grow up," he said.
The Vulcans aren't just relying on underclassman, though. Robel Teckle, a senior, and four-year senior Cordell Smith are taking ahold of the leadership role.
"Robel just wants to win," McBride said. "When he doesn't play well and we lose, you can see the frustration. He's been a voice of reason between me and the new guys. He's done a really good job of that. I wish Cordell would do it more. Cordell needs to be more vocal, step up and say more, but that's not his nature."
"It's a little bit out of his comfort zone, but we've talked about it."
McBride does have some veteran presence on the sideline, too. After being dealt with a season-ending calf injury, Anđušić has taken a new role of being a coach and mentor to his teammates.
McBride recalled how during the Vulcans most recent trip to Clarion University – on Jan. 24 – Anđušić joined the coaches in their huddle and bounced play ideas off them.
Also, during the overnight trip to Edinboro University on Feb. 2 and 3, Anđušić joined coach McBride and coach Caldwell in the coach's room to discuss the game plan.
"The depressing part is that during the UPJ game, before Luka got hurt, he was calling the plays," McBride said. "He was coming over to us and telling us what to run. He would come over and say, 'Coach I think we should run this.' I remember telling him, 'Don't tell me, tell your guys on the court.' If you're telling me what's going to work, go run it."
McBride simply stated that Anđušić can "coach the team."
"With him, I don't need to think or question him, I just go over to the huddle and say what he said," McBride said. "That's how much trust I have in that guy."
McBride has trust – and faith – in his whole team. He constantly reminds his team that they can't control injuries, and that at the end of the day, basketball is still a game. He's proud of his team for having a team GPA of 3.0 and over and not having any problems off the court.
"In the real grand scheme of things, taking it away from basketball, looking at this as a father, I'm proud of them," McBride said. "I'll be proud of them when that final buzzer sounds."
"We'll compete until we can't compete anymore."
About the Writer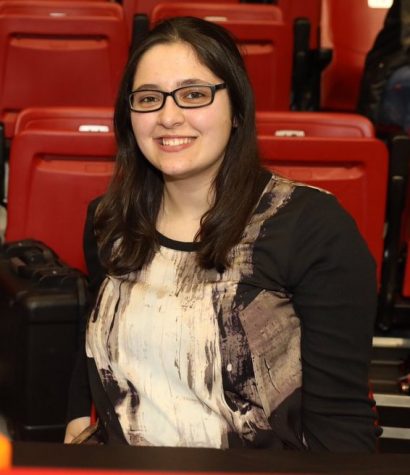 Rachael McKriger, Editor In Chief
In her senior year of college, Rachael McKriger is serving her second consecutive term as Editor-In-Chief of the California Times in the 2017-18 school...