K-Love the Poet takes the Vulcan Theatre stage
Despite heavy snowfall on the campus of California University of Pennsylvania, K-Love the Poet brought warmth, love and energy to campus.
K-Love the Poet, who hails from Chicago, is used to the snow, so the weather didn't affect her mood and performance in the Vulcan Theatre on March 21. The event was sponsored by the Student Activities Board.
"I'm from Chicago, so it snows in the summer there!" K-Love proclaimed.
Before diving into her spoken word poetry, K-Love told the audience that no matter if there was one member or one million members of the audience, she would give the same amount of love and energy out in her performance.
K-Love, who is 36-years-old, asked members of the crowd if they have ever been to Chicago. After a couple hands went up, she talked about her mentoring program on the South Side of the city. Her program gives mentoring and a safe place for youth and young adults.
"I like taking something that people think is trash and making it beautiful," she said.
Her inspiration to become a mentor came from her father, who has been clean and sober from drugs for about 25 years.
She then began telling the audience that her "superpower" is her undying faith in the good of people.
"Love the people that nobody else loves," she said.
K-Love began to explain about how her poetry was also a ministry. She called it her "life's purpose" and explained how she has been self-employed for the last 12 years doing spoken word poetry and mentoring.
After the show, K-Love said that she was more worried when she had a job than when she didn't have a traditional job.
"I absolutely love doing this," she said. "What I found going and being at so many different college campuses is that my ministry is not just for one particular race. It's not for a certain age range. It's for everybody. I never had an experience where I didn't connect with the students. It's always students that stay behind for a hug or want to talk that lets me know that I have a gift that everybody can use.
"I guess that's what love is."
During her performance, K-Love performed spoken word poetry titled Walking Your Calling. Her other poems were called Greatness, Cellular, Hug Life and Mental Health Issues.
Her poem Greatness was written for her brother. K-Love explained that her brother was concerned about her decision to leave her traditional job. While he always believed in her, he still had his concerns about financial security.
A couple of months later, he attended one of K-Love's sold-out shows in Phoenix, Arizona.
Between her interactive spoken word readings, K-Love talked more about her experiences in life. One of her biggest – and most impactful – occurrences in her life was being a mother to her "children."
While not biologically hers, K-Love mentored and took in two girls and one boy back in Chicago. Now, despite her children being older, she still keeps a close relationship with. Them.
"Being a mother to them has been so rewarding," K-Love said. "On some levels, I think did more for me than it even did for them. It created a family for me. A lot of my peers that were my age were getting married and having traditional families. A family was created for me, and it was so unorthodox, but so full of love. It's being returned now. My children take care of me. My daughter is my best friend. The age difference now doesn't seem so far. It's a lifetime bond.
"It's a beautiful experience."
During her last spoken poem, Mental Health Issues, K-Love brought up the topic of violence in the city of Chicago. Going further from the violence, K-Love pleaded for more counseling services to be available in Chicago for people dealing with trauma.
One person that is trying to help with counseling in Chicago is K-Love's son. She got emotional when she beamed about her son following in her footsteps in mentoring other children.
After the show, K-Love stuck around for hugs with members of the audience.
She announced on social media that she will be coming to the Pittsburgh area on June 26 at the Sheraton Pittsburgh Hotel in Station Square with Ace Metaphor on his "The Future Wife Tour 2: Are You Ready For Him?"
K-Love also has a book available on Amazon titled "Post(er) Girl: A Compilation of Thought-Provoking Posts."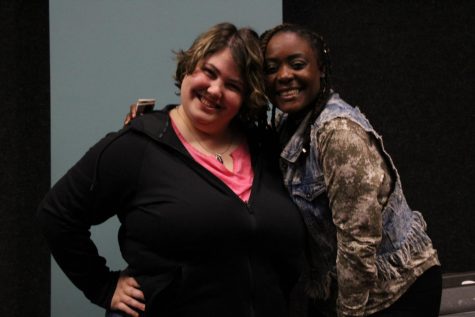 About the Writer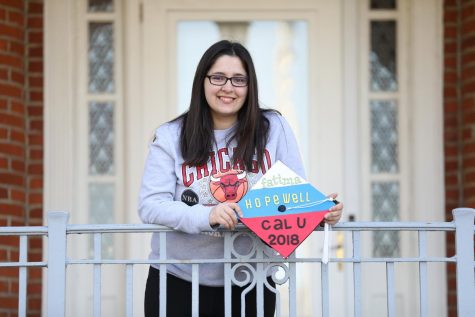 Rachael Kriger, Editor In Chief
Now a graduate of California Univ. of Pennsylvania (May 2018), Rachael Kriger is current a videographer and the multimedia coordinator at Lutheran SeniorLife...