McBride looking forward to second season in charge
Hang on for a minute...we're trying to find some more stories you might like.
Kent McBride is ready for his second season as head coach of the California University of Pennsylvania men's basketball team.
In his first season, Cal U nearly made a push for the PSAC playoffs. However, they fell short, dropping their final home game against Indiana University of Pennsylvania.
This season, McBride is brushing the dust off from his first season at the helm.
He brought in a new crop of players, and cut ties with players from last season. He thanked all former players for their efforts.
"When we sat down at the end of last year, it was our first chance to see how we needed to evaluate how we needed to build our team in order to win the PSAC, and kind of the style of play we needed," McBride said." The roster changes were just that. We had to make some decisions on who can help us win a championship."
McBride cut ties with Nick Miller, Rashawn Browne, Tony Richardson, Ramon Creighton and Daniel Sapp.
New to the Vulcans roster are Jahmere Howze, Terry Davis Jr., Phillip Alexander, Isaiah Lewis, Donte' Williams and Ryan Dutton.
Returning players include Luka Andjusic, Jacob Thibodeau, Jordan Gessner, Cordell Smith, Jameal Tucker, Robel Teckle and Eric Green.
"We really like the team that we have and we think it fits how we want to play," McBride said.
McBride noted that he'll rely heavily on the leadership of Smith, the lone four-year senior at Cal U. Other seniors include Andjusic, Teckle, Green, Davis Jr. and Lewis. However, they were all transfer students.
"He's not the most outspoken guy, but his leadership really goes into his actions," McBride said. "He does things away from the court correctly. He's a really good student on the court. He doesn't ask too many questions because he already knows the answers. He's not a big talker, so they follow how he operates."
Smith, who is originally from Cleveland, said the most exciting part about being a senior is "deciding the legacy you leave."
"I'm excited for this upcoming season because we have the mindset of winning and we know what it takes to win," Smith said. "We will be great and after this year people will want to know where this team's picture is at."
Andjusic is another player that McBride will rely on, but for now he – and Williams – are sitting out with injuries. McBride noted that the two are on a week-by-week basis.
"They were really fighting differently injuries through the preseason, and sat out for most of the preseason," McBride said. "Once we got going into practice, they flared back up. So we kind of shut them down so they can rehab and get fully healthy. It's a week to week deal, not a long-term situation. We need to get those guys back as soon as we can."
The loss of Andjusic hurts because McBride called him a guy that "understands what we're trying to do."
"When we're trying to incorporate these new guards, you need as many guys as you can that know what they're doing so people can follow their lead," McBride explained. "That's the more concerning part, and I think it stunts the other guards' growth because the example isn't out there."
"Talent wise, we'll be fine," McBride continued. "I think we have eight other guards, but I feel bad for him. It's his senior year and he really wants to get back. And he will, he'll be fine."
Despite the two injuries, McBride explained that he's excited to use the players he has. The team has already started preseason, most recently hosting West Liberty at the Convocation Center.
The season doesn't officially begin until Nov. 11, when the Vulcans travel Glenville State College to participate in the Glenville State Jakobi's Journey Basketball Classic.
However, PSAC play doesn't begin until Nov. 18 at the Convocation Center against Kutztown University.
For the first half of the season, McBride's goal is to get his players healthy and get on the right path to win the PSAC West.
"Our vision – if you ask any of our players – is to win the PSAC West," McBride stated. "We want to get our style of play and our mentality ready to win the PSAC West. If we have to sacrifice a couple of games, make a couple hard decisions within games, non-conferences games that set the standard for that, then so be it."
However, McBride sternly exclaimed that the team isn't going to "sell our soul" early in the season to get away with bad habits that would cost them games early in the season.
"I want us to prepare ourselves for January, because that's when the separation starts to happen with teams," McBride said.
Another goal of McBride's is to get fans in seat at the Convocation Center.
"I think from a fan standpoint we'll be a lot more exciting to watch," McBride said. "We'll get up and down the court a little more and just be more fun, more entertaining from a fan perspective. I think we're in a lot better of a situation competing with the top teams in the league. I don't know if that will translate into wins, losses or what. We'll feel a lot more comfortable going into those games, when it's time to tip."
"These kids work really hard and are dedicated to Cal," McBride said. "I know when people come out and watch, they'll have a good time. Come watch us play, come support the guys and I bet fans will come back."

About the Contributor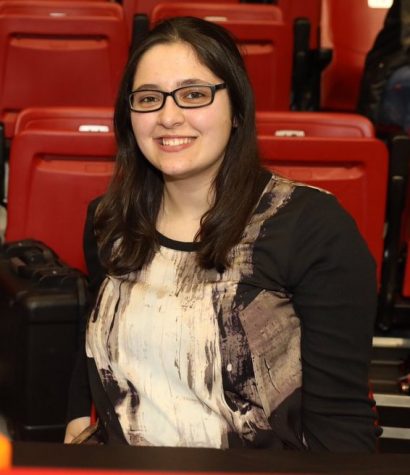 Rachael McKriger, Editor In Chief
In her senior year of college, Rachael McKriger is serving her second consecutive term as Editor-In-Chief of the California Times in the 2017-18 school...