To Kneel or to Stand: The Debate
Hang on for a minute...we're trying to find some more stories you might like.
Football players throughout the United States are making a big decision before their games even start.
Stand, kneel, sit, lock arms or raise a fist in the air. It seems like a pretty simple decision, right? Not for the faint of heart, it isn't.
When athletes wear a uniform, they are representing more than just themselves. That makes what seems like a simple decision a whole lot heavier.
Recently, the National Football League is experiencing the highs and lows of athletes choosing to stand, kneel, sit, lock arms or raise their fists in the air during the Star-Spangled Banner.
The movement was first led by Colin Kaepernick, who knelt for the national anthem during his tenure with the San Francisco 49ers. The first occurrence came on Sept. 1, 2016.
After the game, Kaepernick explained his decision to kneel.
"I am not going to stand up to show pride in a flag for a country that oppresses black people and people of color," Kaepernick said. "To me, this is bigger than football and it would be selfish on my part to look the other way. There are bodies in the street and people getting paid leave and getting away with murder."
After the recent growing protests in the NFL, United States President Donald Trump stated that anyone protesting the national anthem should be "fired" and called them "sons of bitches."
Now, the protest against racism and injustice is reaching college campuses and high schools. At California University of Pennsylvania, the California Vulcans wait inside the locker room while the national anthem plays.
There is no rule at Cal U that mandates that athletes, no matter what sport program they participate in, has to stand for the national anthem.
The players themselves are split on the topic as well. However, in the locker room, they come together as one unit, with no personal conflicts despite different opinions.
"I would respect their choices no matter what they would be," senior defensive end Corey Bopp said. "In my opinion it's a group of people expressing their right to protest, and to me that is an important part of what America is and what it is to be American. I feel that it is important to honor any person's right to protest no matter what their reason is. Who is to say what makes a cause just?"
"I would not kneel as a college football player," freshman quarterback Erick Taylor stated. "I do not think that college football players have earned the right to kneel during anything. I also think that college football players are not big enough role models to be able to send a message such as this."
As for senior wide receiver Tom Greene, it all comes down to being comfortable with your actions.
"I have always stood for the anthem," Greene said. "I wouldn't be opposed to kneeling but I was raised to stand for the flag, so that is what I am comfortable with doing."
All three players have admitted that there has been no public discussion led by head coach Gary Dunn about the protests. However, Greene noted that the players are "aware of what is happening in our country."
"Being a college athlete is different today," Greene explained. "With how crazy the outside world is away from the field, it gets to be hard focusing out distractions. On the field is where most players feel comfortable."
Greene also commended the movement for equality throughout the NFL protests, saying the football field is a place where "black males can excel, not feel targeted."
"The game helps and saves equality," Greene said. "No one judges by color on the field, only skill. That idea alone is comforting."
In addition, Bopp explained that athletes aren't just sticking to their sport anymore. Instead, athletes are using their platform, based on popularity and their following.
"Athletics has always been a platform for athletes to make statements and as long as it continues to be the phenomenon that it is today athletes will continue to use their platform to make statements," Bopp said.
Meanwhile, there is another aspect to the recent protests circulating throughout the various different levels of football in the United States.
Plenty of criticism from the events is due to the United States military. The subject has plenty of people split. If athletes are kneeling for the anthem, are they disrespecting the military?
Taylor thinks so.
"I don't think that the people kneeling while the national anthem is playing is being respectful to our troops," Taylor stated. "However the flag is also supposed to be a symbol for the people that protect and serve us as a nation. The people that are supposed to protect and serve us as citizens are not doing their job well. As a matter of fact they are doing more killing than protecting."
"These are the reasons why people kneel while the national anthem is playing," Taylor continued. "Also if not during a national anthem, what else would grab the nation's attention like this? And now, especially since people of opposite race are kneeling with the African Americans that are sending the message, our nation is becoming a lot closer than it was."
However, Taylor is able to see the other side of the issue, saying that the message being sent is a "good message."
"I think that if it was for any other reason it would be unacceptable," Taylor said. "I think that kneeling during the national anthem and is trying to  end a message to our nation about with the flag stands for."
It's not just football, either, where these protests are occurring.
Megan Rapinoe was the first female, and first soccer player to kneel for the national anthem during the United States Women's National Team friendly against the Netherlands last September.
After Rapinoe's decision to kneel, U.S. Soccer released a policy that mandates all players representing the United States National Team (men, women or youth level teams) must stand for the national anthem.
However, the National Women's Soccer League, is different. In their final regular season match, members of the Seattle Reign and FC Kansas City, including Rapinoe and her international, United States teammates Becky Sauerbrunn and Sydney Leroux-Dwyer, stayed inside the locker room for the national anthem.
Baseball had its first player kneel on Sept. 24, when Bruce Maxwell of the Oakland Athletics took a knee.
Hockey and basketball have not had players take a knee, as of yet. However, Golden State Warriors point guard Stephen Curry rejected an invitation to the White House from President Trump. No player in Major League Soccer, the male soccer league in the United States, has taken a knee.
At the college level, the University of California, Los Angeles women's soccer team took a knee on Oct. 8 against the University of Arizona. The Bruins wrote on their official website that "six members of the team knelt during the anthem, including two members of the coaching staff. Three out of the six players are international student-athletes."
Back to the NFL, a recent report from Sport Illustrated indicated that NFL owners are contemplating a rule change mandating players to stand for the national anthem. The talk about the rule is slated for this week.
The story, published on Oct. 10 by Jeremy Woo, also revealed a letter from NFL Commissioner Roger Goodell, encouraging players to stand for the anthem.
The letter stated, "Like many of our fans, we believe that everyone should stand for the national anthem. It is an important moment in our game. We want to honor our flag and our country, and our fans expect that of us. We also care deeply about our players and respect their opinions and concerns about critical social issues."
In addition, the phenomena is not just exclusive to the United States. On Oct. 14, in Germany, Bundesliga soccer club Hertha Berlin had all eleven of their starting players, their coaches and staff kneel before the start of their match against Schalke.
The club released a statement after saying, "Hertha BSC stands for tolerance and responsibility! For a tolerant Berlin and an open-minded world, now and forevermore!"
Back at Cal U, the Vulcans still choose to remain in their locker room during the national anthem. However, it's not a protest as a whole. It's just been a tradition for the team.
However, if the team were to do some sort of protest, Bopp explained that he would lock arms with his teammates, the way the Green Bay Packers of the NFL have chosen to do.
"I feel the meaning of the protest has been lost in the controversy I would instead opt for a show of unity such as locking arms," Bopp said. "I think this would appropriately express the intended meaning for the protests, that being in my opinion that there is too much racism and division present in our country."
Taylor and Greene agreed that they wouldn't be opposed for the idea.
"We don't go out for the national anthem, if we did I wouldn't be opposed to locking arms to show unity as a team," Taylor said
"I would agree with whatever my team chooses to do," Greene said.

About the Contributor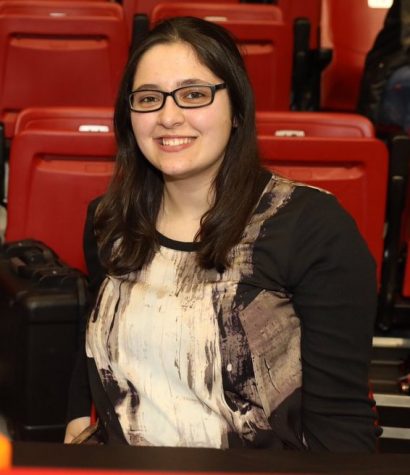 Rachael McKriger, Editor In Chief
In her senior year of college, Rachael McKriger is serving her second consecutive term as Editor-In-Chief of the California Times in the 2017-18 school...