Top 10 moments from the Pyeongchang Olympics
The Pyeongchang Winter Olympics are officially over.
It was three weeks of friendly sport competition, a bit of controversy and unforgettable moments.
The winner of the Olympics, by medals, was Norway, grabbing 39 medals. Germany followed behind with 31 medals and Canada rounded out the top three with 29 medals.
Norway's 39 medals broke the United States' record of 37 medals in a single winter Olympics, set back in the 2010 Vancouver olympics.
This year, the United States finished with 23 total medals, with nine being gold.
As for the entire competition as a whole, here are my Top 10 moments from the Pyeongchang Winter Olympics.
10. Lindsey Vonn's final Olympic ski
Lindsey Vonn is an icon of winter sports.
The 33-year-old alpine skier suffered a devastating injury way back on Nov. 20, 2013, which kept her out of the 2014 Sochi Olympics. Making her Olympic comeback — and final Olympics appearance — Vonn won bronze in the downhill ski competition.
"This is my last [Olympic] downhill," Vonn told NBC after her bronze-medal race. "I wish I could keep going, you know? I had so much fun. I love what I do. My body just can't — probably can't — take another four years. But — I don't know, I'm proud. I'm proud to have competed for my country. Proud to have given it my all. I'm proud to have come away with a medal."
9. Adam Rippon steals America's heart
The first openly-gay figure skater to compete in the men's program of the Olympics is Adam Rippon.
At 28-years-old, this is the same Rippon that said he ate his feelings out after not being named to the 2014 Sochi USA Figure Skating team. In the men's program, Rippon placed seventh, with a combined score of 86.69.
Rippon also won a bronze medal in the team figure skating event, doing his part in the men's free skate by earning a score of 172.98.
Rippon never held back during the Olympics, calling out U.S. Vice President Mike Pence, Ivanka Trump and other politicians who bashed his LGBTQ activism.
Rippon is one of two openly gay U.S. athletes — the other being Gus Kenworthy, who kissed his boyfriend before competing in the freestyle skiing event.
The two took a picture before the Olympics began, at the opening ceremony, in which Kenworthy captioned, "We're here. We're queer. Get used to it."
8. Red Gerard takes the gold at 17-years-old
Shaun White's successor has already claimed gold at 17-years-old.
Red Gerard, from Colorado, claimed the United States' first gold medal in the slopestyle snowboarding competition. Gerard is the youngest snowboarder to win a medal at the Winter Olympics.
Gerard beat out veteran Canadian snowboarders Maxence Parrot, silver medalist, and Mark McMorris, the bronze medalist.
 7. Shaun White competes in final Olympics
Just like Lindsey Vonn, Shaun White took the to Olympic course one more time.
Although he hasn't publicly said that Pyeongchang was his last Olympics, White isn't getting any younger. However, on the course, the 31-year-old proved he could still hang with younger snowboarders.
White claimed the gold medal in the halfpipe event, with a score of 97.75. Taking the silver medal was Ayumu Hirano of Japan while Scotty James took the bronze medal for Australia.
Other American snowboarders in the event included  Ben Ferguson, who finished fourth, Chase Josey, who finished sixth, and Jake Pates, who finished eighth.
6. Mirai Nagasu nails the triple axel
Mirai Nagasu made history in her free skate during Team USA's bronze-medal campaign.
Nagasu became only the third figure skater from the United States to successful complete a triple axel. The other two to complete the task before her were legendary skaters Tonya Harding and Kimmie Meissner.
Nagasu didn't have quite the same success during the individual ladies program, which resulted in a 10th-place finish with only 186.54 points.
However, the triple axel was the highlight of Nagasu's Olympics.
"Today has been the best day ever," she said. "This is definitely history, or herstory, whatever way you want to put it."
5. Chloe Kim wows — and brings the laughs
Chloe Kim became the star of the Olympics early on through her skill on the snowboard and her tweets.
Even while competing, Kim tweeted out random thoughts about wanting ice cream, her hands being cold and the disappointment over the Olympic village food (specifically the breakfast sandwiches).
In the halfpipe event, Kim claimed the gold medal with a score of 98.25.
The silver medalist didn't come close to her score, as Liu Jiayu of China earned a score of 89.75.
However, Kim wasn't the only American to medal in the halfpipe event. Fellow American Arielle Gold earned the bronze medal with a score of  85.75 points.
"I hate crying but I'll give myself a pass for this one," Kim tweeted after her gold-medal victory. "Thank you everyone for the love! Stoked to bring home the gold."
4. USA Curling makes history
While some Olympic fans might not understand curling, dedicated athletes partake in the Olympics most bizarre sport.
The United States team has never won a gold medal — until now.
The men's team of John Shuster, Tyler George, Matt Hamilton, John Landsteiner and Joe Polo won the gold medal over the team from Sweden, 10-7.
"We want our sport to be loved by our country as much as we love it," George said. "There's a reason why we play it, and there's a reason why we love it as much as we do."
Team Shuster reached the gold-medal round after beating the Canadian team, 5-3.
Sweden did receive a curling gold medal, though, after their women's team defeated South Korea, 8-3.
3. Tessa Virtue and Scott Moir win gold one last time
So many people wondered if Tessa Virtue and Scott Moir of Canada were a real-life couple after their convincing ice dance skating, which won them another gold medal.
"We're the type of athletes that dive headfirst into the whole process and I just honestly don't know where you would find time for that," Moir said, responding to fans' assumptions of a potential relationship off the ice. "And part of the reason was that maybe why we wouldn't continue was to open up that side of our life, maybe, and see where that goes, and that's as personal as I'll get, but let's see what happens."
The duo also took gold with Team Canada in the team skate.
Viture and Moir, who are competing in their final Olympics, had a world-record short skate of 83.67 points and a free skate of 122.40 points.
Virture and Moir combined for 206.07 points, another world record. The Canadians beat out silver medalists Gabriella Papadakis and Guillaume Cizeron of France and bronze medalists Maia Shibutani and Alex Shibutani of the United States.
The French duo earned 205.28 points while the "Shib Sibs" earned 192.59 points.
2. USA Hockey defeats Canada for gold
The United States Women's Hockey Team haven't beaten Canada in the Olympics for 20 year.
Amanda Kessel and the current 2018 team have ended that drought.
After falling to Canada in group play, the United States had three players score in a shootout on Feb. 22 to crown the United States Olympic gold-medal champions over Canada.
The United States got to the gold medal game after group victories over Finland and the Olympic Athletes from Russia. They defeated Finland, who finished with the bronze medal, once again in the semifinals before the gold medal game.
"It is everything for our country," U.S. coach Robb Stauber said. "I am just so thankful for the outcome. It was a thrilling final. It was unreal."
1. Alina Zagitova and Evgenia Medvedeva battle for gold
It was a battle of the Russians in the ladies program in figure skating.
Alina Zagitova was the victor, as the 15-year-old narrowly defeated her training partner, and friend, Evgenia Medvedeva. Zagitova finished with a final score of 239.57 points, enough to claim gold.
Medvedeva finished with 238.26 points, notching the silver medal.
The two skaters are both coached by Eteri Tutberidze and Sergei Dudakov. They train together regularly, and are both young skaters, with Medvedeva being only 18-years-old.
"I haven't fully realized yet that I've won," Zagitova said. "I think I need some time to understand that I won the Olympic Games. I can't believe I am the champion."
The decision had a lot of fans claiming that Medvedeva was "robbed." After her skate, and after finding out she lost the gold medal to her training partner, Medvedeva said to her coach, "I did everything I could."
After the skate, and big reveal for whole would take gold, both skaters enveloped each other in a hug, showing that no matter what, they're friends first.
Despite the silver medal finish, Medvedeva is looking forward to a long career — and potentially a trip to Beijing for the 2022 Olympic Games.
"I've got a big life in sports ahead of me and I want to keep going for many years," Medvedeva said.
About the Contributor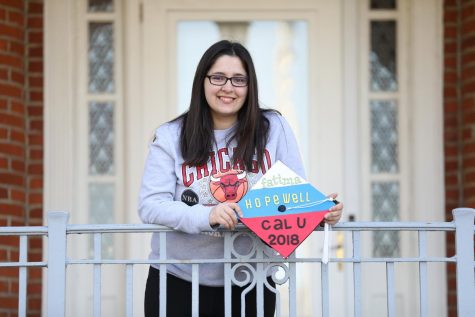 Rachael Kriger, Editor In Chief
Now a graduate of California Univ. of Pennsylvania (May 2018), Rachael Kriger is current a videographer and the multimedia coordinator at Lutheran SeniorLife...