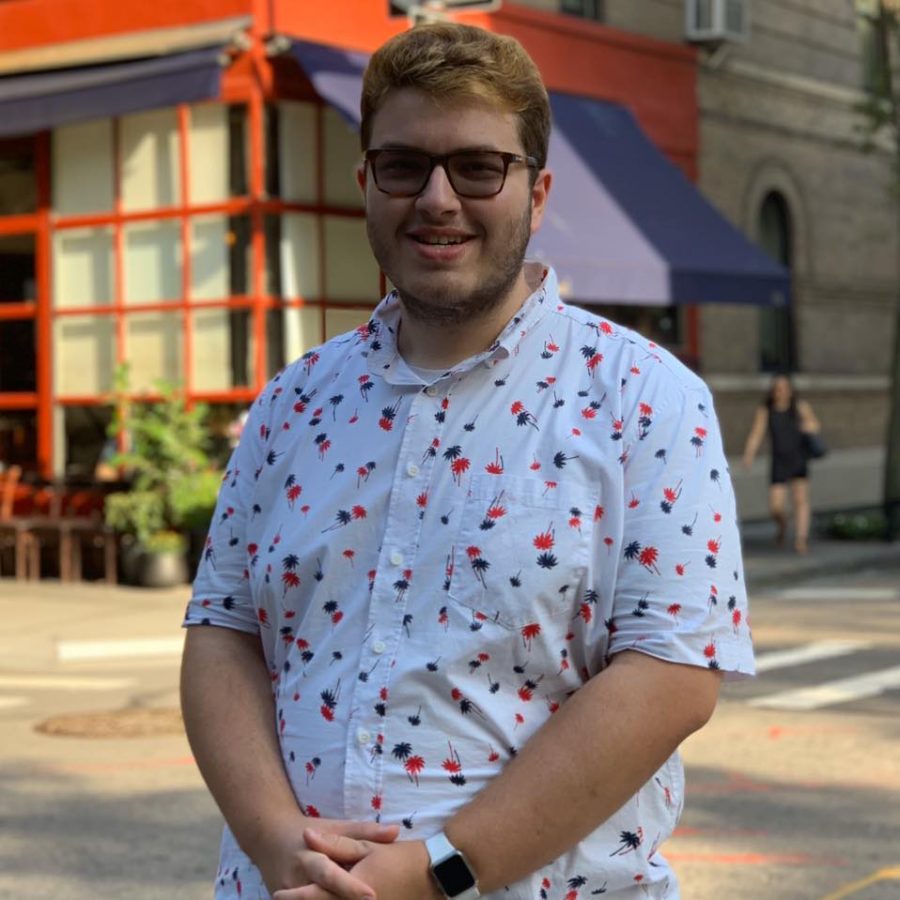 Thomas "Tom" Caton is returning as the Editor-in-Chief of Cal Times for the 2020-2021 school year! Tom is ready for another fun year with the Cal Times.
Tom is currently a senior studying Communications with a concentration in Radio & TV. Along with working for Cal Times, Tom is also a production crew member of CUTV and a certified WCAL DJ. Outside of the media suite, Tom is a member of the Student Honors Advisory Board (SHAB) and a member of the University Honors Program (UHP) In the future, Tom hopes to pursue his lifelong dream of being a talk show host on television or possibly land a job in the broadcasting field (and hopefully move to New York City).
"Let's make the best with it being my senior year!"
Tom Caton, Editor in Chief
Dec 16, 2020

President Geraldine Jones Prepares for Retirement

(Story)

Dec 09, 2020

Semester Finale Episode of Caton's Corner

(Story)

Dec 02, 2020

Working During the Pandemic; Cal U alumni talk about working professionally amidst the covid-19 pandemic

(Story)

Nov 18, 2020

Singing via Zoom; University Choir Members express what they have done this semester despite the pandemic

(Story)

Nov 11, 2020

Radio Shows Outside the Radio Station

(Story)

Nov 04, 2020

Cal U Student Engagement

(Story)

Oct 28, 2020

Student Appreciation Week Details

(Story)

Oct 28, 2020

Customers Tired of Getting Their Hearts "McBroken"

(Story)

Oct 22, 2020

President Geraldine Jones Receives Jennie A. Carter Award

(Story)

Oct 14, 2020

"The Haunting of Bly Manor" A look at Netflix's scary new web series

(Story)

Oct 07, 2020

Covid-19 Cancels Fall Sports

(Story)

Sep 23, 2020

"The Masked Singer" returns for season 4! The most exciting "Who Sung It?" competition returns to TV

(Story)

Sep 16, 2020

Virtual Memorial held for Jamain "Juice" Stephens

(Story)

Apr 27, 2020

Hard work pays off: The many hats Gary Smith wears to successfully run CUTV

(Story/Media)

Apr 02, 2020

Autism Awareness Month: Cal Times editor-in-chief shares personal story of living with autism

(Story)

Feb 16, 2020

Full-time professor & part-time author, Dr. Melissa Sovak

(Story)

Feb 15, 2020

The living legend who was Kobe Bryant

(Story)

Nov 03, 2019

"The Masked Singer" Recap

(Story)

Oct 21, 2019

Homecoming Court Called to Order

(Story)

Oct 21, 2019

70th Annual Homecoming Parade

(Story)

Oct 07, 2019

Storming Area 51…..WHY?

(Story)

Oct 07, 2019

Coover Hall Rededication Ceremony

(Story)

Sep 23, 2019

Vulcans Travel to New Hampshire

(Story)

Sep 23, 2019

"The Masked Singer" Returns for Season 2

(Story)

May 08, 2019

More TV Show Reboots?

(Story)

May 08, 2019

"Game of Thrones" Returns for Final Season

(Story)

Apr 08, 2019

Autism Can't Define Me. I Define Autism.

(Story)

Mar 25, 2019

College Admissions Scandal

(Story)

Mar 22, 2019

The Masked Singer Finale: Last Masked Standing

(Story)

Mar 22, 2019

Local Fish Fries gear up for the season of Lent

(Story)

Mar 04, 2019

An Academy Awards Ceremony like no other

(Story)

Mar 04, 2019

Inspiration Behind "Pittsburgh Dad" Videos Passes Away

(Story)

Feb 19, 2019

Designer Items: Are They Worth it?

(Story)

Feb 16, 2019

Meet our new Entertainment Editor, Tom!

(Story)

Feb 16, 2019

Super Bowl LIII Halftime Show: Hit or Miss?

(Story)

Feb 05, 2019
Feb 04, 2019

Kimberly Rhoades: College YouTuber

(Story)

Feb 04, 2019

The Masked Singer: Who's Behind the Mask?

(Story)

Dec 03, 2018

Controversy in Christmas Classics

(Story)

Nov 29, 2018

Stephen Hillenburg, Creator of SpongeBob SquarePants, Passes Away at Age 57

(Story)

Nov 29, 2018

Rockefeller Center Tree Lights up NYC Skyline

(Story)

Nov 28, 2018

The 52nd Annual Country Music Awards

(Story)

Nov 19, 2018

Howie Mandel Returns to host "Deal or No Deal" on CNBC

(Story)

Nov 01, 2018

Michael Myers still Scaring Audiences 40 Years Later

(Story)

Oct 25, 2018

Meghan Markle's Baby Bump

(Story)

Oct 25, 2018

The Glow: A Jack-o-Lantern Experience

(Story)

Oct 14, 2018

The 46th Annual American Music Awards

(Story)

Oct 11, 2018

CUTV Newscenter, Oct. 11, 2018

(Media)

Oct 03, 2018

Things Heat Up in Hell's Kitchen

(Story)

Oct 02, 2018

Movie Preview: A Star Is Born

(Story)

Sep 28, 2018

CUTV Newscenter, Sept. 27, 2018

(Media)

Sep 27, 2018

Duda's Farm ready for annual "Pumpk'n Pick'n Hayrides" in Brownsville, Fayette County, 2018

(Story)

Sep 19, 2018

Cher: Here We Go Again Tour

(Story)

Sep 13, 2018

The Final Season of The Big Bang Theory

(Story)

Sep 05, 2018

The Nun Movie Trailer, Expressing Mixed Emotions

(Story)

Apr 25, 2018

Tips on how to escape the summertime boredom blues

(Story)

Mar 07, 2018

90th Academy Awards brings tears and cheers

(Story)

Feb 28, 2018

Fergie's National Anthem performance sparks debate

(Story)

Sep 29, 2017

Grey's Anatomy new season premiers

(Story)

Sep 12, 2017

Have You Seen It?

(Story)