President Geraldine Jones Receives Jennie A. Carter Award
Geraldine Jones, president of California University of Pennsylvania, was brought to tears after receiving the Jennie A. Carter award on Oct. 8, as she was virtually surrounded by other Cal U faculty, friends, and family members.
Sheleta Camarda-Webb, director of the Diversity, Equity, and Inclusion Office, welcomed everyone to the first ever virtual Jennie A. Carter award ceremony. She personally welcomed honoree, President Jones and her family, Bill Carter, the great grandson of Jennie A. Carter, and his wife, Kay Carter, and many others
"On behalf of our university, I welcome you to today's celebration, honoring the life and legacy of Elizabeth Jennie Adams Carter," said Camarda-Webb.
Jennie Carter (1852-1891) was the first African American graduate of Cal U, graduating almost 140 years ago in 1881. At the time Carter graduated, Cal U was known as the South Western State Normal School.
Camarda-Webb said that Carter is recognized as a vanguard for people of color and women in the California and Mon Valley regions. Continuing on, Camarda-Webb stated how President Jones shares similar stances with the late historical Cal U figure.
Bill and Kay Carter then joined the virtual award ceremony to share remarks. Joining the ceremony live from Hawaii, where it was approximately 6:00 a.m. at time, the Carters were ecstatic to share in the pride, joy, and celebration of Jennie Carter's life, but to witness President Jones receive the award.
Carter gave a brief history lesson on his great grandmother and the life she lived in the 19th century. He said she broke stereotypes and did the unimaginable for not only women at the time, but women of color as well.
Camarda-Webb introduced First Gentleman, Jeff Jones, husband of President Jones, to signify the start of the celebration.
Jones started off by thanking for the selection of President Jones to become the twelfth recipient of the Jennie A. Carter award.
"The award is given to a person who exemplifies Jennie's spirit, resilience, and leadership," said Jones. "This award is one of many ways that Geri has made us proud."
First Gentleman Jones introduced his two daughters, Autumn and Courtney Jones, to the virtual ceremony. Both daughters shared stories of how inspirational and kind their mother is and thanked that she was selected to receive the prestigious Jennie A. Carter award.
Without any further hesitation, the ceremony's honoree, President Geraldine Jones, was introduced. First Gentleman Jones displayed the award in front of all and read the inscription on the plaque of the award aloud, "Jennie A. Carter Award, awarded to Geraldine M. Jones, Oct. 8, 2020, presented by California University of Pennsylvania."
President Jones spoke about what an honor it is to receive such an award in her opening remarks. She had many people to thank for those who were able to join the online celebration.
"I am deeply touched," said Jones, as she held back a few joyful tears. "To receive this award is such a very special honor because Jennie herself was a very special person."
President Jones shared remarks on how Jennie Carter's life has inspired the campus of Cal U and how her legacy has predominantly changed the course of the future for not only Cal U in general, but for women and the African American community as well.
"I am proud to say that Jennie's spirit lives on here at Cal U," said Jones. "Our university will continue to be a place of opportunity and promise."
Jones said she was very excited to receive this award and take her place among the other men and women whom have received the same award in years past. Holding back a few more tears, Jones wanted to personally thank everyone, from students to staff to family members and friends, from the bottom of her heart.
Throughout the remainder of the ceremony, countless other Cal U faculty members and a few guest panelists shared remarks in honor of President Jones receiving the Jennie A. Carter award.
Shawn Jones, Jones's nephew, shared moving words as well.
"Aunt Bunny, this is such a wonderful celebration of your whole time you have been at Cal U," said Jones.
Other guest panelists who spoke to congratulate President Jones included Caryl Sheffield, Jim Davis, Kristen Majocha, Bruce Barnhart, William Biddington, Yugo Ikach, Brenda Fredette, Kelly Moran, and Daniel Engstrom.
Each panelist shared comments on congratulating and thanking President Jones on everything she has done for Cal U in the time she has been here.
"Geri is one of the most remarkable persons I have ever had the privilege of being around," said Davis.
"In the 12 years I have gotten to work intimately with President Jones, I was learning so much about how to be a leader and how to be a problem-solver," said Barnhart, thanking Jones for her hospitality and leadership skills.
"President Jones, it has been an honor and a privilege to work with you every day over the last four years," said Moran. "Thank you for making everyone feel welcomed at Cal U."
Near the end of the award ceremony, President Jones, letting a few tears roll down her cheeks and tightly clutching a tissue, thanked everyone in attendance for their kind words. She also stated how things will seem a little odd once the fall semester is over, as she plans to retire from her position as university president. However, she kept on smiling and thanking everyone.
"I said I wasn't going to tear up or cry, but they are happy tears," said Jones. "You have made me all feel so special in my time here and you all are such wonderful, wonderful people. Thank you."
About the Writer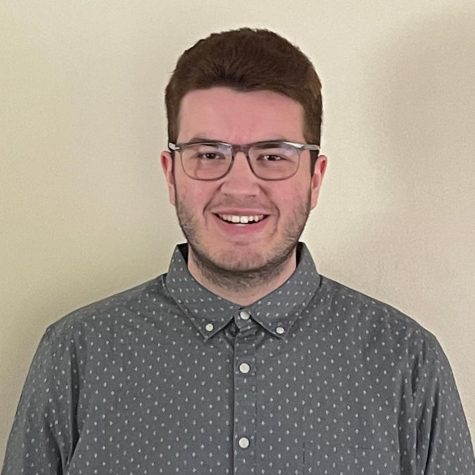 Tom Caton, Editor in Chief
Thomas "Tom" Caton is returning as the Editor-in-Chief of Cal Times for the 2020-2021 school year! Tom is ready for another fun year with the Cal Times.

Tom...