Working During the Pandemic; Cal U alumni talk about working professionally amidst the covid-19 pandemic
Jessica Crosson, Cal U alumnae, has had it pretty well with her current job. However, when the covid-19 pandemic broke out, she now considers her once typical day of work, now atypical.
Crosson, 23, works as a Group Sales Account Executive with the Inter Miami CF, a Major League Soccer club, in Miami, Florida. She has encountered many sunny days both in the city and her company, but the pandemic has affected normal operations, just like with many other places of business around the country.
When in the office, Crosson was very focused on developing group programming and selling group deposits and outings for the upcoming season—including theme nights, fan experience packages, and specialized group pricing.
"Being an expansion team, we've had a lot of opportunities to be creative and really focus on developing all of these new cool things for our fans to do with our club," said Crosson.
In her first year of work at Inter Miami CF, Crosson was shocked to quickly find herself teaching other people the ways of being an account executive.
Since the pandemic hit, it has taken a toll on operations at the soccer club. Crosson said there are restrictions and guidelines all Inter Miami CF employees must follow to maintain safety.
"I specialize in group sales but in the time of covid, we can barely have fans let alone sell to groups of 10 or more people," said Crosson. "My entire role has switched to being more of a New Business Account Executive."
Working in the sports industry, Crosson knows how the covid-19 pandemic has profoundly affected the world of sports and entertainment. Crosson said no fans were allowed inside the stadium during most of their season until the last three regular season home matches.
"It's been super tough and I honestly can't stress that enough," said Crosson.
Crosson also said it has been extremely tough with ticket sales due to the pandemic. She mentioned ticket sales are one of the largest revenue generators for a sports team and with fans not allowed inside, it has been quite tough. She also notes it has been difficult to sell tickets as well; how fans would react to the new guidelines and protocols they must follow if they wish to enter the soccer club.
Crosson's typical work day now includes making a bunch of phone calls and sending many emails and text messages to potential clients.
"Since we meet remotely, we try to stay engaged as a team with different training sessions and team meetings," said Crosson.
Crosson said she is very fortunate to still be working with the Inter Miami CF, despite the pandemic. She is aware of the many changes she and her team have gone through, but she tries to make the best of it all.
Just like many others, Crosson hopes things will return to normal soon.
"The sooner we can go back to having full stadiums and whatever this new normal will be, the better for our industry," said Crosson.
Daniel "Danny" Beeck, Cal U alumnus, says this pandemic has been one wild ride and has made things different in his workplace as well.
Beeck, 23, works as a video producer for the Tampa Bay Buccaneers in Tampa, Florida. Unlike Crosson, Beeck says his typical work day is anything but typical.
"Each day brings its own set of challenges and situations where I have to think critically and problem solve," said Beeck.
At work, Beeck spends most of his time editing or shooting on the field. However, during the early stages of the pandemic, Beeck and many other employees had to work from home.
"It was very different," said Beeck. "My office was at the island in my kitchen which also doubled as a dinner table after work."
Beeck was able to return back to the office in August and has gotten back into his daily routine. But in the office, serious and strict guidelines have been put into effect to maintain the safety or every employee. Beeck says working with the National Football League, there is a tier system that separates the football staff from the front office personnel.
Beeck says with these tiers, it reduces the risk of mixing individuals who must get tested for covid-19 daily and those who do not have to get tested daily. Beeck was placed into the category of people who must get tested daily and even on the weekends.
"I have to wear a tracking device at all times during the work day and get tested every day of the week," said Beeck. "Along with the aforementioned differences, I have to follow CDC guidelines at all times and this might cause issues with completing necessary job related tasks."
Beeck says the pandemic has not affected the quality of his work, but it has affected the terms of being able to complete the necessary tasks at work. These tasks include interviewing players and being around others in an indoor setting. Beeck's daily work routine has not changed much, except for the CDC guidelines everyone at his workplace must follow.
While he is fortunate to still be working, despite the pandemic, Beeck says he tries to create his own little "bubble" in which he tries to operate as normal as possible.
"Making the 'best' of work is difficult being that there are so many outside circumstances that are changing how we operate in the current state of the world," said Beeck.
Beeck says he has no choice but to continue working during this pandemic, which he does not have a problem with at all. He is rather intrigued to see what the "new normal" will be even when the pandemic ends.
"I focus on getting my work done at the highest quality, which raises my spirits when I'm able to do so," said Beeck.
Lastly, Reilly McGlumphy is keeping her head up high with each passing day of this pandemic.
McGlumphy, 22, is currently finishing up her Master of Science in Sports Management from Cal U. She is also remotely interning with Rosenhaus Sports Representation in their Marketing Department.
"Every day is different which has been a fun and new experience," said McGlumphy. "I started as an intern in the summer and was able to stay on through the fall as well."
McGlumphy says some of the biggest projects she has been working on are getting products for the 2020 Training Camp and Holiday Bag for clients throughout the NFL, NBA, and MLB.
Since the pandemic forced most employees to a remote office setting, McGlumphy says this has been a rather easy task since most of her past internships involved working in an office.
The pandemic has taken a bit of a toll on McGlumphy's personal work. After graduating with her Bachelor's Degree in December 2019, she had an internship set up with the Tampa Bay Rays major league baseball team.
"Sadly, I was laid off from my internship with the Tampa Bay Rays in May due to the pandemic," said McGlumphy. "I have used this transition to be able to add a new skill set by gaining experience in the sports marketing agency side of the business."
Just like Crosson, Beeck, and so many others, McGlumphy is hoping things return to normal sometime soon. She is excited to see what new ideas and practices will come from the sports world to keep fans connected.
Knowing these last few months have been difficult for almost everyone, McGlumphy always finds a way to keep herself motivated.
"I have always been a very motivated person and someone who wants to give the best at everything they do," said McGlumphy. "My goal is to keep working hard and make the best out of every day."
Crosson, Beeck, and McGlumphy all agree this pandemic has taken a toll on the world of sports and entertainment, and even their own personal lives. But, they will not let anyone or anything, especially covid-19, stand in their way of getting work done.
About the Writer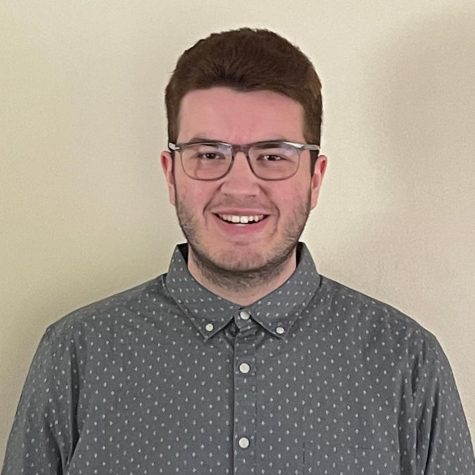 Tom Caton, Editor in Chief
Thomas "Tom" Caton is returning as the Editor-in-Chief of Cal Times for the 2020-2021 school year! Tom is ready for another fun year with the Cal Times.

Tom...