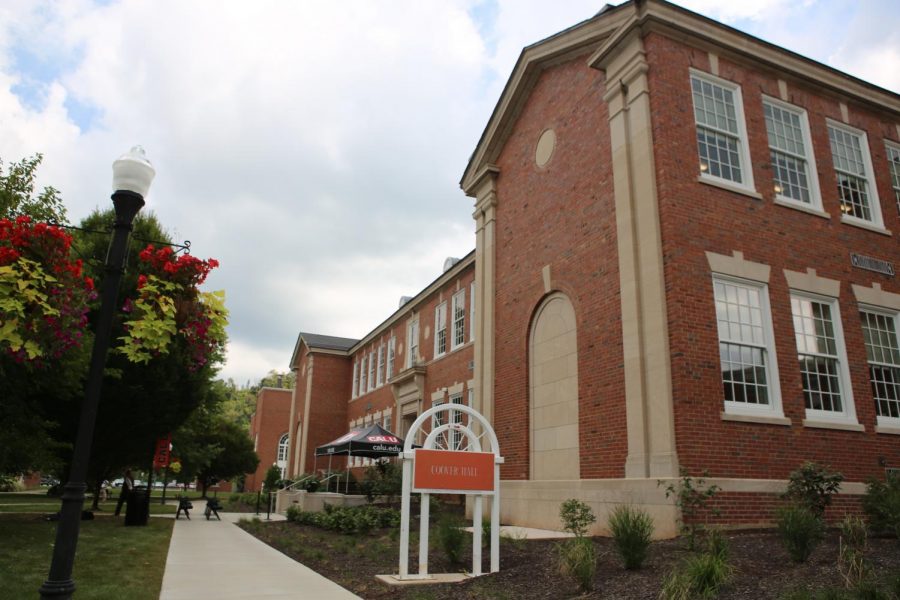 Coover Hall Rededication Ceremony
Cal U's Coover Hall gets a much needed renovation
A campus landmark has finally reopened with a brand-new look. The newly renovated Coover Hall has been transformed inside and out with all the bells and whistles one could imagine.
The former industrial arts building, which was originally constructed in 1938, has reopened its doors with a larger footprint, updated utilities, state-of-the-art technology, and a brand new bold look. 
A rededication ceremony for the grand reopening of Coover Hall was hosted during common hour on Tuesday September, 17, 2019. 
"Coover Hall has been transformed into a thoroughly modern facility, wih all the latest technology,' said President Geraldine M. Jones in her remarks at the ceremony. "It's an ideal home for our Department of Applied Engineering and Technology, and for some of our hands-on courses in art and graphic design." 
Coover Hall is located just steps away from the Quad on campus. The building has been closed for construction work for just about two years. 
New construction has added more than 4,200 square feet and a moving steam line doubled the studio and classroom space on the lower level. The building is air conditioned and an elevator improves access. Other features include high-efficiency windows that brings in about 90% of natural light inside, and energy-saving LED lamps which have brightened up remodeled hallways, classrooms, and labs. 
The main floor provides space for mechatronics engineering technology, industrial technology and technology education programs. This includes a STEM/Clean Prototyping Lab where students can work with 3D printers, laser engravers, a digital flatbed cutter, and small-format CNC milling machine. The Physical Technologies Lab is equipped for light fabrication; a separate room is designed for working with metals, plastics, and woods on a larger scale. 
Throughout the building, the latest technology has been installed in "smart" classrooms and instructional computer labs. The two year, $11 million project was funded through the state Department of General services, with an additional $1.1 million allocated for built-in furnishings. 
Coover Hall's past has not been erased, it has been enhanced tremendously.
Photo courtesy of Leigh Swartzfager, Sports Editor
Coover Hall Rededication Ceremony