Interim University President Robert Thorn's "Campus Talk" addresses merger, the future of academic programs, commencement plans
On March 25, Interim University President, Robert Thorn, invited all Cal U students to attend a virtual rendition of this semester's "Campus Talk."
"Campus Talk" is an event held every semester where students receive the opportunity to ask the university president any kind of question, regarding Cal U, they might have.
Before taking any questions, President Thorn introduced himself and briefly spoke about his career and how he has been working at Cal U for nearly 30 years now.
President Thorn then took a moment to acknowledge all the hard work students and faculty have endured over the last year due to the pandemic. He hopes that more students can be welcomed back and more in-person classes and activities can start back up real soon.
President Thorn reminded students and faculty to keep wearing their face masks and ensure safe social distancing protocols when on campus. While the covid-19 cases are low on campus, President Thorn asks everyone to do their part and keep the number of cases low and to keep everyone safe at all times.
Before answering questions, President Thorn took a few minutes to deliver some updates about Cal U. First and foremost, President Thorn said he is happy to see people on campus doing their best to slow the spread of covid-19 and that he sees the spring 2021 semester has been very successful so far. He also hopes more people can return safely to campus for the fall 2021 semester. The ultimate goal is to return to "Level 1 Operations" and have things fully back to normal on campus.
Thorn then briefly talked about the Mental Health Awareness Days being offered on March 30 and April 14. These days are being used for students to have fun and relax since there was no spring break offered this semester. Also, Thorn talked about the events Student Affairs will be offering for these mental health awareness days (please check the CalTimes website for a full list of events).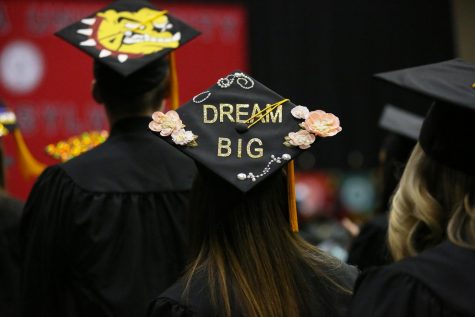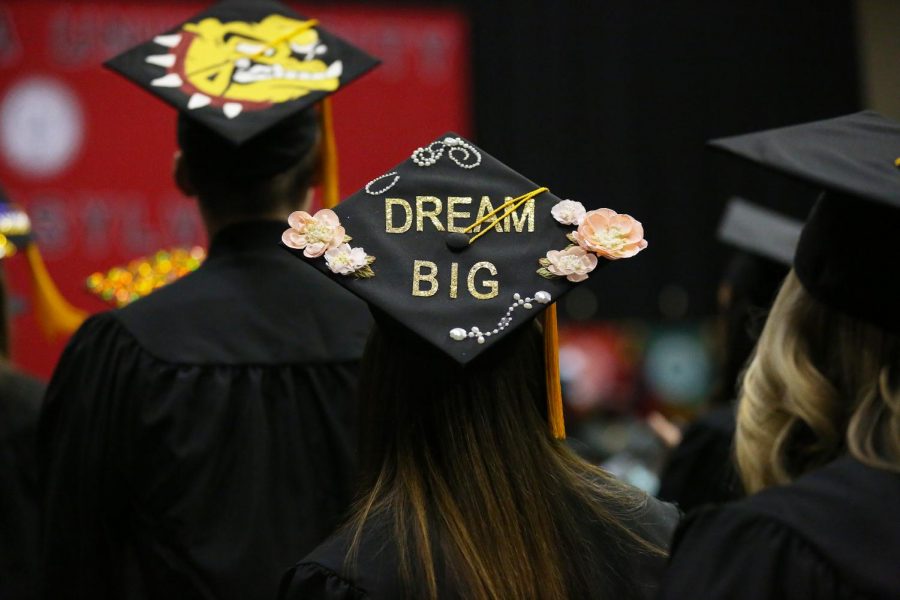 Thorn then talked about the plans for a modified in-person commencement ceremony for all 2021 graduates, which he first announced earlier this month. All ceremonies will be held in the Convocation Center, where there is ample room to allow social distancing and to follow other covid-19 safety protocols. Also, any graduate who plans to attend their commencement ceremony in-person will receive 2 tickets for guests.
Thorn then talked about the campus master plan that was first introduced one year ago. The master plan includes demolishing old campus buildings to maximum space . Work is expected to begin next year in January 2022. Azorsky Hall will be demolished in January 2022 followed by Morgan Hall, Keystone Hall, and Gallagher Hall, respectively.
Repairs are continuing to be made to the Vulcan Parking Garage that has been closed since the fall 2016 semester. Thorn said repairs should be finishing up soon and the garage should be scheduled to reopen later this summer after being closed for almost five years.
After addressing some key topics, Thorn began to take questions from students.
One student asked if they will have to take online or remote classes for their program or travel to another university to take a specific class, once Cal U has integrated with Clarion University and Edinboro University.
President Thorn invited Dan Engstrom, Interim Provost, to speak on the matter. Engstrom stated the program of integrating with the other two universities is still in the works. However, there will be plenty of opportunities for students to take classes from the other universities. If a student wishes to take a class, not offered online, at Clarion or Edinboro, the student might have to drive to that campus for the class. But, with the integration, students will be able to take a class offered at Clarion or Edinboro and learn in a remote learning set.


Another student asked if tuition costs will increase, stay the same, or decrease as a result of the three universities integrating together. As of right now, the answer to that question remains unknown. Tuition rates will be finalized soon, but the exact numbers are yet to be determined at this time.
A student asked if Gallagher Hall is demolished, in accordance with the master plan, will the music program be removed as well. President Thorn said the music program will not be removed at all. Students and faculty involved with the program will temporarily be moved to another facility for the time being while Gallagher Hall is demolished and eventually renovated.
A student then asked about the plans and details for the commencement ceremonies scheduled for May 7 and May 8. President Thorn said the format will follow like commencement ceremonies in the past.  While plans for this modified ceremony are being finalized, a guest speaker is planned to visit and speak with all 2021 graduates. Events for commencement ceremonies are to follow like bigger ceremonies in the past, but plans to keep everyone safe who attends it in person are in full effect.
Next, a student asked about the plans for the fall 2021 semester. Will Cal U have more in-person classes or will there still be a hybrid class format? In response, Thorn predicts things will be better in the fall. They are expecting full face-to-face operations for the fall 2021 semester. More information for the fall semester is scheduled to be released soon. Furthermore, Thorn hopes that clubs and organizations will be able to meet in person as well for the fall semester and beyond.
Also, a fall break might be scheduled into the fall 2021 semester. For one day in October, date yet to be determined, will be a day off for students and faculty.
Other topics of interest included: how to get first-year students encouraged to join a fraternity or sorority, club and university sports, and other questions in regards to the university integration.
"Campus Talk" is offered once every semester, so the next campus talk event is not scheduled until the fall 2021 semester.