The Nun Movie Trailer, Expressing Mixed Emotions
Hang on for a minute...we're trying to find some more stories you might like.
Horror fans will be in for a major treat once The Nun hits theaters everywhere beginning September 7, 2018.
This horror film is a spin-off of 2016's The Conjuring 2 and is also the fifth installment in The Conjuring series. With more than 19 million views on YouTube, the movie trailer for The Nun has been scaring fans in both good ways and in bad ways.
Previously set to be written by David Leslie, The Nun ultimately was written by Gary Dauberman, who is working from a story he penned with The Conjuring director James Wan. Dauberman is best known for writing the scripts for Annabelle and Annabelle: Creation. He also co-wrote last year's super scary smash hit, It. Corin Hardy meanwhile will direct. This is Hardy's second feature after 2015's The Hallow. Here are a few details to know before getting dressed up in your Sunday's best.
This film acts a prequel to The Conjuring. In fact, it will be the earliest-set film in the continuity timeline with its 1952 backdrop. The film was also teased by a photograph in 2017's Annabelle: Creation. However, it appears WB is now viewing The Nun as a continuation of a shared universe, as opposed to merely another spinoff.
The trailer runs just over 90 seconds long and presents the synopsis of the film and the best jump scares the film has to offer. However, there is one iconic jump scare in the trailer fans are describing as "too scary."
This scene everyone is discussing about shows Sister Irene, portrayed by Taissa Farmiga, walking down a dark corridor as a nun figure, with no visible face, walks behind her. She turns around to face the figure as the demonic nun attacks her, causing the huge jump scare. Most horror fans reacted in a positive way to this jump scare, as most fans areexpected too. However, some fans have stated negative criticism towards the trailer due to that jump scare.
Another mini trailer that is about six seconds long, was recently banned from YouTube for being too scary after thousands of users retweeted warning others about its jump scare. The video is indeed shocking, but also a little deceptive.
It begins with a volume symbol that makes it look as if the sound on the video has been turned down. The user who then turns up the sound in response will get an earful of sudden noise, along with a terrifying close-up of the demonic title character. After a tweet was put out on Twitter warning about the jump scare, it received more than 100,000 retweets! Shortly after the huge jump in retweets, YouTube officially removed the trailer from its website.
In conclusion, if you are a horror fan and are extremely excited for The Nun to be released, prepare yourself for September 7. The Nun is coming…pray for forgiveness.
About the Writer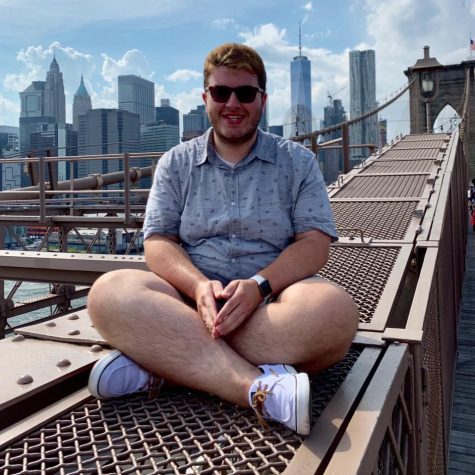 Tom Caton, Editor-in-Chief
Thomas "Tom" Caton is the boss now; he is the new Editor-in-Chief of Cal Times this year! Tom was the former Entertainment Editor last year and has now...