Kimberly Rhoades: College YouTuber
Billions and billions of people log onto YouTube each and every day to watch that latest video everyone has been talking about. Otherwise, people spend their time on YouTube to watch countless videos on just about every topic imaginable. Currently, there are more than 40 million YouTubers worldwide. A YouTuber is a person who uploads, produces, or appears in videos on the video-sharing website YouTube. You have your most famous YouTubers including PewDiePie, Ryan Higa, Markiplier, and more. But do not forget that YouTubers include your average Joes also who just posted a video about their fancy dinner or daily exercise routine. It might be a challenge to hold a college life and YouTube life, but fellow California University student and YouTuber, Kimberly Rhoades, has accepted the fate! Everyone who watches YouTube has to have a favorite YouTube they love to constantly watch from time-to-time. Even though she is just starting out, Rhoades is slowly but surely building her credibility and YouTube status.
In order to find her YouTube page, just simply type "Kimberly Rhoades" into the search bar and quickly hit the subscribe button. The videos Rhoades has posted on her page is mostly make-up tutorials and plain life style videos. Her intended purpose in all of her videos is to show her audience how to properly blend blush and apply mascara, show what her school routine consists of, or be a person anyone can go to. She also wants teach people how to get through life. Her inspiration to beginning a YouTube page is simply being a friend to people. She wants her audience to connect with her and find her page as an escape from the hustle and bustle of everyday life. She stated that life can become difficult and challenging at times and she hopes that her YouTube page is an oasis where people can go to and unwind their troubles away.
Rhoades's main YouTube idols she looks up to is Jeffree Star and Tati Westbrook. Rhoades really loves to indulge in make-up and other beauty care products in her spare time, and Star and Westbrook are some of the biggest names in make-up on YouTube. Besides giving make-up tutorials, Rhoades loves to show her audience life style videos. She has just recently posted a video showing her audience what actions she completes during her nighttime routine. Rhoades tries to upload a new video or two at least once a week. Her main day for uploading new videos is every Wednesday, but sometimes she will post new content on Saturdays. She knows it will be challenging to maintain a college life and a YouTube life. She stated she even gave up theater this semester to pursue her dreams of being a YouTuber, which she implied was an incredibly difficult decision to make.
Even though she just recently started her page, her favorite video she filmed was showing what she does during her nighttime routine. Her highest-viewed video on her page is "21st Birthday Haul" that currently has more than 2,000 views. Rhoades sees herself as a "real YouTuber." She is not simply making these videos for popularity, publicity, and millions of views, she wants to be real on YouTube. She stated even though she would like to receive countless views and publicity, but she is making these videos so people watching can relate to her as a friend. She wants to be that person for somebody and not so much benefit herself. Rhoades says she wants to thank her friend and roommate Macy Gross for all her help with her videos. She relies on Gross for being the camera operator and for making numerous appearances in some of the videos. Rhoades also described that filming videos can be quite challenging; you always want to ensure everything is going as planned. She also chuckled when describing the lengthy process of editing YouTube videos. "It looks like anyone can accomplish the task, but it takes certain skills, time, and practice to accurately edit any kind of video."
In conclusion, Rhoades started her own YouTube page for fun and simply because she wants to. She considers her YouTube page to be that escape for somebody else. She is always looking forward to every Wednesday to post new content for audiences to watch. To close out the interview, she stated "If I can make one person's day, then that makes me really happy." So please, the next time you find yourself on YouTube, check out Kimberly Rhoades, a college YouTuber.
About the Writer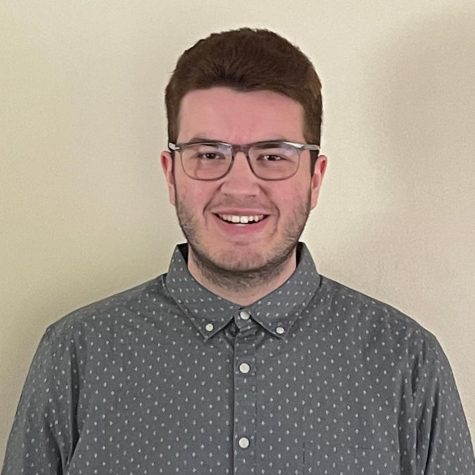 Tom Caton, Editor in Chief
Thomas "Tom" Caton is returning as the Editor-in-Chief of Cal Times for the 2020-2021 school year! Tom is ready for another fun year with the Cal Times.

Tom...