Hard work pays off: The many hats Gary Smith wears to successfully run CUTV
Gary Smith's journey from Cal U undergraduate to adviser and director of operations at California University Television.
It was the fall of 1994, when a young, eager-to-learn student named Gary Smith first walked into the media suite at California University of Pennsylvania. At the time, Smith thought he would be at Cal U for only four years, but who would have thought he would be laying the groundwork for his career for almost the next three decades?
Smith, 43, is the director of operations and adviser of California University Television; often called CUTV, the local on-campus television station at Cal U. Smith looks like the average TV director with his glasses, salt and pepper colored hair and charismatic personality. He is certain that students who join CUTV are to come out on top and prove that hard work really does pay off.
Consisting of about 10 to 15 students, CUTV is an organization on the campus of Cal U. Smith can work long hours and said students can end up doing the same.
"I don't work that typical 9 to 5 job. Being a director of a college television station can seem stressful, but it has its perks. Yes, sometimes I work a lot of hours, can work weekends and I'll even work over breaks when everyone else gets a chance to relax," said Smith. "It can seem challenging to work so much and get so little breaks, but being a member of CUTV can open a lot of doors for students."
Before claiming the director's chair, Smith was a Cal U student himself. After graduating with a bachelor's degree in 1998, Smith wondered what to do next. Then, one year later in 1999, an opportunity as a graduate assistant brought Smith back to campus.
"I was blessed to be offered a grad assistant position and continue working in CUTV."
After graduating from graduate school in 2001, Smith had another opportunity fall right in his lap.
"Shortly after I graduated in 2001, a part-time job was offered to me and I found myself back at Cal U in the fall later that year," said Smith.
After a brief two years, Smith was then offered the full-time position as a co-director of CUTV in 2003. After 17 years in the organization, Smith often jokes about his physical features, mainly his hair.
"Working in CUTV is very fun, but it can get stressful at times. I should not have this much gray hair when I'm only 43 years old."
Smith remembers how different the work was before than it is today, thanks to incredible advancements in technology.
"We've gone from tapes and analogs to everything being digital," said Smith. "My job has become increasingly easier because of the digital takeover and I am forever thankful about that."
"Not only am I the head director, but I wear a lot of other hats such as producer, field supervisor, graphic designer and station manager," said Smith. "Being the main director involves me being at every CUTV shoot, presiding over the crew and delivering content to our audience. At times, I have to travel to different universities to get coverage." Smith said he is responsible for directing every shoot.
While repeatedly saying "hard work definitely pays off," Smith has actual proof. In August 2019, Smith won the George Heaslip Media Award, for his outstanding service in the media. This award is issued by the Pennsylvania State Athletic Conference. Smith was nominated for the first time ever by the main directors in the Sports Information Office at Cal U, Matt Kifer and Alex King.
The award is presented to a member of the media who promotes the PSAC and media in a good and professional manner. Both Kifer and King stated how Smith is a kind-hearted person, looks out for his crew and does an outstanding job in CUTV.
"We knew he was a perfect nominee for this award," said Kifer. The award now sits proudly with other awards in Smith's office.
"If this award doesn't show proof that putting in hard work at CUTV pays off, then I don't know what is," said Smith.
Smith has impacted a lot of people around him. His two closest co-workers, who work with him in the media suite, have many positive things to say about him.
"Gary puts all students at ease when they arrive on campus in the fall because he remembers what it was like to be a college freshman," said Jeff Helsel, a co-worker of Smith. "Gary puts himself in their shoes."
"Gary is a team player and all-around great guy and it doesn't hurt that his students love him. He always goes above and beyond what is expected, often without asking," said Pam DelVerne, another co-worker of Smith.
Smith has profoundly affected former and current students in CUTV. 
"Gary is one of the most knowledgeable, passionate and honest people I've ever worked with. He is down to earth, personable and an awesome person to be around," said Danny Beeck, class of 2019 alum.
"Gary Smith is one of the most influential people I've worked with at Cal U. He has always been there for me and others," says Caitlyn Lenkey, current junior student at Cal U.
"It is so much fun to work with Gary when it comes to broadcasting. He is one of the most chilled bosses I've ever had," said Devon Gerena, current junior student and president of CUTV.
Some students call Gary a great friend and, at times, a father figure for them.
Smith does not work in CUTV alone and could not pull off the content that is posted regularly on social media. With about 10 to 15 students, Smith constantly praises the work they do.
"One of my proudest moments is to see students succeed in the professional world. It just goes to show, and I have said this way too many times, hard work will and does pay off," said Smith.
He is excited that many of his former students stay connected with him and with CUTV and even offer astounding opportunities for current students in CUTV.
"Many former CUTV members have gotten a job right out of college," said Smith. In further detail, he explained how some former students have received jobs from news stations, the National Football League, and other big names in the media world.
Outside of work, Smith has many other hobbies. He spends most of his time out on the disc golf course tossing around the frisbee with friends, no matter what the weather is like. Besides disc golf, Smith enjoys a round of regular golf as well. Smith considers himself to be a bookworm. He challenges himself to read at least one to two books each month. Just last year, he read over 30 books! Although he lives alone, Smith considers everyone in the media suite to be his second family. Everyone who knows him says he truly has a heart of gold.
"I've been blessed to do this job for as long as I can and I have met some incredible students, people, and established many lifelong friendships. It's good."
About the Contributor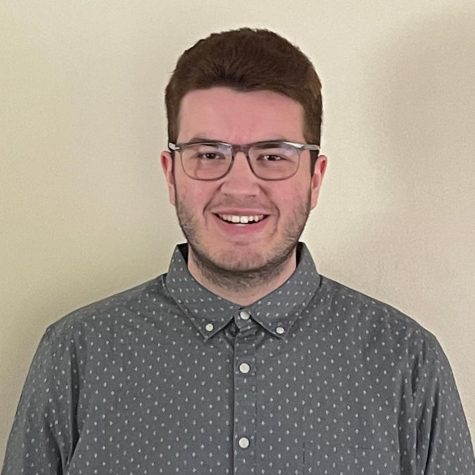 Tom Caton, Editor in Chief
Thomas "Tom" Caton is returning as the Editor-in-Chief of Cal Times for the 2020-2021 school year! Tom is ready for another fun year with the Cal Times.

Tom...