Paul Hertneky speaks about "Rust Belt Boy" at Cal U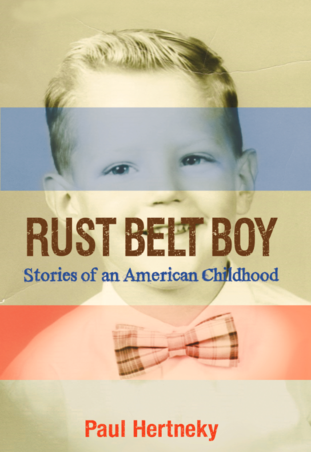 Hang on for a minute...we're trying to find some more stories you might like.
Paul Hertneky is just like many of the local students and community members at the California University of Pennsylvania. He's from the nearby town of Ambridge, Pa., and the steel industry was a massive part of his life.
The author came to campus to discuss his book Rust Belt Boy: Stories of an American Childhood on March 29 in South Hall. His career as a working journalist, writing for institutions such as the Boston Globe, NBC News, National Public Radio and several other substantial organizations includes the Pittsburgh Post-Gazette.
The book focuses on Hertneky time growing up in an age of steel that brought prosperity to the Pittsburgh region and consequently devastation. It's an area that he knows from the inside out having worked in a steel mill during his time getting an education at the University of Pittsburgh.
Rust Belt Book starts with the very beginning of American industry and travels throughout history.  It was a reflection of the historical significance of the region and coupled with own his personal life story that his literary peers would hold esteem but for hundreds of people with a similar story to his own to resonate.
Hertneky felt compelled to tell the story after feeling resentment that now one would remember his hometown. He wanted to tell the story of the rust belt and capture the voices of the people affected by the industry collapse.
Dr. Fishnick has her honors composition one class read the book to introduce students to the story of the local community having been touched by the book's message; it allowed herself to reflect on her own family she stated during her introduction of Hertneky.
Maria Vanyo, Hertneky sister, and a guidance counselor at Hopewell Senior High School in Aliquippa, Pa., has been with him throughout his writing process. She's read the book since it's early draft and inception. She spent long nights reading and crying as Paul recreated her family and community in words.
"It's given me a richer view of Ambridge in a way," says Vanyo, "I understand the people in town and view them differently than the way I grew up with them."
Their father was steel mill "office man," college was expected, and they lived on the hill as Vanyo describes it. For her, the book gave her perspective on her childhood and community.
Along with the book, Hertneky took most of his time to explaining everything that when in his book that completed is 223 pages. The presentation wasn't focused on selling his book to the crowd but telling the students, faculty, staff and community members in attendance the significance of his research and taking in the historical context around your memories.     
"I'm giving you the stuff that didn't make it into the book," said Hertneky.