Honors recognition for transfer students
With just weeks until fall graduation, transfer students at California University of Pennsylvania speak out against Cal U's policy for rewarding transfer students with honors and cords at graduation.
In order to graduate, transfer students at Cal U must attain 30 of their last 60 credits at the university; however, in order to graduate with honors, transfer students must obtain 60 credits at the university to qualify. These honors are known as Latin honors, which are: summa cum laude, highest honors, for students with a 4.000- 3.750 GPA; Magna cum laude, high honors, for students with a 3.749 – 3.500 GPA; Cum laude, honors for students with a 3.499 – 3.250 GPA.
Cal U's policy means that a transfer student with a 4.0 GPA would not receive the honor of summa cum laude unless they've taken 60 credits or more at Cal U. Several transfer students at Cal U find this policy unfair.
"I believe that this policy does not support the hopeful, hard-working transfer student," said Noah Hathaway, recent Cal U transfer graduating in the spring. "I believe that 30 credits, or two semesters of classes, gives ample opportunities for students to demonstrate their academic aptitude and dedication."
Hathaway said that he wasn't aware of Cal U's policy for honors and cords at graduation. Cal U's policy will affect him since he plans on finishing his degree within two semesters.
"I would imagine that it would affect me," said Hathaway. "I only must take 30 credits to graduate, including the credits for this semester, so I will not meet the minimum credits requirement."
4.0 student, Lindsay Kastroll, was also unaware of Cal U's policy.
"I had no idea," said Kastroll. "It doesn't seem fair. I think there should be a minimum but 60. That's a lot. That's at least two years. If someone decides to finish their degree at Cal U, instead of another university, that means they like Cal a lot and Cal U should respect that."
Since Kastroll has already obtained her first undergraduate degree from Cal U, she is not directly affected by this policy. Kastroll empathizes with other students who are affected by this. She said that she knows there are many transfer students at Cal U.
"Why they would hinder them in that way is disappointing," said Kastroll. "Maybe a semester to two semesters would be a more fair benchmark. It's not just that they are not giving you the cords. They are not giving you the title. That's not fair for your resume as well."
Geology major, Thomas Meredino, transferred to Cal U from the University of Pittsburgh. Meredino said that the policy was new to him, as well.
"It doesn't make sense of the actual minimum requirements to graduate here," said Meredino. "I don't think I would've gotten those 60 credits, if I didn't graduate in the spring."
Meredino reflected on how many courses a student would have to take in two semesters, in order to meet the requirement for graduation cords and honors.
"Someone who only needs 30 credits to earn a degree from Cal U, who decides to go above and beyond per semester and earns the necessary grades but falls short of 60 credits, will still be ineligible for honors recognition," said Meredino. "Hypothetically, someone can overload with 29 credits per semester for two semesters, 58 total, and still not meet the 60-credit requirement for honors at Cal U. That doesn't seem like a fair metric for someone who busts their tail harder in a shorter amount of time."
Transfer from Indiana University of Pennsylvania, Gavin Jones, said although he meets the credit requirements for graduating with honors, he still doesn't like Cal U's credit minimum.
"I'm personally not a fan of the credit minimum requirement," said Jones. "It seems wrong to me to not reward students who have done well in their studies just because they didn't do all of it at Cal U. They still earned those honors."
Sister schools – Clarion and Edinboro both have policies on cords and honors for transfer students; however, theirs differ from Cal U's. Their policies both state that as long as the student has the minimum required credits to graduate, they can qualify for honors and cords.
Academic events coordinator for the office of provost and academic affairs, Jodie Bonidie, said there is no universal policy in Pennsylvania for universities to follow, regarding awarding honors and cords.
"Graduation with academic honors, often Latin honors, requirements vary between colleges and universities," said Bonidie. "There is no universal standard that colleges and universities must follow such as the minimum number of resident credits earned or a minimum, cumulative GPA required. Policies and requirements for Latin honors distinctions are set by individual institutions if even offered at graduation."
Bonidie said that the first step for policy change, is feedback from Cal U's students.
"A review of our academic policies' requirements and guidelines begins with feedback," said Bonidie. "Student feedback is obviously essential to this process."
View Comments(1)
About the Contributor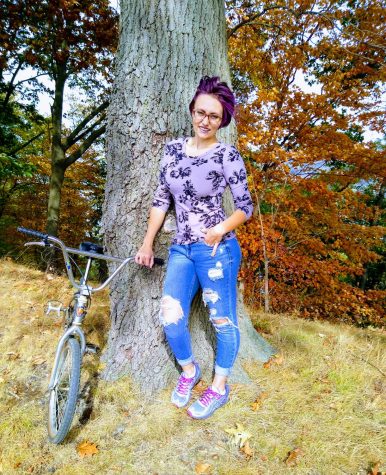 Johanna Eisel, Staff Writer
Johanna Eisel is a senior at California University of Pennsylvania, studying English with a concentration in literature. This is her first semester officially...