https://www.caltimes.org/10271/showcase/steelers-tailgreatness-cook-off-semifinals/
In case you missed how I got here, check out the story above.  But long story short, I submitted a burger recipe and was picked to compete in the semi-finals and won to move on to the championship. I woke up that Sunday morning (October 29, 2023) wondering how the day would unfold for me. My girlfriend and I loaded up and headed for Pittsburgh. Listening to the pregame show on the radio, my girlfriend broke the silence.
"You nervous at all?" asked Arian.
"I'm probably not going to win this thing, but I'm going to have fun and enjoy the day," I replied.
Story continues below advertisement
I had started thinking how the set up was going to be for the cook-off as the weather was very cold, wet, rainy, and breezy. After finally driving around looking for parking for a little bit, I walked inside "Stage AE" and checked in.
Before long it was 11 am and time to start. In the previous round I had to share a grill with one of my other competitors, this time I had the solo station. I spent the first five minutes of my time setting up my workstation. Getting my bacon on first to cook while I prepped my burgers.
I started seasoning and shaping the burgers before throwing them onto the grill. While those were cooking, I started getting things ready to make the grilled onions (my least favorite part), but I had taken the bacon off the grill and placed it into the skillet. I removed it and placed into a bowl and used that skillet with the bacon grease still in it to cook onions. I kept checking the burgers and flipping them. I pulled the onions and kept them close to the grill to keep them and the bacon warm, while I covered the burgers in BBQ sauce and cheese, getting it to the melting point and started pulling them.
At this point, I started building the burgers and getting the plates ready before that 12pm deadline. I still had 15 mins left before I had to be ready. I got the burgers built and I think it looked better than the first round. I changed some things up that made the garnish look nicer, and before long it was time to turn everything in.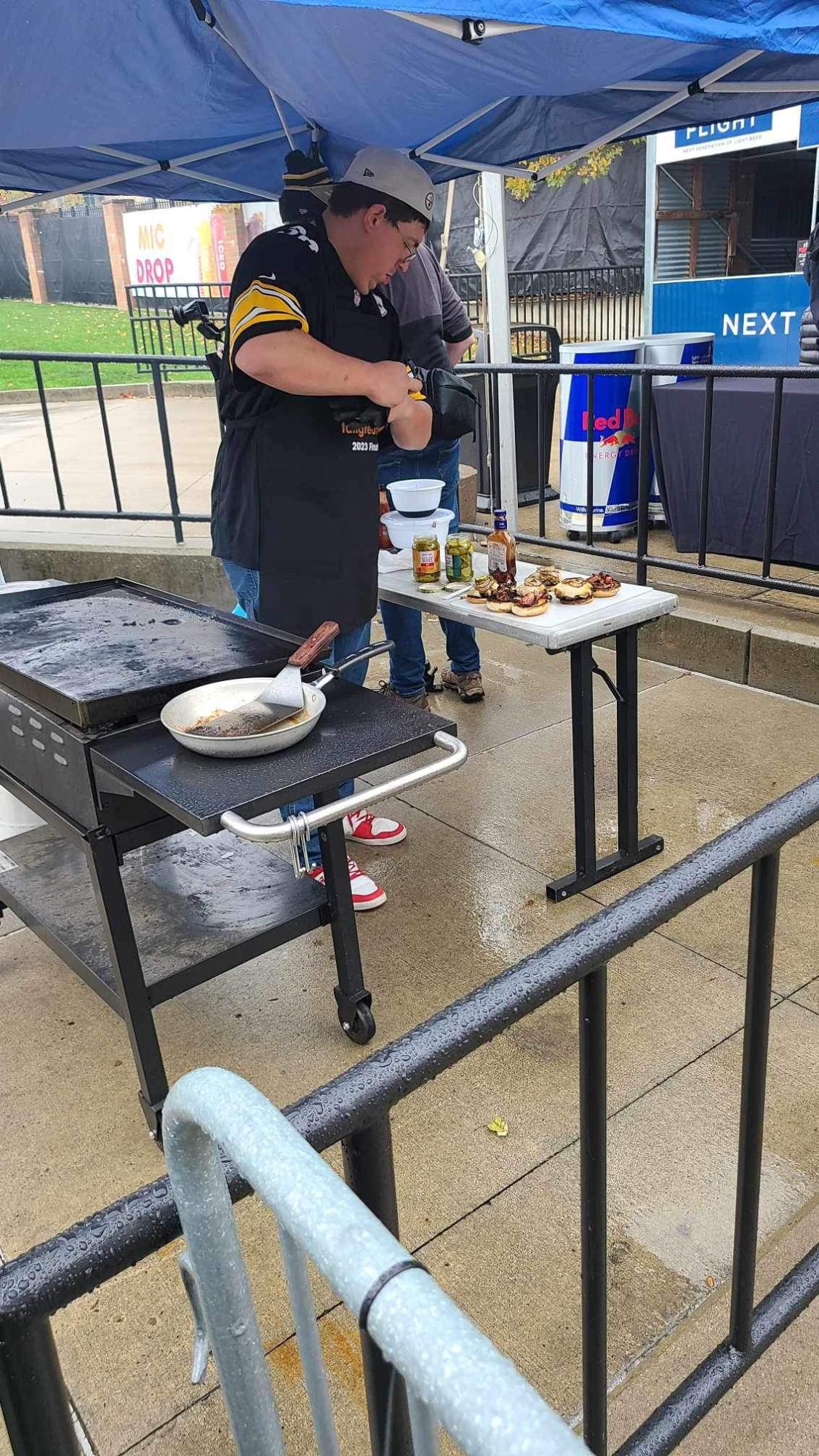 With the judges in place, it was time for the reviews and results. I stood there with my heart in the pit of my stomach and my nerves through the roof. To make matters worse I was the last one to go. So now with the judging in the scores were being tallied and I went off stage and wished my competitors good luck thinking that one of them was going to be the victor. The results came in and the MC was ready to announce it.
"Okay fans. It's time for the 2023 Pittsburgh Steelers and Giant Eagle's Ultimate Tailgreatness Cook-off Champion is…………JONATHAN SAKAGUCHI!!!!" He exclaimed.
Arian was screaming with excitement, meanwhile I was in shock and tried to realize that I had won. I could not believe it was real. Words could not describe how I was feeling.
Even now it still seems like a dream. They had me come back to the stage holding back tears as the thought of wishing my dad could be there to see me do this ran through my head. I was still at a loss for words as I was being interviewed following everything. Before I was reunited with Arian, I had my picture taken for the Steelers social media and one with Steelers Legend Casey Hampton before I left. Holding back tears I called my mom making the joke of I needed to start making plans to go to Baltimore. As the excitement echoed from everyone back home, I had to take a minute before I went into the game.
It still does not seem real to me, but I am honored and proud to be the 2023 Ultimate Tailgreatness Champion. This was probably the best way to cap off a wild ride of a month, October. Now my only question is: what crazy adventure is coming next?