AVI debuts new dining options for Fall 2015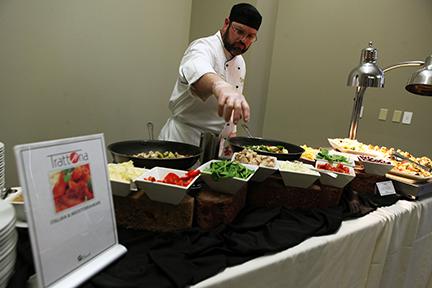 AVI has made it their mission to meet the needs of the student population said Kiran Nunna, the Resident District Manager of AVI Foodsystems at Cal U. The organization's goal is to provide lifestyle-based destinations in their Fall 2015 Dining Concepts.
Members of Student Government gathered Monday evening for the introduction of the Fall 2015 Dining Concepts.
   Every year, AVI strives to give one new concept in retail that students can enjoy and utilize. However, the new dining concepts that were presented stemmed from a six-year campaign Nunna and his food committee on campus has developed. The food committee is composed of student leaders on campus said Nunna, members of Student     Government being a big contributor. This committee is given the opportunity to have special tastings of new food options, attend field trips of the facilities AVI uses, and bring concerns from the student body to Nunna and his team. Nunna says that it is his goal to build the menus through partnership with these groups in the committee. The students are essentially creating the menus and making the decisions on what they will be served. Nunna emphasized that him and his team want to reengage the students and give them the opportunity to make decisions.
   To follow with this goal and get real feedback from current students, Nunna said AVI has conducted 500 tastings and 30 focus groups. From that came the 2015 Dining Concepts that are to appear Fall 2015.
  According to a market study presented at Monday's showcase that was conducted among University and College students by Technomics Group, the most important menu attributes at on and off-campus dining locations are taste, variety of options, use of fresh ingredients, healthy options and ability to customize in that order. Based off of those results, AVI has made it their mission to accommodate students with those attributes.
   This coming fall, AVI will introduce an array of new food stations. Nunna said AVI's more prominent goal is to provide exceptional service and an educational experience to diners. 60 students gathered for the Fall 2015 Dining Concepts Showcase and each atendee was encouraged to bring a guest for the tasting.
   The first new station being introduced is the Italian and Mediterranean station, which has been named Trattoria. This particular station will feature a brick style oven, homemade pastas and sauces, and fresh salad and bread knots. You will be able to customize your own dish with the available ingredients or choose from a suggested plate option. At Monday's showcase, students sampled Greek style pasta and a blue cheese and caramelized onion flatbread from the Trattoria station.
   The next new station is an American grill and comfort food style option. Here will feature slow cooked meats that will be prepared in a smoker. Other food options will include southern style barbeque and give an "open kitchen" vibe. Monday's showcase featured a slow cooked barbeque chicken, Cajun chips and plantains, rice and vegetables from this station.
  Elisabeth Harwell, senior, said she really enjoyed the slow cooked barbeque chicken. "It was absolutely delicious!", said Hartwell.
    Another new concept to be featured in the Gold Rush Dining Hall this coming fall is the Umami station, featuring the "fifth flavor" Nunna said. It will be more than just sweet, salty, sour or bitter, but a combination to create that fifth flavor. Diners can enjoy options from the Teppanyaki Grill and Tandoor Oven with an international flair. Nunna explained that AVI has hired ethnically trained chefs to cook at this station to make the options truly authentic. Umami will offer endless options said Nunna, besides a suggested plate diners will be able to customize their own combination of noodles, rice, veggies and meat. Skewer chicken, flatbreads and hummus were featured at Monday's showcase from this concept.
   Additional features to be added to the dining hall will be a deli station that will resemble a New York style deli. Diners can enjoy hand-sliced deli meats, fresh breads and freshly made comfort salads such as potato and macaroni salad and coleslaw. A gluten-free pantry area is also to appear this fall. Nunna said this destination is allergen-free. Items in this pantry will include dairy-free milks, gluten-free cereals and more. He hopes that students who live a gluten-free lifestyle or have food allergies engage the chefs, and make combinations at each station that fit their lifestyle.
   The last new concept to be added to the dining hall sparked a lot of excitement at Monday night's showcase, a fresh made gelato bar to replace to current ice cream bar. Diners will be able to order hand-made gelato and choose from 12 different "add-ins" said Nunna.
   Shannon Rhea, junior, said she is really looking forward to the new gelato bar and thinks it be a delicious addition.
   One of my main concepts Nunna stressed was that each station is completely customizable. Diners will not only have to pick from the suggested plate of the day, but will be able to use all fresh ingredients a station has to create their own plate and their own experience. Each diner will be able to incorporate their lifestyle into their experience.
   "I think it's a great concept that students can tailor any meal to fit their lifestyle choices", said Janene Dunbar, senior.
  During the showcase, students were introduced to the new retail station concepts. Nunna explained that diners would be able to place orders from six kiosks in the union to avoid long lines. An online and mobile ordering system is also being implemented that allows students to be more flexible with their schedules and save time. The systems will accept meal plans, dine and shops dollars, and credit and debit cards.
   In addition to new dining hall concepts, there will also be new retail station concepts. FYRE, similar to Joe's, which was previously in the food court, will be set in the renovated food court. Here, hand pressed burgers and Panini sandwiches will be offered. V Bar is yet another brand new addition to the food court. Nunna described it as being similar to gourmet gastro pubs. Gourmet burgers, gyros, yakitori and other Asian specialties will be available there.
   Flatz will also be offering new concepts this fall. Nunna said they have re-engineered their current menu adding Meltz, Sicilian pizza and grab-and-go nachos. Quesadilla tortillas will now be hand-made on spot and freshly pressed for each order.
   Modeco will serve fresh fruit purred smoothies with new energy boosting supplements available to be added. The coffee shop is also adding a variety of Tapenade spreads for their sandwiches as well said Nunna.
   Primehouse will also be changing it up this fall. Nunna explained they will no longer offer pizza, but instead go back to their original roots as an upscale "destination restaurant". The new menu will offer cuts of freshly roasted certified Angus prime rib and other slow roasted meats on sandwiches. They will feature freshly rolled sushi and hibachi-style fusion specialties.
   Another large portion of the showcase was showing the students just how fresh all the ingredients AVI uses are. Nunna stressed it is important to know the source of their ingredients; where and how they are grown or how they were prepared. The ingredients AVI uses to produce their dishes are all from local spots. Laurel Vista Farms, Duda Farms and Keystone Bakery are just a few close by locations AVI purchases fresh products from. Cal U farm grows a portion of produce used on campus as well Nunna added. Sycamore Bistro is now 100% local produce, Gold Rush 60% and Modeco 60%.
   Nunna stressed that students become involved in their dining experience with these new dining concepts. It is both Nunna and AVI's mission to give each and every diner an exceptional and educational dining experience to fit their personal lifestyle. And with these new dining concepts for Fall 2015, it seems as if Nunna and his team are on their way.