Congratulations to Ms. Brenda Adams for being awarded the second annual Pennsylvania State System of Higher Education (PASSHE) Keepers of the Flame Award for PennWest California! Ms. Brenda Adams, or as many students and staff refer to her as, Ms. B, is going on her second year as an employee at PennWest California. In such as short amount of time, her positive impact has spread like wildfire across campus.
Each year, PASSHE schools award one person from each campus to be honored as Keepers of the Flame (KOTF). Awardees are invited to attend the annual PASSHE DEI Summit to be honored for their achievements. As stated on the nomination form, "Keepers of the Flame are truly special people who embody a commitment to promoting environments that cultivate a sense of belonging."
Staff, faculty, and students across campus were encouraged to submit a nomination for who they felt best exemplifies the qualities of Diversity, Equity, and Inclusion. Ms. B's nomination process was unique in that she was nominated by two different students. She was nominated for this award separately by two campus leaders: Junior, Sophia Johnson, and Senior, Sarah Seader. While the nominations were separate, the reasons for nomination were very similar, further highlighting the immense impact Ms. B has had at PennWest.
Johnson is a Health Science-Pre-Athletic Training Major, as well as a member of the Women's Volleyball team and serves as President of the Student Athlete Advisory Committee for PennWest Cal. Seader is  pursuing a dual degree in Management Information Systems and Business Administration Management while serving as the SAI Board of Directors President and the PennWest Cal Student Trustee.
Story continues below advertisement
The Assistant Vice President for Assessment & External Relations at PennWest Cal's DEI Office, Sheleta Camarda-Webb, said Sophie and Sarah were the catalysts of the nominations, "we received verbal accolades from several other students who shared how special she is to them and how worthy she is of this honor."
Upon receiving the nominations, Camarda-Webb was ecstatic to forward Ms. B as the nominee for the award given her statement, "I know and see how she continually engages, nurtures, encourages, and pours into students, ensuring and showing them that someone cares about who they are and wants them to know and feel that they belong here."
Johnson stated about her nomination, "I nominated Miss B for the Keeper of the Flame Award because she is the embodiment of diversity, equity, and inclusion. She speaks to everyone with kindness and love. She is involved in the lives of the students as well as what students are doing on campus."
Ms. B connects with students and attends as many events as possible including the Women United Fashion Show, BSU Showcase, and weekly Student Government Senate Meetings. Johnson noted, "It means the world to me that Miss B won this award. There is no one else that I could think of who has impacted this campus in such a profound way but her. The greatest part of it all- she hasn't even been at PennWest California for two years. She has facilitated so much change in the lives of students in such little time."
Seader wrote in her nomination, "Ms. B creates such a positive influence in so many lives. She is always upbeat and genuinely concerned for all the students. She is definitely a 'Keeper of the Flame' as she embodies inclusiveness for all and selflessly embraces goodwill. She demonstrates what it is to be a true Vulcan and blazes a path for others to follow."
Ms. B received a letter from her two nominators inviting her to the upcoming PASSHE Diversity Equity and Inclusion (DEI) Summit, which is being held at Shippensburg University from November 8-10. The ceremony will be held on Thursday, November 9. Upon gathering for a picture, Ms. B was truly enlightened to know how much of an impact she has had on all students. Johnson said it best, "I just want Miss B to know how appreciated and loved she is by myself and the entire PennWest family. There is no one like her, and we are so grateful to experience her presence and wisdom here."
Ms. B when asked about her impact on campus and the importance of this award, it came back to the students. She wants to allow them to shine.
Ms. B stated, "I want to be that beacon of light for each and every student that I come in contact with. Each and every person here. I have discovered my purpose, and it is here."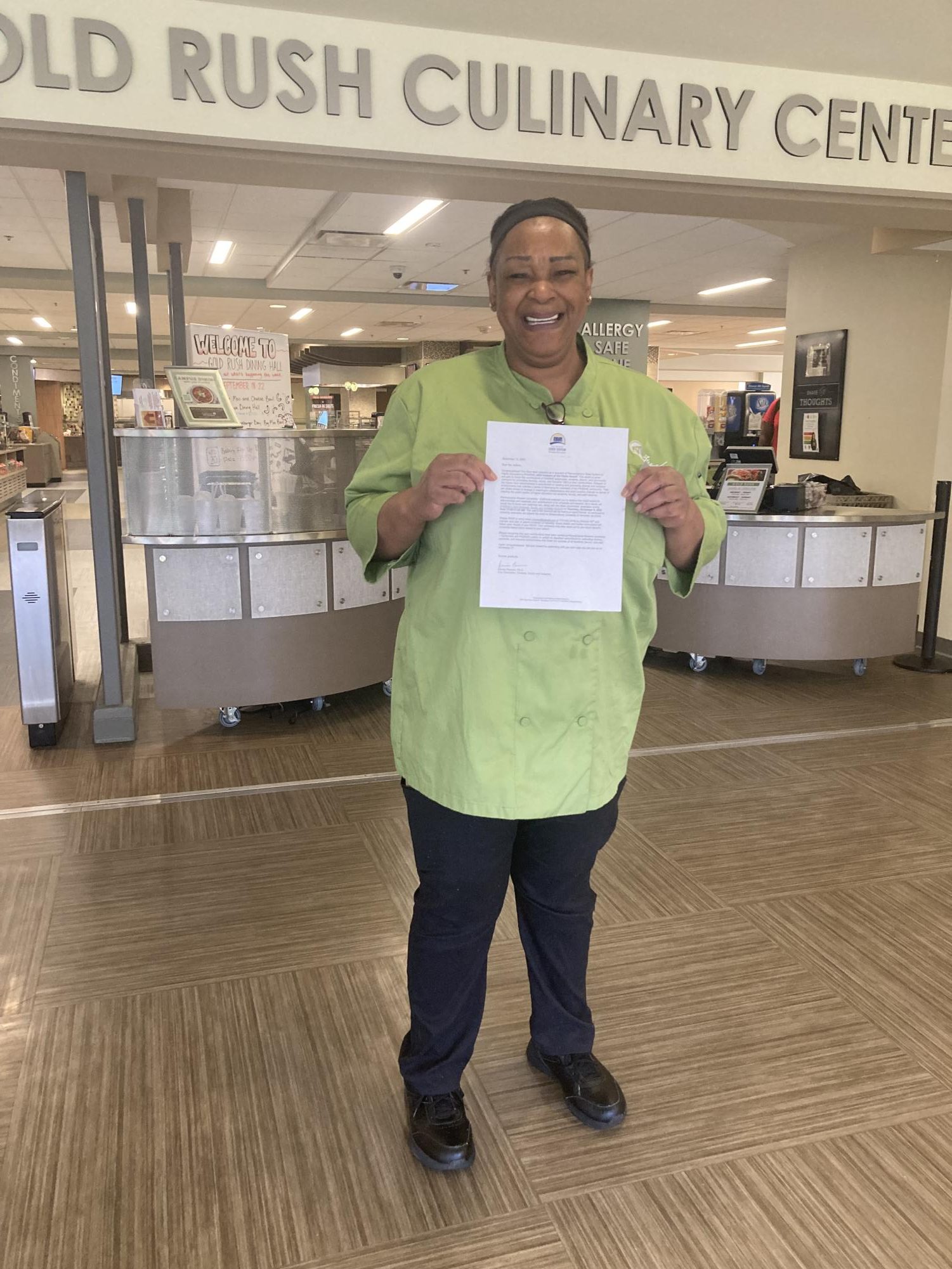 Please join us in congratulating Ms. B on being recognized as PASSHE's Keepers of the Flame. Next time you see the Vulcan Flames on the illuminated sign above the Convocation Center, think of Ms. B and her impact on others as she encourages us to spread a little more kindness and add some light back into this world.