Trivia Nights draw Cal students with prizes and fun
Primanti Bros' in Uniontown holds Trivia Nights every Tuesday
On Tuesday nights, PennWest California students Payton Hlatky-Walters and George Medved will be working hard answering quiz-like questions, not for a test, but for Trivia Night at Primanti Bros. in Uniontown.
"We usually come every Tuesday," Walters said. "Usually, it's George and I, along with a few friends. We have fun and look forward to Tuesday night Trivia."
The game starts around 7:30 p.m. and can be played until 10 p.m.
Kristen Ashmun, the district manager, said they are happy to start having Trivia night.
"It's one of the ways that we try to bring people together to have a good time and relax during their time here," Ashmun said.
It takes about 25 minutes to drive to the restaurant from the PennWest California campus.
"We usually come an hour before the game starts," Medved said. "We like to have time to get a good table and eat and have drinks before the game starts."
Trivia night is open to the public and takes place in the patio section of the restaurant, that is closed off specifically for Trivia players. 
"I like that they use the patio for the game," Walters said. "I think that the atmosphere is very fun and lively. There's several TVs throughout the restaurant for entertainment, and the restaurant is usually decorated for holidays, which makes it even more enjoyable. We like to sit closer to the bar area, but the patio is big so there's other options available."
Winners are awarded in first, second, and third place with gift cards for Primanti Bros. Prizes can be anywhere between $10 to $50, depending on the rounds of the game.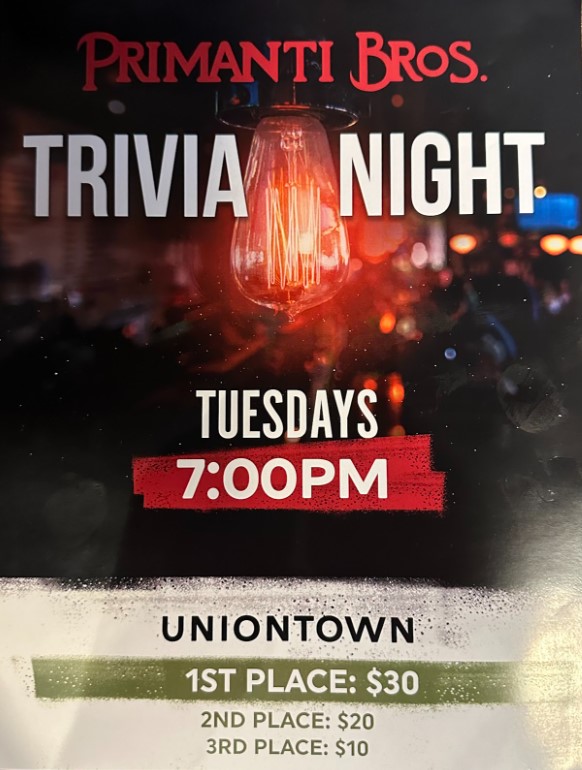 "Usually when we win, we just use our prize towards our meals that we had that day," Medved said. "It's always nice to have a good time and a free meal."
The game consists of questions in multiple categories such as science, movies, history and hip hop.
"My favorite categories are science and movies," Walters said. "I'm really competitive, so I take the game seriously. I think Trivia night is a great way to spend time with friends and family and to just let loose for a few hours."  
Players older than 21 are also able to enjoy Primanti's Happy Hour during the game, which is from 5-8 p.m.
"To be included in the game, just ask the host to seat you in the patio for Trivia," Medved said. "You don't have to pay or anything. Your only job is to just show up and have fun!"