Research Through the Eyes of Cal U Students
Cal U hosted the Fall Creative Works and Research Event in the Convocation Center on Tuesday Nov. 16.  Students were encouraged to participate, either virtually online or live in-person. When signing up for the research event, participants had the opportunity to be judged as they presented their research. The event has been held at Cal U for the past twelve years.
The event was sponsored by the Cal U Center for Undergraduate Research and directed by Dr. Azadeh Block, the Chair of the Department of Health and Human Service Professions and the Director at the Center for Undergraduate Research. This research event attracted several in-person and online presentations.
"I actually think there were 48 presentations. It was a good showing for a Fall poster session during a pandemic," Dr. Azadeh Block said.
Senior, Kerry Katz, majoring in Fisheries and Wildlife Biology, earned 1st place in the in-person Class Project Section. Like many students, Kerry participated in the research event for the first time and was not sure what to expect. Katz stated, "I really enjoyed the Fall Creative Works and Research Event and thanks to Professor Nicholson for encouraging our class to participate." Katz also mentioned, "I knew poster presentations were an important aspect of many different scientific fields, but I had no idea what the presentations actually entailed. Whether students plan to go into research fields or not, the experience gained in presenting an idea to a diverse audience during the event was invaluable."
Katz's poster focused on, "the effects of ground vibrations on reproduction and development in large milkweed bugs (Oncopeltus fasciatus). My project was developed for one of my courses this semester, Intro to Research in the Natural Sciences." Katz was interested in the topic because, "Trains run frequently along Pittsburgh's riverside trails. I've always wondered if the effects of human transportation systems were as disruptive to the animals that live there as they are to me. Insects, in particular, often use vibration as a method of communication. Could ground vibrations interfere with their activities?" Katz also mentioned, "I was excited to work with them (milkweed bugs) as a model organism for my research project. I tested the effects of vibration on the reproductive success and development of large milkweed bugs by subjecting adult and nymph test groups to different levels of vibration, with a control group receiving no vibration. I tracked the number of eggs laid by the adults, the hatch rate of the eggs, and the development of the nymphs over time. Based on my results so far (the experiment is still ongoing), vibration seemed to cause a delay in reproduction among the adults."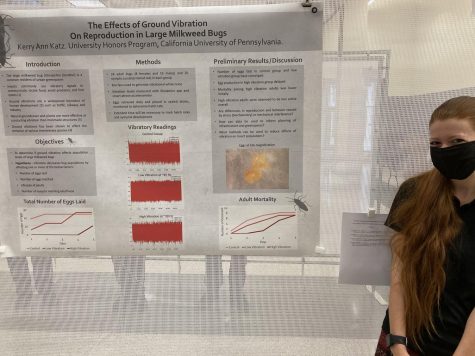 Katz expressed her love for having the opportunity to "discuss my research with students and faculty from a wide range of different fields and having the opportunity to view the other posters. I feel like it's easy to get stuck in your own little bubble on campus—some days I never leave Frich Hall. It was great that the event gave people a chance to share fresh perspectives and ideas with one another."
Madison Minarchin, a freshman here at Cal U, presented her research poster on the topic of, "The Evolution of Diabetes and Insulin." Minarchin stated, "I really enjoyed seeing the people and talking to them about the project I had worked on. It was also a bittersweet moment because November was Diabetic Awareness Month. So, while I was presenting, I was also raising awareness." Minarchin also mentioned, "My favorite part of the event was the curiosity everyone displayed there. I loved seeing such young and wonderful minds so eager to learn. When Minarchin found out she earned 3rd place in the in-person Class Project Section she stated, "I was shocked and had to re-read the email."
Dr. Keat Murray, Associate Professor of the Department of Culture, Media, and Performance, is actively involved in Undergraduate research at CalU and stated, "The event was a success thanks to the student participants who presented interesting and high-quality work.  Also, thirty faculty and staff members volunteered to serve as judges." You can view the list of winners and the online presentations here https://www.calu.edu/inside/events/research/index.aspx.
If students are interested in gaining more experience, both with research and public speaking, they should keep an eye out for future research events. Dr. Mark Tebbitt, Professor with the Department of Biology, Geology, and Environmental Sciences, stated, "I encourage students to participate in the spring 2022 Strike A Spark Conference which will feature oral presentations as well as poster presentations – all by students.
These events really help students hone their presentation skills since they offer an out-of-the-classroom experience." Madison Minarchin stated, "I want to congratulate everyone that participated in the event, whether that is speaking in person or viewing people present, I appreciate your curiosity. I also want to encourage anyone who didn't go to the event to go to the next one. It is definitely a learning experience for EVERYONE!" Kerry Katz also encouraged all students, regardless of their major, to participate in these types of events stating, "They truly are cross-disciplinary, and it's exciting to see all the great work our fellow Vulcans are doing. I'm looking forward to Striking a Spark in the spring!"