Interview featuring Rapper Mike Stud on career, fall concert
How did you get your start in music, especially after having so much involvement in sports?
It was just more so the forced free time that I had abruptly hit my life. I used to have practice every day, travel, play so such much of my life opened up. I wish I had a real reason but I talked about it on stage a little bit. You have to follow your own intuition, nobody can hear your intuition internally besides you so I just followed my intuition and that's all I can really say. That's what I try to preach to younger people. Follow that voice that's dragging you to a certain location because it's for a reason.
What's the story behind your stage name, Mike Stud?
It's a funny story. I got to Duke a few years after the lacrosse scandal which was a national news thing that happened so when I got there it was a very dicey time for athletes. There was a very high intensity to protect student athletes and we weren't allowed to have social media or Facebook or anything. We obviously wanted to have that so we all made fake accounts with our real initials. All of the baseball guys tried to come up with funny code names to hide from our coach on Facebook. That was Mike Stud, he was there three or four years because my teammates used to always call me stud. When I started making music it was for my teammates. I didn't forsee people listening and I seriously didn't think I would make it a career. I'm happy I did even though I probably wouldn't have chosen that [name] because there is kind of a negative presence around the vibe of it and people think I'm a d*uchebag for it but I'm thankful for doing it because it just worked for whatever reason.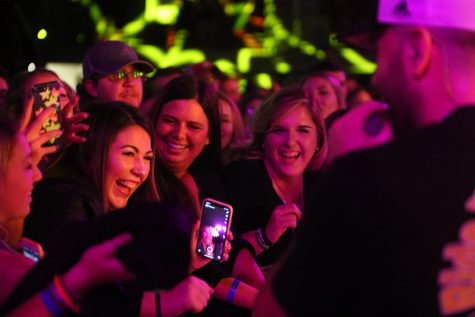 You've recently launched Mike Space and your new VIP program, Very Important Steves (VIS), what do you want people to know about this new feature?
I talked about this on stage but I am dropping a surprise album. This is the first time in my career that I have been able to take a step back and stop going crazy and touring and putting out songs every three weeks. I was really hustling for a long time so now I've built up enough money and a fan base where I can take a step back and prove musically to take a lot of time and make a bunch of music and craft something and I think this is the first time. I said on stage there are two albums actually coming out, the second one is almost done and the first one is actually coming out in a few days. I have never done anything like this without promotion and I just wanted to do a surprise thing because I have a lot of great music I want to share but there is a bigger plan and I can't say too much about it yet but it will make more sense as the next six or seven months unfold but the 'Very Important Steves' thing we are doing because tech and music is huge … I went to school for business so I manage our decisions more than some other artists do so I'm very involved in the back end and the VIP program is to acquire all the data we need from people who are interested in what I do because it helps the business and it helps you take the angles you're supposed to take in order to elevate the business side of it.
You and Post Malone have been spending a lot of time together… tell me about that and your Olive Garden tradition.
The Garden is a great and magical place. Me and Post are so similar and it's funny because looks wise and if you put us on paper you would be like these guys are polar opposites but we're just like normal guys. I think he got attracted that side of our personality and what we do because it's hard to find in LA, the people who are just genuine and are not needing or wanting something from you. It's kind of the culture of what happens in Hollywood and it's not to throw shade at Hollywood, I just think that's why we became so close over the past years. We just have a lot of similarities and characteristics the way we were raised and you know the things we enjoy, simple things. He has a far more extravagant lifestyle in the things he is interested in but we love to go to Olive Garden and have a good time. He will be a bigger part of the story. It will make sense in seven to eight months going forward.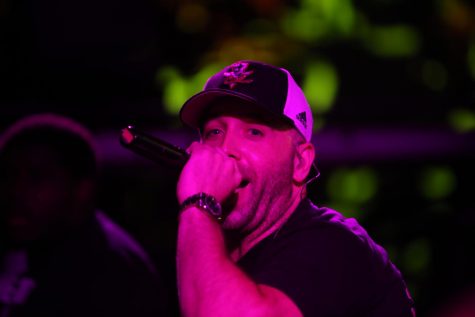 Where does the phrase YNK stem from??
My life. I would find myself saying it all the time because I would just say you never know (YNK) because none of this I thought would every happen … I had a long journey to get where I was baseball wise. I'm from Rhode Island, a very small place, and it's hard to make it into the high ranks and the division one programs and I had done that and it was going so well. Everything was pretty much setting me up to hit my dream of becoming a professional baseball player and you get so close and then it's taken away. It's a life lesson for me that I wouldn't trade away for the world, you just never know what the next minute, second, or day will bring so if you can just enjoy and focus on the moments you're in I think better things happen.
How does this show at Cal U size up to other college shows you've done?
It was good. We [DJ Fader] just talked about this. It has been a while. We have had some hilarious and awkward college shows in the middle of nowhere and it's only 200 people but this was good. It was a bunch of people who were fans and actually engaged. A lot of times at a school, obviously we can't be up there partying and whatnot, but that's part of our show. If you go to a real show, and you can twist it into a negative thing, but it's more so in a celebratory thing because we are all celebrating music and life together. It has always been an angle to our show having the party element to bring the fans up on stage so you leave with a memory and it is a whole experience people can leave with. It's a little hard at college shows because that's part of it but everyone here was really engaged here and it was good.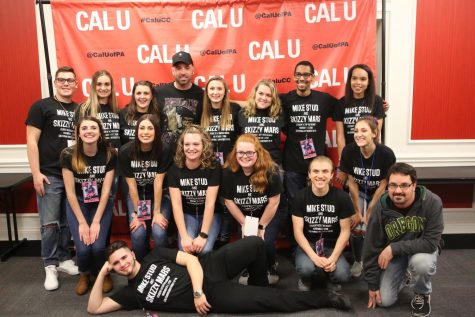 There were a lot of baseball jerseys in the crowd tonight but specifically Blue Jay jerseys with Stroman's name on the back, can you explain the connection for the people who don't know what your connection to Marcus Stroman is?
I was like the reason Marcus came to Duke. We do official visits at Duke and he came and stayed with me and we just really connected and showed him a good time so he would choose Duke and from there we just became extremely close. I got injured as he arrived but I was the star pitcher the year before that and he kind of stepped right into that role. There was a slight mentorship role but it was really more like we just had similar vibes. As our lives have unfolded, we have only gotten closer. We are not together a lot but there are just so many similarities in the industries between the ups and the downs and the grind. There is a lot of relatability that we share that you can't fake. It is just one of those things and he is my closest friend and a rock-star athlete too. He hasn't put it together yet completely, and he has had some injuries popped up at weird times, but I think he is going to have an incredible career at the pro-level too. In due time, these next few seasons, he will put it all together.
Following his performance at Cal U, Stud released a new album called 4THEHOMIES, announced that he would be going on tour, and gave Cal U a shoutout on a live stream earlier last week. He will be performing in Pittsburgh on February 20, 2019. Follow Stud on Instagram, and Twitter, @mike_stud, to keep up to date with his career.