SAB sponsors Jessimae Peluso for Funny Freaking Friday
Last Friday, the Student Activities Board hosted their large-scale comedian for the semester.
Jessimae Peluso, most commonly known for her work on MTV's Girl Code, was named as the artist who would be performing this year just a week before her performance date. Peluso is the first large-scale comedian to perform at California University of Pennsylvania as well.
"It was definitely tough to only be able to announce this show the week before it was happening but we really pushed the event on our social media platforms and gave tickets away to different groups before the day of the show to try to get people excited for Jessimae's performance." Makenzie Langer, SAB Weekends and Trips Chair, explained.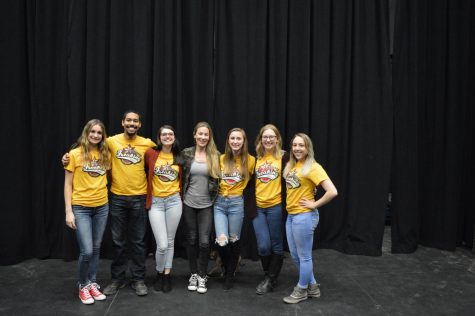 Tickets were free for California University of Pennsylvania students, faculty and staff and only $5 each for the general public. All seats in the theatre were general admission allowing for the audience to pick their ideal seat for the show. Doors for Peluso's performance opened an hour before she was introduced and began her set at 7 p.m.
Her 18+ set consisted of a vast amount of different jokes ranging from poking fun at the town of California, Pa. to sex to the Amish and so many other topics.
To end the show, Peluso took on a serious note to discuss her father's recent diagnosis of Alzheimer's disease and shared that everyone should live life to their fullest potential and not take anything for granted.
"I had a lot of fun at the show!" Sabria Johnson, a junior communication studies major, shared. "I haven't laughed like that in a long time and I truly needed it."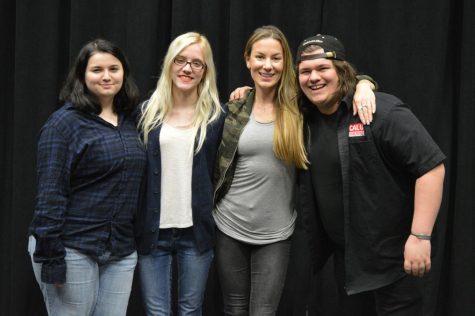 The show itself only lasted an hour but those in the audience were able to take that hour to just let loose, laugh at couple jokes and take their minds off of any stresses college could be giving them.
Following the show, Peluso was willing to be interviewed by me as well as CUTV staff members, Steven Ruffing and Danny Beeck. Check out my interview below and be sure to tune into CUTV to catch a more in-depth interview with Peluso!
Q: How did you first get your start in comedy?
Jessimae: I think I always kind of knew it was going to happen as a kid because I was always goofy. I always wanted to connect with people through humor and laughter. I don't know if it was me just trying to calm my tumultuous home or if it was me just finding that that's how I could connect to someone but I did it for years as a kid just entertaining my family members. I specifically remember working in the stock room of H&M and I was filling children's socks in a bin with one of my friends and I was nineteen and I was like what the [expletive] am I doing with my life … and I was just joking about it and my co-worker was like you're funny you should try stand-up and up until that point I never thought of it as a career for myself. I took a writing course and just did improv for a few years in Boston and did stand-up there and then I moved to New York and did stand-up there and now I'm in LA doing it full time.
Q: A lot of students on campus recognize you from MTV's Girl Code, what are some of your favorite take away moments from being on that show?
Jessimae: I think honestly when girls have messaged me. I have so many screenshots from Twitter from that time like probably over a 100 of girls messaging me and just making a connection with people who felt insecure. That really was pretty dope … Just knowing I made some other girl feel not so alone was pretty dope but also one of my favorite moments was when we got to do the demolition shoot. It was called like 'Girl Code Tries' I think where we got to go demolish this shop that was going to get torn down anyways just to show that women can do tough jobs too. Man, I took that hammer and I [expletive] up those walls. I got aggression out from like 15 years before. That's what people should do. Forget therapy, give a [expletive] a hammer and wall and let her just hammer out. It's like breaking down emotional walls. It was fun. That was a lot of fun.
Q: Do you still keep up with anyone from the show?
Jessimae: Not as much. Everyone is pursuing their thing which is pretty great. Nicole Byer has her show, Carley is doing a show, Jamie Lee had her book … which is so good. All the girls are doing stuff so it's really nice and nice to see. We're all busy but we keep in touch in our peripheral.
Q: Have you ever found it tough to do the type of set that you do as a very confident and outspoken female comedian?
Jessimae: No because I have never looked at it as anything other than what I wanted to say. I think the problems you have are the ones you create for the most part and if you go out there thinking what if then it's going to manifest itself. In my mind, I have that Joan Rivers mentality where I am just like [expletive] it. I speak from the heart and speak some sort of truth and try and be very expressive about how I feel. You just have to keep it real and the rest is cake.