Buy nothing, gain everything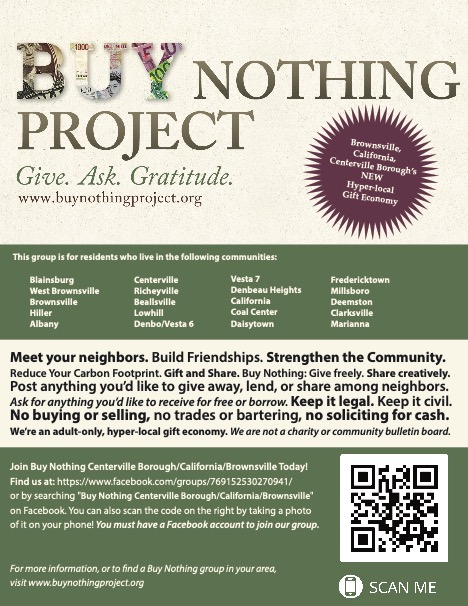 Pam DelVerne, Contributor
February 16, 2020
My mom used to tell me that for every new item of clothing I brought in the house, an old one had to go out. Usually that meant giving it to Goodwill, but first I'd see if one of my friends wanted it. 
Over the years though, I let consumerism get the best of me, and I found myself dropping off larger and larger loads at Goodwill or St. Vincent DePaul. Sometimes it's hard to resist when things are just so…cheap! It was easy to get caught up. 
That all changed after my mother died. I was left sorting through all her things, assigning value to memories. When the discard pile was smaller than the keep pile, I knew this was going to be a problem. Right about the same time, as I was scrolling through Facebook, I came across a review for a book called Secondhand: Travels in the New Global Garage Sale, in which the author, Adam Minter, traced the travels of his Goodwill donations from drop off to third-world countries, and, very often, a landfill. His research was prompted by….you guessed it….going through his late mother's things. 
The gold is always in the comments of a Facebook post, and what I learned from them started with a post that said simply, "Should have just posted them to a Buy Nothing group."
What was a Buy Nothing group? Having never heard of one, I searched Facebook, which led me to the official Buy Nothing Page, which led me to their website (https://buynothingproject.org/), where I discovered the closest group was in Venetia, Pa. 
The Project is a network of hyper-local gift economies with the founding principle of "Give Where You Live". Buy Nothing Bainbridge (Washington) was co-founded by Liesl Clark and Rebecca Rockefeller in July 2013 as the inaugural Buy Nothing Project group. By the end of 2013, there were 80 Buy Nothing groups in the United States and Canada. Throughout 2014, over 350 more groups had been added to the project. By the end of 2015, that number had nearly doubled, with groups in 18 countries worldwide. 
Having studied, then worked, at Cal U for the past 20 years, it was important to me to have this group be open and accessible to the students at the university, with the thought it might even strengthen the ties with the local community. I decided to join the movement and bring a group to the California/Brownsville/Centerville Borough area. After some brief training, the group went live on the first day of the Spring 2020 semester. 
We currently have 147 members from communities including Centerville, Richeyville, Beallsville, Lowhill, Fredericktown, Millsboro, Deemston, Clarksville, Marianna, Denbo/Vesta 6, Vesta 7, Denbeau Heights, California, Coal Center, Daisytown, West Brownsville, and Brownsville. If you live OR work in any of these communities, you are eligible to join the group.
We recently changed the open-source rules to become a derivative group so that we could drop the age requirement to 18 from 21 to accommodate independent adults of that age, and to allow membership to those who live AND work within our boundaries. The only other requirement to join is a personal Facebook account, since the group operates primarily on the social media platform.
So, how is the Buy Nothing movement different than any other Buy/Sell/Trade groups already in existence? It's different in that it seeks first to build community, then to share resources, reduce excess consumerism, and promote reuse and recycling.
Some types of posts in a Buy Nothing group are:
• Offers of any goods or service you'd like to share, loan, or give away.
• Requests for any goods or service you'd like to borrow or keep.
• Gratitude posts! Gratitude is key; it's what fuels the magic.
If you joined today, you'd see Giving posts for knitting needles, a Google Home Mini, and Ask posts for brown eggs, and little girls toys, among others.
Aside from goods and services, there are a few other types of gifts that fit into the Buy Nothing mission. They are gifts of self (babysitting, dog walking), gifts of talent (teach someone to knit, cooking classes), and gifts of time (workout buddies, coffee meetups).
In addition to gifts, requests, and expressions of gratitude, we allow discussions sparked by those gives, asks and gratitude as well as discussions about a gift economy mindset and the group in general. 
To join Buy Nothing Centerville Borough/California/Brownsville, visit https://www.facebook.com/groups/769152530270941.