Concert Review: Colbie Caillat's "Malibu Sessions Acoustic Tour"
Hang on for a minute...we're trying to find some more stories you might like.
I have been to plenty of concerts in my 20 years of living, but I have never been to a concert as intimate as Colbie Caillat's "Malibu Sessions Acoustic Tour."
I have been a Colbie Caillat fan since her song "Bubbly" came out. I am sure everyone knows the tune, because everyone sang it in 2007 and 2008 when it hit its peak. However, over the years, people seemed to tune Caillat's music out. Her second album, "Breakthrough," was well received, as was her third album titled All of You.
However, when her fourth album, "Gypsy Heart," came out, many fans didn't pay much attention. I'll admit, "Gypsy Heart" is a lot different than her first three albums. During her show on Oct. 19, Caillat admitted that she wanted to try something new with the album, because it was under a different record label.
So here's Caillat now: she just released her fifth album, "The Malibu Sessions." The Malibu Sessions is a lot like her first album, "Oxygen." It's has a beach theme and it makes you feel like you're in Hawaii or Malibu. The best part about The Malibu Sessions is that it opens with the sound of the waves on the first track, "Gypsy Heart," and closes with ocean waves on the last track, "Now."
That's how Caillat started her show, which she played at the Carnegie Music Hall of Homestead. It was my first time at the venue, and it's probably my new favorite venue. Ever since Altar Bar closed down this summer, I've been desperate to find a new concert venue I can enjoy and feel relaxed at.
Back to the show, Caillat opened up her set with the first album song, again, titled "Gypsy Heart." However, it wasn't just Caillat on stage. The two opening acts- who were phenomenal- High Dive Heart (the duo of Jason Reeves and Nelly Joy; Jason and Colbie have been writing music since her first album was released) and Justin Young were on stage with her, as well as a bassist and a percussionist.
After her first song, Caillat greeted the audience. However, it wasn't just the typical concert greeting of, "Hey Pittsburgh what's up! I'm Colbie Caillat and we're going to rock you to tonight!" It was more personal. Caillat acknowledged the venue, the crowd, and the people on stage.
Then the concert took a turn and had me experience my first in concert going: Caillat announced that her and the people on stage were going to play the entire Malibu Sessions album. She noted that Reeves, Joy, and Young (who is her fiancé) all wrote and performed all the songs on the album with her.
The group didn't just play the album in its entirety; they also shared stories of their tour, writing the album, and the process of making the album. The feel was like you were in your living room and having a jam session with a group of friends. I mean, Reeves, Joy, Young, and Caillat even brought their dogs on the stage.
After the group played The Malibu Sessions, everyone left the stage to applause. Caillat then came back out herself with just her guitar and asked the crowd "Do you guys want to sing now?" nodding to the fact that she was going to play some of her older songs.
She started out with "Bubbly," and then played her song "Try," which was the leading single off the album Gypsy Heart. After a couple of her own songs, she brought out Reeves, whom she has worked with for years. The two did the songs "Magic" and "Droplets," which both feature Reeves. After their duets together, everyone came back on the stage for some more older songs, which were done as a collaboration with each other.
Finishing off the show, Caillat put down her guitar and had the crowd get up with her to sing her final song "Brighter Than the Sun." There wasn't a single person not on their feet and dancing around. There was even an older couple dancing in the aisle together.
Personally, I've seen some really great shows, but this one is certainly in my top three. Colbie Caillat might not have beaten out Macklemore & Ryan Lewis and Andy Grammer for the number one spot, but she, and High Dive Heart and Justin Young, certainly sit comfortably at the number three position. That's a pretty high spot, considering all the concerts I've been too.
I would give this show a solid 9/10. The only reason it isn't 10/10 is because Justin Young's music wasn't very familiar with me and seemed to be too slow at times. However, he put on a great show, High Dive Heart had everyone up and dancing around, and Colbie Caillat was just phenomenal.
I would certainly recommend seeing Colbie Caillat- especially if she tours with Justin Young and High Dive Heart again- if you ever get the chance. I would also recommend getting her newest album, The Malibu Sessions.

About the Contributor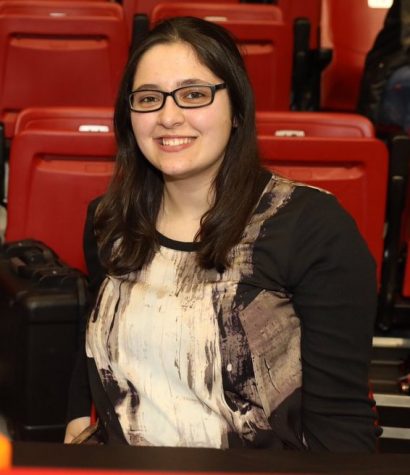 Rachael McKriger, Editor In Chief
In her senior year of college, Rachael McKriger is serving her second consecutive term as Editor-In-Chief of the California Times in the 2017-18 school...