(Photos) Cal U Tennis hosts Fairmont State, Vulcans play first match at Roadman Park in 693 days
In its initial home match of the spring, the California University of Pennsylvania tennis team suffered a 7-0 loss versus Fairmont State on Saturday afternoon, March 20, 2021, at Roadman Park.
With the loss, the Vulcans sit at 0-2 this spring after playing a pair of matches against Mountain East Conference (MEC) opponents. Cal U was playing its first home match in 693 days, as it last played at Roadman Park on April 27, 2019. Meanwhile, the Fighting Falcons improve to 2-1 this season with their lone loss being against Mercyhurst – the 2019 Pennsylvania State Athletic Conference (PSAC) Champion.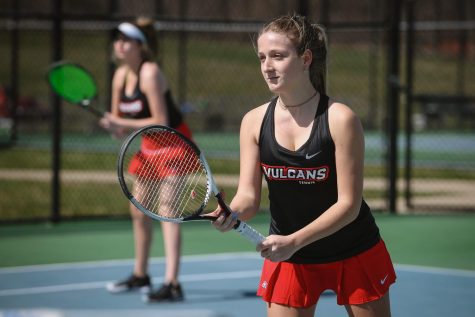 Fairmont State captured the doubles points after winning all three matches on Saturday. At the first position, senior Laura Vargas  and freshman Carmen Duran  dropped a 7-5 contest to Isadora Matos and Bailey Edebun. Junior Fallon Winseck  and senior Charlie Gallagher  suffered a 6-0 loss at the second slot to Mackenzie Sorton and Candela Sevilla. At third doubles, freshman Kylie Feltenberger  and junior Fulvia Camargo fell by a 6-1 margin against Trang Hong Nguyen and Hannah Sprout.
The Fighting Falcons completed the match victory at Roadman Park by claiming all six singles matches. Vargas suffered a 6-1, 6-0 loss against Matos at the first position and Winseck fell by a 6-1, 6-4 margin at second singles to Sevilla. Gallagher dropped a 6-2, 6-3 contest against Sorton at the third slot, while Duran was outlasted by a 6-7 (3-7), 6-2, 10-7 margin at fourth singles against Edeburn. Feltenberger suffered a 6-1, 6-0 loss versus Sprout at the fifth slot and junior Julia McDaniel (South Park, Pa./South Park) was blanked by a 6-0, 6-0 count by Nguyen at the sixth position.
Cal U returns to action on Saturday, March 27, when it opens PSAC West play against Mercyhurst at the Westwood Racquet Club in Erie, Pennsylvania.