New Start, New Season for Women's Soccer Team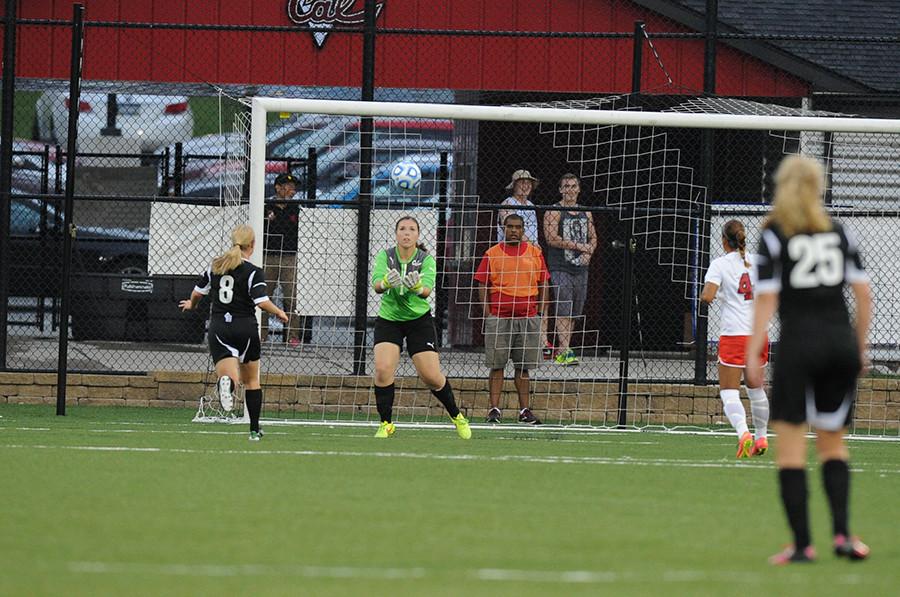 Meghan Jayes wants every single game she plays for the California University of Pennsylvania women's soccer team to be a shutout. That's not just her personal mindset going into the season, it is every other goalie's mindset too. She knows that with being a goalie there are only two labels: the hero or the goat.
   Jayes, who is in her third year with the team, started in 20 games for the Vulcans and posted six shut outs last season. Jayes is striving to have that number to go up this season.
   "As a goalie, you have to be of the mindset that every game should be a shutout," Jayes said. "It doesn't matter if it's a preseason scrimmage or the PSAC final, the result is still important. Earning a shutout is pretty vital."
    Jayes, who is backed up by sophomore Michaela Colon, said that one of the biggest obstacles for this year's team is to adjust to the loss of last year's seniors.
   "We have to adjust to that. We know we have the talent and the drive, what needs to happen is people stepping up to fill the vacancies and figure out how to work with different people."
    Even with last year's seniors gone, the team is excited about their new players. Freshman Aly Greenstein, who was heavily recruited by Cal U, is one of those new players.
   "I looked at many schools for soccer in Pennsylvania, West Virginia, Virginia, and Delaware," Greenstein said. "Before I committed I was uncertain if I even wanted to play but visiting Cal & talking to Coach Francis made me sure of my decision."
  Greenstein, a midfielder from Baltimore, is expected to make an impact right away in her first year as a college soccer player.
   One player that Greenstein will be looking up to and taking notes on is senior midfielder Marissa Neifert. Neifert, who was named to the Capital One Academic All-District team during her junior year, finished last year with two assists, but zero goals. However, with her position, assists are more common.
   "Obviously everyone wants to score goals because it helps the team, but if I can have tons of assists that helps the team just as much because there's obviously a goal behind every one," Neifert said. 
     She also said that her personal goal this season is to be a better leader, but wasn't thinking small when talking about team goals.
    "We've never made it past the Sweet Sixteen while I've been here so that'd be an awesome accomplishment."
   Second year coach, Glenn Francis, echoed Neifert's future goals for the team.
   "Our goal coming into this season is very simple: do better than we did the previous year. So winning the conference is great and would be a huge accomplishment but that is not all for us, we want to go one step further."
    The team will kick off their road to success for this season on September 3 against Shippensburg University at home. The game kicks off 4:30 p.m. and will be held at Phillipsburg Soccer Facility. Two days later, the team will travel to Mansfield University for a 1:30 p.m. match.