Plogging: the new eco-friendly exercise trend perfect for social distancing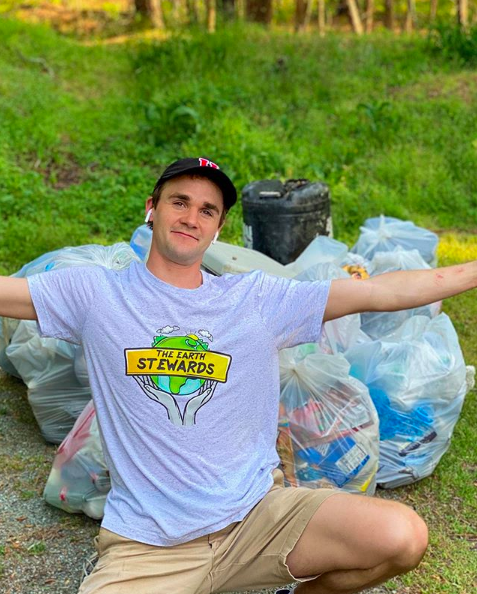 Daniel Toben's face beams at the camera as he poses with his arms spread in front of filled garbage bags. His Instagram caption reads, "The government said, "while maintaining social distancing, take a trash bag while you stretch your legs," so I cleaned up a whole entrance to the lake today. 16 bags." Underneath the post, he follows with a mix of hashtags, "#gretathunberg #plasticsucks #plogging." 
Plogging. A combination of jogging and picking up litter initiated in 2016 by Swedish citizen Erik Ahlström. The word plogging is derived from the Swedish "plocka upp." The eco-friendly workout provides exercise in hiking, bending, and stretching while reducing human-imposed litter found in natural habitats.  
Thirty-one-year-old Daniel Toben said he has been picking up litter in college upon noticing a stream filled with plastic bottles. Ten years later and Toben has removed thousands of bags of trash from his home of Chapel Hill, North Carolina. Toben also decided to tackle pollution full-time this year when he launched The Earth Stewards, a group of young people dedicated to combating and educating others on plastic pollution.  
To Toben, clean-up efforts are not only beneficial to his community but through this activity, long-lasting bonds can be formed.  
"Cleaning up plastic pollution makes the community safer and more beautiful," said Toben. "Working with others also builds community. My community has had hundreds of gallons of toxic chemicals removed from the environment. My group and I have cleaned up over 200,000 pounds of trash from the state, and it has brought young people together." 
Karin Traeger, 32, has been aware of the impacts of plastic in nature for years. After diving to collect marine debris and noticing the shocking amount of litter in some of her favorite nature pockets while training for marathons, Traeger decided to create The Plastic Runner, a social enterprise that facilitates plogging events across Australia, bringing fitness and environmental action together. 
Through her work as CEO, Traeger has seen the shift in behavior in her Melbourne, Australia community initiated by plogging events. She believes that individuals feel a sense of belonging and proud to give back to local trails.  
"This was the most important, as with the current environmental status, it's so easy to feel discouraged or hopeless," said Traeger. "Plogging brought action to their lives. Just by simply grabbing one piece of litter, you would be making a difference. This is what I like from 'acting locally, thinking globally.'" 
And though efforts and events have successfully brought people onto plogging, what really sparked the international spread has been social media platforms such as Instagram and Facebook. From a local effort in Sweden to organizations on nearly every continent, plogging has been recorded, shared, and tagged in over 116,900 posts on Instagram. 
For Toben, documenting plogging online opens the discussion about plastic pollution with others. 
"I am in desperate need of a larger community that supports this work," Toben said. "Instagram offers me the ability to reach out. Social media is a place to connect and learn from one another." 
Traeger sees Instagram as a free marketing tool for The Plastic Runner as "there are so many people all around the world in that platform." 
"I wanted to make sure I was creating content to deliver hope, education, and share stories of others doing something similar," said Traeger. "Social media is a big one when you want to reach the mass in a quick and easy way. After all, a photo can have more impact than words." 
Tobin and Traeger aren't the only ones taking advantage of Instagram's reach. Accounts solely dedicated to plogging can be found scattered throughout the app. One of which is @goplogging, an account run by 18-year-old Felix Hamilton who is based in London. Hamilton also runs the website www.globalplogging.com with his brother, Hugo.  
According to their site, they are "determined to go beyond motivating the local community, aiming to turn it into a true global movement, and recently did some plogging at Vero Beach in Florida, USA." 
Hamilton said he was concerned whether the activity would be embraced as "Sweden is a society with strong ideas about collectivism so it reinforces the concept."  
Luckily, the event was ultimately met with great enthusiasm, and Hamilton supposed it is because "plogging also taps into things like self-reliance and individual responsibility which are American concepts."  
Yet, to Toben, the goal is not about popularizing plogging itself, but rather the philosophy behind the grassroots movement. 
"In the last 15 years, we have produced 50% of the amount of plastic that we produce total," said Toben. "Hopefully greater awareness rather than plogging will become more popular." 
Hamilton echoes this sentiment of the bigger picture. 
"Picking up litter is good for the planet's health," said Hamilton. "Running is good for your health. Also, it's really good fun: you meet like-minded people and see immediately the good you have done." 
While the world activity has quieted due to COVID-19, Traeger expresses how "plogging has become a way to exercise while doing something good for the planet, bringing positivity over the uncertain times." 
"I know the word running can be intimidating, but plogging is the most inclusive way to have fun while outside," said Traeger. "I even invited one of my vision–impaired friends to give it a go, and she was thrilled! So there you go, it can't go more inclusive than that! All you need is a bag and gardening gloves. Easy as that."