Miki Glenn on final college season
There was a reason why Miki Glenn was picked up in the middle of the basketball court against Indiana University of Pennsylvania on Senior Day.
Glenn, a point-guard for the California University of Pennsylvania Vulcans, had scored her 2,000th point. It was a feat that Glenn said she aimed for the entire season, but she didn't solely want her season to focus on the accomplishment. When it came to fruition, there was no chance of erasing the smile on her face.
"I just played my game and did my best," Glenn said. "To reach that amazing feat on senior night felt really special. My teammates have probably been more excited than I have been about. It's just a tribute to the confidence my coaches and my teammates have in me to go out and score. My teammates tell me to go out and take over that game and that's what I did I played my role."
That's what Glenn has done for the past four years in a Vulcans uniform. This season, Glenn has scored 547 points, bringing her final total to 2,007 points. Glenn has started every game she has appeared in this past season, totaling 1,040 minutes in her senior season.
In addition, Glenn was recently named the PSAC West Athlete of the Year, an accomplishment she also earned last season.
Still, what was most important to Glenn was winning her final game in the Convocation Center on senior night. The Vulcans came back from a 38-24 halftime deficit to win the game 80-64.
"We did not play as well as we would have liked in the first half," Glenn said. "At halftime we talked about bringing more energy and playing better overall. When we went out Coach Jess [Strom] said that I just needed to play my game and get to the rim and make things happen. We came out in attack mode and never looked back. Our defense picked up and the couldn't score. I would have liked to play that well the whole game, but we made it interesting and we pulled out the win."
Glenn particularly wanted to win on Senior Day due to a surprise person in the audience for her: her brother. Glenn had no idea that he was coming to the game, and was also escorted by her sister and father. She took in every moment with her fellow seniors, Precious Martin, Lana Doran and Brittany Nelson.
"Coming in as a freshman, Presh and I were in a class of six," Glenn said. "Now we are the only two left from that class and I couldn't be more proud of how far we have come. Having her with me all these years has given me strength that I did not know I could get from someone else."
"She's such a great person and she puts everyone before herself," Glenn continued about Martin. "We have there for each other for a long time and its such a special relationship because we have been through a lot together. I'm so glad that she stuck around with me. She has been able to work hard and improve to be the great player she is today."
She also showed respect to her teammates Doran and Nelson, who both battled back from ACL injuries to compete this season. Both have been Glenn's teammates for two years, since they transferred into Cal U.
"They have been a blessing that was needed," Glenn said. "They were here for that championship year and their experience has been everything to this team. They both are amazingly positive and can give you a pep talk whenever needed. They are two very special human beings. I've been lucky to be around them and to learn from them. They are two of the hardest workers I have been around in my life. To see them comeback from injury has inspired me."
Glenn also proclaimed her fondness for head coach Jess Strom, who recruited Glenn and has coached her for the past four years. Glenn was part of the first group that Strom recruited as head coach of Cal U.
"She is such an amazing coach and to be around her and to talk to her about the game and learn everything I possibly can is amazing," Glenn said. "I can say without a doubt that she is the best coach in the country. Having said that, it's the personal relationship with all of the players that strikes me about her. I know I can just sit in her office and talk to her. She genuinely cares about every player on the team. She does anything and everything she can to help anyone. She is such a great coach and an even better person."
Glenn, who is battling an injury, will wait with the rest of her teammates to find out their Regional Tournament ranking and placement. The Vulcans recently lost the PSAC Tournament final against IUP, and are now waiting on the NCAA.
Glenn, who hopes to play professional basketball after she graduates in May with a degree in chemistry, said that she wants to win another NCAA trophy, but also thanked the many faithful that have watched her last four-year journey at Cal U.
"That feeling is the most amazing and indescribable thing in the world," Glenn said, referring to the NCAA Tournament. "I have spent and will continue to spend my time chasing that feeling again. The people that I was with worked incredibly hard and made that run even more special."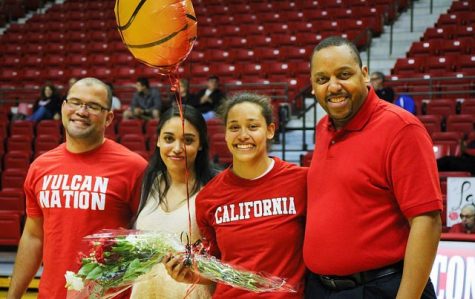 About the Writer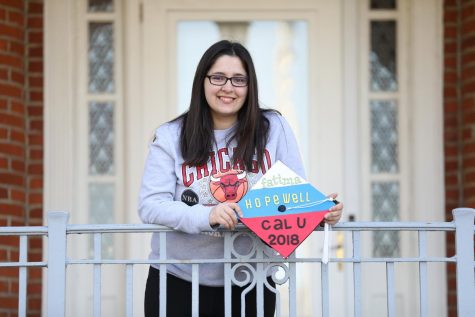 Rachael Kriger, Editor In Chief
Now a graduate of California Univ. of Pennsylvania (May 2018), Rachael Kriger is current a videographer and the multimedia coordinator at Lutheran SeniorLife...