Arganbright talks Senior Night and senior season
Hang on for a minute...we're trying to find some more stories you might like.
Jade Arganbright will admit that while it was exciting to win all 17 events in California University of Pennsylvania's invitational swim meet, it was also a bittersweet moment.
Why? Because it was Arganbright's last college competition in Cal U's home pool.
The home pool advantage was noticeable for the Vulcans. The won all 17 events, and finished with 811 points. The second-place school was Lock Haven University, who totaled 660 points, while the third place team was Juniata College, who finished with 553 points.
The Vulcans prepared for the meet, and the second half of the season, during a trip to Florida for their annual winter training trip. However, it didn't start out perfect for the Vulcans.
"The first couple of days in Florida were a little chilly and it didn't start getting warm till about halfway through the week," Arganbright said. "Every year it's an adjustment, swimming in a pool your not familiar with, training not only yards but long course and it's hard getting used to weather where your outside training instead of indoors. It was fun being in Florida with warm weather but very challenging."
However, the Vulcans came back refreshed, and are now looking forward to their final meets. The University of Pittsburgh will host their annual Pitt Western Pennsylvania Invitational on Saturday and then the squad will gear up for the PSAC Championship four-day competition. Finally, eligible participants will head to the NCAA Championships.
"My goal for the second half of the season is to have fun, enjoy the rest of my senior swimming career and give it all," Arganbright said."Hopefully make it to the NCAA. I think as a team we are going to do very well at PSAC's. The goal for the team this year would be for us to be the top women's only team again and dominate all the other women's only teams at our conference meet and I believe we can."
Arganbright, who is one of two seniors on the team (the other is Tiffany Nestor), said that all would not be possible without the help of swim coach Ed Denny.
"I never thought I would be where I am today and it's all because of our awesome coach," Arganbright said. "He is great at what he does and I'm so glad that I decided to come here and swim four years ago. I wouldn't be where I am today without him."

About the Writer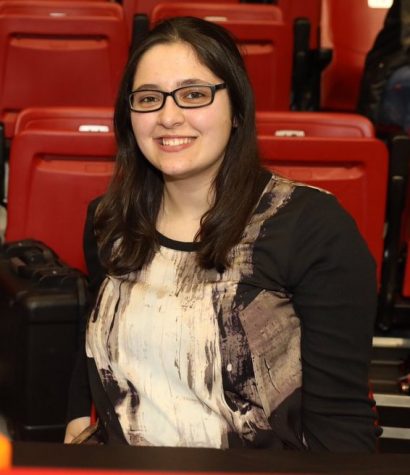 Rachael McKriger, Editor In Chief
In her senior year of college, Rachael McKriger is serving her second consecutive term as Editor-In-Chief of the California Times in the 2017-18 school...