Campus talk brings in crowd, but little questions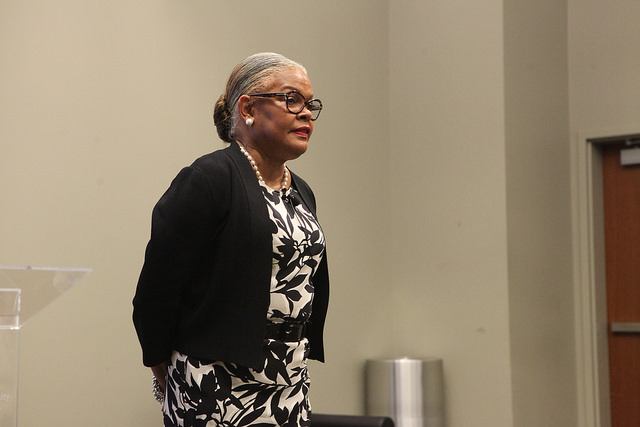 Monica Flickinger, Staff Writer
November 27, 2016
Thursday morning during the fall semester campus talk with President Geraldine M. Jones, the associate provost announced for the very first time California University of Pennsylvania's latest program that is designed to help both students and staff.
The newest program is called Starfish. Associate provost Daniel Engstrom said that it is designed to be a communication board that allows students, faculty, staff, and administration to ask for help. The program will be located on the home page of the Vulcan Information Portal.
"You can go onto starfish and you'll be able to say I need help and just click a button," said Engstrom "It's going to alert the right people of what kind of help that you need."
Students will even be able to schedule appointments to meet with faculty members during their office hours. This system will alert that specific faculty member and even send a reminder message to the student who scheduled an appointment.
"You'll be able to create this appointment in their office hours online and it notifies them that you're coming for an appointment and will say what you want to talk about," said Engstrom.
Engstrom said that the system will also allow professors to alert the correct people if a student is doing very poorly or even causing problems in class. That way, students can be helped much more quickly by the appropriate faculty members.
"Faculty can use it so if unfortunately, a student's not coming to class they can raise a flag and say this student has not been coming to class," said Engstrom.
Before the new program was introduced, President Jones took questions from students in attendance about any concerns they had with the university.
One student, Brenden Linton, asked Jones questions about the current parking situation here at Cal U. Linton said he is one of two students on a parking advisory committee that is made up by faculty members as well.
"The committee is designed to meet twice per semester however it has not met since Apr. 15 of 2015," said Linton.
Linton said that since that time in addition to the parking garage being closed there have been other changed made to parking on campus. One difference is that first warnings for parking violations are no longer being handed out. Linton asked Jones is she had information as to why the committee had not met.
Jones could not answer the question, however, she said, "I will get an answer to you and we will follow up with you."
The audience, despite Linton's question and another few from other audience members, the room remained silent.
"Since you don't have questions for me, I have questions for you," said Jones to the students in the audience. She then asked students to share what they like about Cal U.
"I like Cal because I'm lucky enough to have changed my major twice and still graduate on time," said student Victoria Jackson.  "There's not a lot of places you can change your mind and figure out what you wanna do and still get out in four years."
Jones said that she assumes that since there were not many questions that they were being answered else ware but she doesn't think that it means the university is perfect.