Luka Anđušić ready for new, challenging junior season
Hang on for a minute...we're trying to find some more stories you might like.
Luka Anđušić always knew that being an athlete was his calling.
He comes from a long line of athletes. His mother Jasmina formerly played basketball while his father Vladan was a former sprinter in track and field. Currently, his brother Danilo is a professional basketball player for Russian team Parma Basket and his sister-in-law Ivana competes in rifle and air rifle, and even holds a silver medal from the 2012 London Olympics.
It seems like a lot for the 22-year-old public relations major to live up to. However, he doesn't feel much pressure from his family. He's only been greeted with well wishes and support from his family, who reside in Belgrade, Serbia, where he was born and raised.
His family supported him through his decision to attend college in the United States of America. It was a decision that Anđušić had planned out way before marking his first steps on American soil.
"I decided to come to America because I wanted to get a quality education while still playing basketball," Anđušić said. "Since I was a kid, I always followed and watched NCAA basketball games on TV and I liked it. For the longest time, I was telling my parents that this is where I am going to be after high school."
High school was where Anđušić started to get noticed. He played club basketball for Hemofarm for three years. While he was there, Hemofarm went to the National Championship three times in a row, with the team winning once.
"Playing for Hemofarm helped me work my way to the national team of Serbia, and I had a lot of success there," Anđušić said. "I have been third at the European Championship in Lithuania, second in the world Czech Republic and also a World Champ in 3 on 3 basketball in Spain."
"Playing for Hemofarm and the Serbian National Team was huge experience for me, and helped me develop as a basketball player but also as a person," Anđušić continued.
Anđušić was met by scholarships and recruitments from various schools. He narrowed his choices down and made the decision to attend the University of South Alabama in 2013. However, Anđušić did not step on the court until the 2014-2015 season, where he appeared in 18 games with no starts.
While Anđušić noted that the experience at South Alabama "was great," he left the school in 2015 due to lack of playing time and wanting to venture to a new program. That's when he got in touch with former California University of Pennsylvania men's basketball head coach Bill Brown.
"One of the assistant coaches at South Alabama happened to know Coach Brown and he recommended me," Anđušić said. "It did not take very long for me to make this decision after talking to coach Brown. He spoke very highly about me, and had a big plans for me when it comes to basketball. I heard about everything that he accomplished, which made my decision easier. Also, I did a little research about Cal U and I felt that this is the right place for me to continue my journey."
Last season, Anđušić's first season in a Vulcans uniform, he started 21 out of 28 games he appeared in. While the Vulcans did not have their best season- they went 7-21 overall- Anđušić took away positives from all he learned from Coach Brown in his last season before going into retirement.
"I really loved playing for Coach Brown," Anđušić said. "He always taught us about brotherhood we need to have as a team. Also, I liked the fact that he was telling to us that college is preparation for the real life. He always told us that everything we do now, it is going to translate once we finish our 4 years."
"Those words really got stuck in my head, and they kind of pushing me to take everything serious, and to always give everything I have because that is the right mindset to have in order to be successful," he continued.
Now, the Vulcan men's basketball program is being led by Kent McBride. McBride will rely on Anđušić, who is only one of six returning players, to be vocal on the court- and off. Anđušić said he's ready for the leadership role this season, and possibly beyond.
"As a one of the older guys, I'm just trying to set an example by putting maximum effort on the court but also in classroom," Anđušić said. "Vocally, I just want to be a great teammate and friend and help everybody get better."
As for this upcoming basketball season, Anđušić has no idea what to expect. Right now, he said, the "best friend" of the team is time.
"Since we're all new to the system, plus with a lot of new, different personalities, it is going to take some time to get used to it, and we're all aware of it," Anđušić said. "We're taking it day by day. We really need to be hundred percent focused every day at practice and give hundred percent effort to it. If we do that, we have enough talent to accomplish great things."
As for Coach McBride, Anđušić gets along well with his new head coach and appreciates the new energy he brings to the table. He calls McBride's presence a "refreshment."
"Even though he is a young coach, he already won championships at this level with his previous school (Concord) and that surely makes him qualified for this job," Anđušić said. "He is a really hard working coach which I really like. He is trying to establish culture and make us be the most disciplined team in the country. He is really bringing extreme energy every day, and he is taking everything out of us, effort wise. He is also a great person off the court."
As for Anđušić himself, the junior wants to take this season game-by-game and not get caught up in too many emotions. Anđušić, who expects to play next season as well despite an anticipated fall 2017 graduation tentative date, hopes a positive college basketball experience can pay off for when he decides to return home and pursue professional basketball in Europe.
"After graduation, my goal is to play professional basketball," Anđušić said. "I've been working hard for it throughout my whole life, and I believe that I have what it takes to be professional. However, nothing comes easy, and that's why I'm going to keep working on myself so I can reach my goals. Playing professionally would be the dream come true."
However, that dream is on hold until Anđušić finishes his education- and his collegiate basketball career. His junior season- and the Vulcan's first season under Coach McBride- will begin on Nov. 11 when the team heads down to Petersburg, Virginia for the Virginia State Trojan Tip-Off Classic.
The Vulcans will host their first home game in the Convocation Center on Nov. 14 against Davis & Elkins.

About the Writer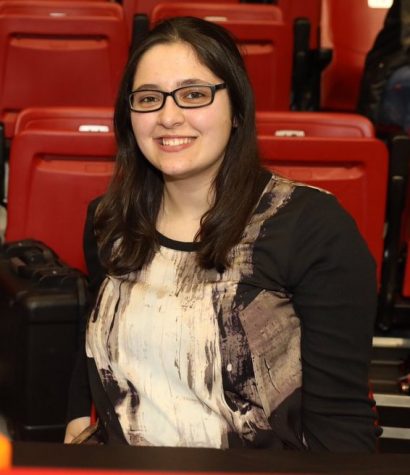 Rachael McKriger, Editor In Chief
In her senior year of college, Rachael McKriger is serving her second consecutive term as Editor-In-Chief of the California Times in the 2017-18 school...