Why I'm With Colin Kaepernick
Hang on for a minute...we're trying to find some more stories you might like.
I'll be honest here: unless the San Francisco 49ers were playing the Pittsburgh Steelers, I never really paid much attention to Colin Kaepernick. However, Kaepernick caught my attention, and the attention of many others, in recent days.
In the 49ers game against the Green Bay Packers in Week 2 of NFL preseason action, Kaepernick refused to stand up for the Star Spangled Banner national anthem. Kaepernick did so in protest of recent violence in the country, specifically toward African American citizens.
"I am not going to stand up to show pride in a flag for a country that oppresses black people and people of color," Kaepernick said to NFL Network's Steve Wyche after the game. "To me, this is bigger than football and it would be selfish on my part to look the other way. There are bodies in the street and people getting paid leave and getting away with murder."
Kaepernick, in the last sentence, was referring to recent cases of policemen in the relation to the murders of African American males. The San Francisco 49ers seemingly stood by Kaepernick's right to not stand, as it is an optional choice for the NFL.
"The national anthem is and always will be a special part of the pre-game ceremony," the 49ers said in a statement. "It is an opportunity to honor our country and reflect on the great liberties we are afforded as its citizens. In respecting such American principles as freedom of religion and freedom of expression, we recognize the right of an individual to choose and participate, or not, in our celebration of the national anthem."
The NFL also released a statement of their own: "Players are encouraged but not required to stand during the playing of the national anthem."
And he shouldn't have to. I applaud Kaepernick for not standing up. It's a cause that Kaepernick strongly believes in, and it's a cause that I strongly believe in.
Let's put it this way: I work with the Pittsburgh Riverhounds. I'm a journalist for a website that covers the team, so I go to the games and I sit in the press box. Ever since the beginning of August, and those games that I went to, I didn't stand up in the press box when they did the anthem. All of the other journalists around me stood, but I sat.
I, like Colin Kaepernick, Megan Rapinoe, Jeremy Lane, and Eric Reid, won't stand for a flag that doesn't honor what the country was built on. Today's United States isn't quite the same United States as it was before.
Most people would look at me and not think I'm a minority and wouldn't really have a cause for remaining seated. Well, let's clear up that assumption right now. I'm a proud descent of Middle Eastern and Slavic ethnicities. I wasn't born in the United States, and I'm a dual citizen. I get racist comments thrown my way more than people would think, especially since I'm Middle Eastern.
That's not why I don't stand up for the flag, though. I don't stand up for the anthem and the flag because it's my right not to, and, just like Kaepernick, I won't stand for a flag for a country that oppresses people of color.
I'm with Kaepernick, but I'm not against the military, police force, or any authority for that matter. The assumption that all police are evil startles and disgusts me. There's only some bad apples, and those are the ones that I'm against. I'm not against the whole.
Try to strip me of my American citizenship, tell me to go to a different country (or back home to Russia for that matter), and oppress me for using my first amendment right of freedom of speech. Either way, I'm not backing down from what I believe in. I, just like the athletes, will continue to take a knee.
I'm with Colin Kaepernick, because I'm tired of oppression for my fellow people of color.

About the Writer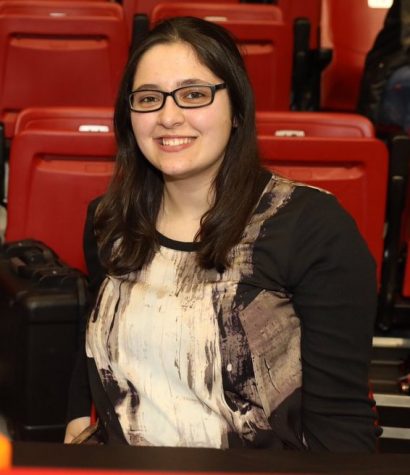 Rachael McKriger, Editor In Chief
In her senior year of college, Rachael McKriger is serving her second consecutive term as Editor-In-Chief of the California Times in the 2017-18 school...