Rachel Boltz Conference
Rachel Boltz Details her Road to Professionalism as a Woman in Sports
Rachel Boltz has taken advantage of many opportunities in life on her way to being an integral part of the Rapid City Rush hockey program in South Dakota, but she's had her fair share of hardship. 
Her message to the onlooking faces of PennWest California students: never give up in the face of adversity.
An intimate crowd of about 20 students, most of them Sports Management majors, gathered into a back classroom in Hamer Hall. Filtering in one by one, the students grabbed their complimentary pizza and took their seats, mulling over their day-to-day lives with their peers. As the event kicked off sharply at 11 a.m., the crowd quieted down and looked on attentively; Boltz was ready to begin.
The Zoom call was projected onto the large screen in front of them, and the students watched as Boltz told the story of her life. Originally from Palmyra, Pennsylvania outside of Harrisburg, Boltz was already taking risks by moving to Western PA to attend PennWest Cal. She would see the inception of the Women in Sports and Events club, or WISE, and she also joined the Sports Management club, though Boltz described that one as "easy, since it was close to my major as well". As Boltz put it, "I made sure I was very active during my time there. I knew that if I sat in my dorm… opportunities wouldn't come to me."
Before graduation, Boltz would reach out for internship opportunities with the Johnstown Tomahawks and the Pittsburgh Penguins Foundation, eventually joining both teams as an intern, though they were short-lived. Still, Boltz saw the value in experience. "It's always good interview practice," Boltz  said, "When asked your biggest weakness, never say procrastination, say time management", drawing a few nods from the crowd.
Boltz was ready to start her career as a CalU graduate, and she found the Rapid City Rush in South Dakota to be a great starting point. Originally planning to work in history, Boltz had to switch career paths when jobs were limited. According to Boltz, when her father asked what she loved, hockey was the first thing to come to mind.
"I was trying to figure out what I wanted to do with my life," Boltz said, "so I started thinking about working in sports. I loved working in social media as well, so that was a great path for me to take."
Now officially the Community Relations and Merchandise Coordinator for the Rapid City ECHL team, Boltz handles many responsibilities for the small nine-person team that makes up the on-site efforts, including player and mascot appearances, donations, community programs, all of the inventory and the online store, as well as on-ice events like Chuck-a-Puck, where fans throw foam pucks onto the ice for a chance to win a cash prize.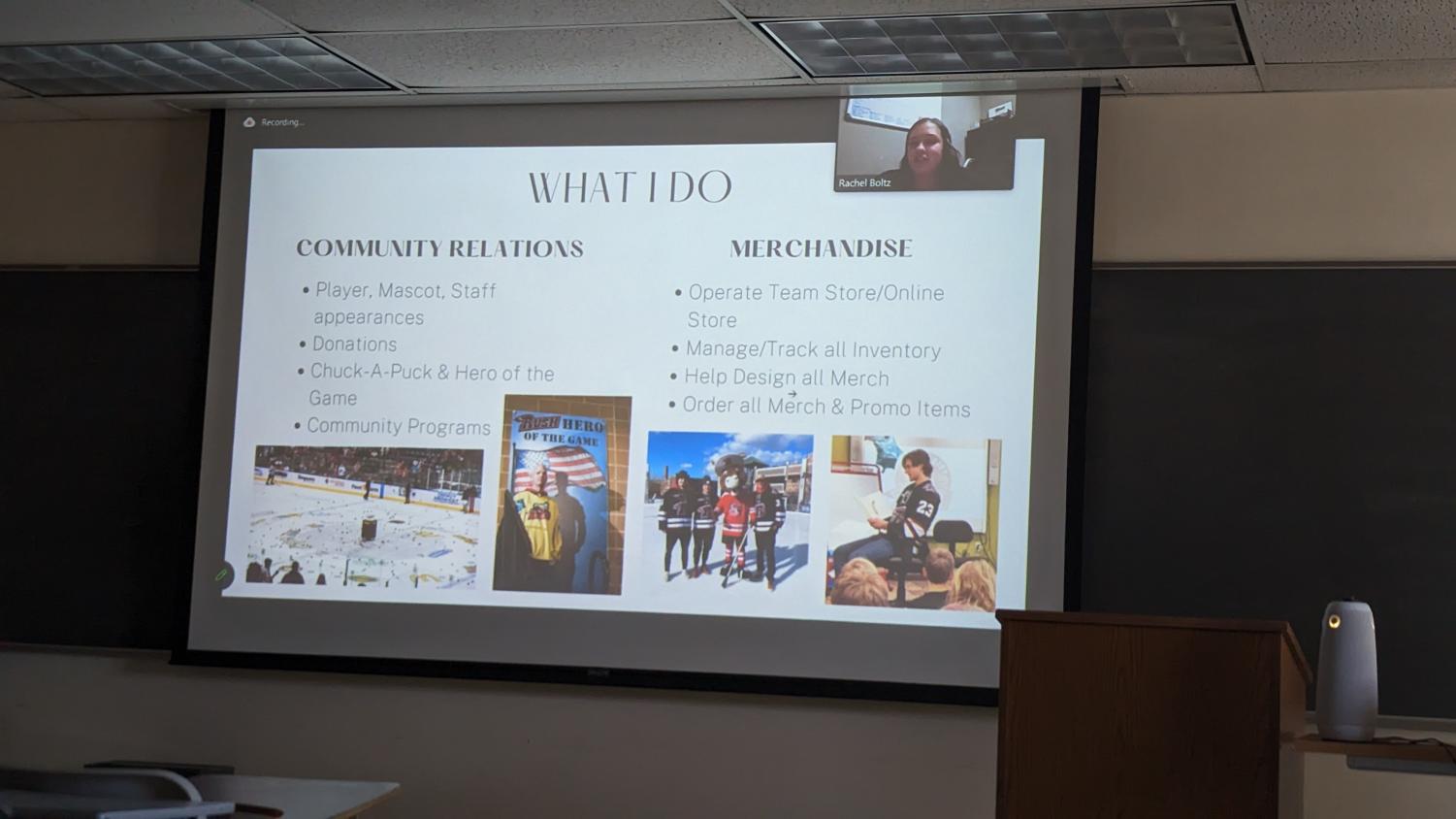 It's a lot for a small team to handle, and Boltz stressed that the students sitting in Hamer 146 should expect long hours and lots of responsibility.
"We come in at 11 a.m. Saturday, and we're there until 11 p.m.," she said. "Very long days, you get used to being there all the time."
Boltz then turned her story of adversity and hardship into advice for the prospective professionals sitting in front of her screen, citing her first year in the field as overwhelming, but very educational.
"Your whole entire first year is basically a learning curve," Boltz said. "Your first official year, I'll tell you right now, is going to be tough, but you'll learn so much and it's going to make your career and life so much better. There's so many times I wanted to throw in the towel and I didn't, and I'm glad I didn't."
WISE continues to produce various field professionals like Boltz, anyone interested should email Laura Miller at [email protected].