PennWest to Open Exhibit for Sexual Assault Awareness
The Sexual Assault Exhibit, What Were You Wearing, was opened to students on PennWest California's Campus
PennWest California opened a new exhibit in hopes of spreading awareness around the issue of sexual assault. The "What Were You Wearing" Exhibit was unveiled in the third-floor gallery of the Manderino Library on Tuesday, November 1, at 11 a.m.
The "What Were You Wearing" exhibit displays replications of the outfits that victims were wearing during the time of their attack.
Cassidy Nodaros, criminal justice major and Criminal Justice Club Secretary, coordinated the exhibit as an independent project along with Alyssa Lambert-Alonso, Criminal Justice Club President.
"The overall purpose of the 'What Were You Wearing' exhibit is to dispel the victim-blaming myth that what you wore during a sexual assault somehow invites a sexual assault," Nodaros said. "As uncomfortable as this conversation surrounding sexual assault may be, nothing will be changed if we do not talk about it."
Nodaros and Lambert-Alonso created an Instagram to spread the word about the exhibit.  The first post announced that the exhibit was coming soon to PennWest, and the second post directed students to an anonymous form that invited survivors to share their stories and describe their outfits.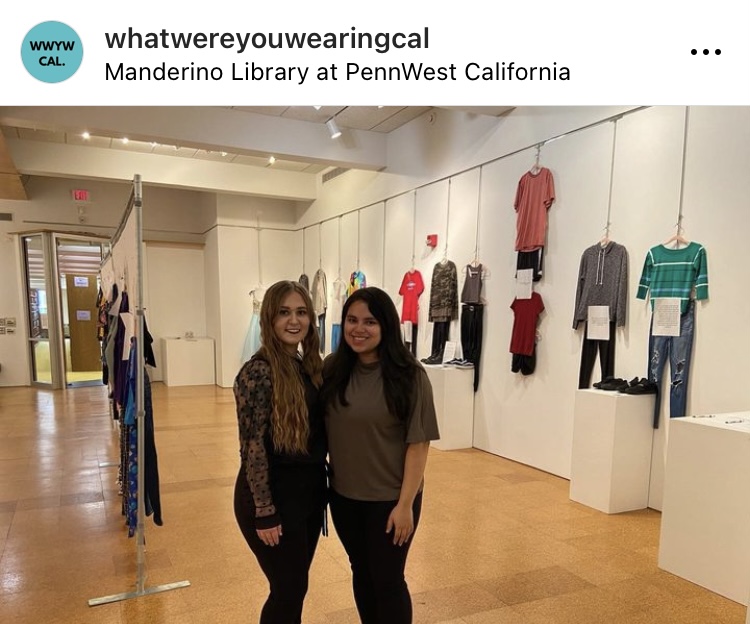 Because "What Were You Wearing" is an independent project, it did not use funds from clubs or organizations, but rather it was funded by donations.  It began with a goal of $200, and since September, a total $639.52 in donations has been raised. The funds were used to buy clothes to recreate the survivors' outfits, and excess funds were donated to shelters for survivors.
The exhibit hosted a guest speaker, Jennifer Zimmerman, on its opening day.  Zimmerman is the founder of Rise, a trauma advocacy organization, and is a survivor herself.  Zimmerman said that she intends to stress the vastness of the sexual assault epidemic, and she believes that this exhibit has the power to do it.
"This is creating a space where we can start the conversation," Zimmerman said. "One-fourth of women and one-sixth of men will experience some form of sexual violence, and if we were to build a wall to memorialize the children that have been victims of sexual assault, it would be 1,300 times longer than the Vietnam War Memorial. I have found my voice and I have made a promise that I will use it."
Barbara Engle, a staff member of the Manderino Library, worked with Nodaros and Lambert-Alonso to ensure that the exhibit was successful.
"Our students will have the chance to talk to counselors and volunteers and maybe even reach out as a victim themselves and get the help that they did not know was available to them," Engle said. "If this exhibit helps only one person, whether that person is a victim or not, to realize that what a rape victim is wearing is not the cause of the crime."
Due to its sensitive nature, the duration of the exhibit was covered with counseling services on site in case of any triggering sense that a viewer may experience. Nancy Skobel, Associate Director of The Office of Sexual Misconduct Prevention and Response, worked to ensure that these services would be available.
"Victims are not responsible for the crimes committed against them," Skobel said.  "These crimes are about someone having power and control over another person."
Students who are in need of resources regarding sexual assault and domestic violence can reach out to the End Violence Center on campus in Natali, which provides an on-call victim advocate who is available at all hours to offer crisis intervention and emergency accompaniment.
"I want our students to see the stories and outfits and realize that these are our peers who told the stories," Nodaros said. "These are people we surround our day-to-day lives with that could have a story and you may never know. I hope when people see this, they see the fights that their brave peers have overcome."