New Hollywood Pavilion Opens in California
The Hollywood Pavilion's Ribbon Cutting Ceremony marked the start of a new beginning.
On Friday, Oct. 7, PennWest California students including the Choir and Student Government Officers, along with Administration attended the Ribbon Cutting Ceremony of the Hollywood Pavilion. This ceremony was the Grand Opening of the newly designed Hollywood Pavilion located at 313 Third St. Downtown, California, PA.
Before it became a pavilion, the location was previously home to the Hollywood Theater. This remarkable location was home to the first air-conditioned theater West of the Mississippi. Also, below the theater there was a bowling alley.
The ceremony started with the PennWest California Choir singing the Star-Spangled Banner. After their introduction, several speakers took the stage. Each speaker expressed their love for the community, the town, the people, and the dreams of what could be possible/developed.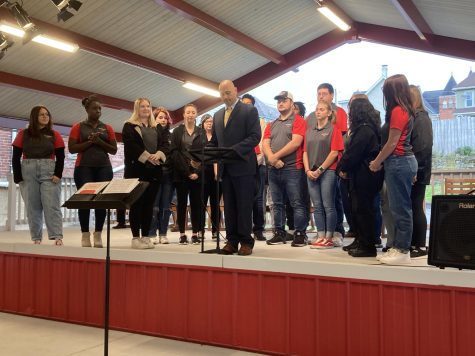 One speaker, the Executive Director of the Redevelopment Authority of Washington County, Bob Griffin, said, "California has a proud past and a bright future."
Griffin also said, "It takes vision to make projects happen like this."
Another speaker in attendance, the Representative of the 49th Legislative District, Bud Cook, focused on the importance of local communities and supporting the town that is around you.
"We improvise, we adapt, and we overcome," said Cook.
With the location of the Hollywood Pavilion, it will soon become a place of life and memories. The pavilion can be the host for concerts, reunions, gatherings, celebrations, shows, and more. This location will soon become a bustling hub of life and California Spirit.
One of the PennWest Administrators in attendance was Larry Sebek, the Vice President for Student Affairs. He touched on the importance of students attending events in California's community by saying, "Students can learn to give to many different causes and realize financial support is not the only way to give. By donating your time or talent we can make a small difference in helping others, build networking opportunities and gain leadership experience."
Sebek also said, "encourage others to walk to the community and share ideas for continuous improvement. Working together we can make a difference."
With growth and hope being a key focus of the ceremony, several speakers focused on the potential for the Hollywood Pavilion. The speakers also highlighted the importance of the California Borough and its residents because the town would not be the same without its people.
Sebek mentioned one benefit of the Hollywood Pavilion as an, "opportunity for students to attend events and for students to offer events to the community.  I envision an occasional choir concert, an Underground Café 'on the road' or student arts and craft fair."
Washington County Commissioner, Nick Sherman, focused on rebuilding and uplifting one's hometown. His speech highlighted the college's presence and dedication to its community.
Sherman encouraged attendees to think about, "what your vision is and what you are trying to do."