See You at the Pole
Several PennWest California Students and Staff Members gathered for the annual See You at the Pole event.
On Wednesday, Sept. 28, at 7 a.m. several students gathered at the flag pole in front of Old Main for the annual day of prayer. See You at the Pole takes place at flag poles all across the country as individuals gather to pray for everyone around them. The event can be traced back to the early 1990s, when a group of students from Burleson, Texas went to their flag pole to pray for classmates, teachers, and world leaders.
Here on the PennWest California Campus, See You at the Pole is led and organized by the three campus ministries, Cal Catholic, New Life, and STAND. Kim Carson, Minster and the Advisor for New Life, said, "Every year students show up to pray together, and that's incredibly encouraging. Despite the weather and the time of day, students show up. It's wonderful to pray together and to see students committed to showing up."
One student in attendance was Maggie Morgan, who is a graduate student planning to graduate in 2024. Morgan said, "To pray without ceasing means to always have our hearts set on the things of God. Pray for God's will be done."
Carson talked about the importance of See You at the Pole, regardless of where one is in their spiritual journey, "Cal is a great place to be, and people are all at different points in their spiritual journeys. No matter where they are on that journey, they can come and be encouraged. Some may be inspired by a fellow student's ability to pray aloud. Another may be encouraged to see several others who are interested in following God. Everyone gets something different out of it, but each person is refreshed by being there."
Morgan stated the importance of See You at the Pole, "There are so many broken people at our campus that are in need of God's love. Again, prayer is so powerful and there is absolutely nothing that our God can't do."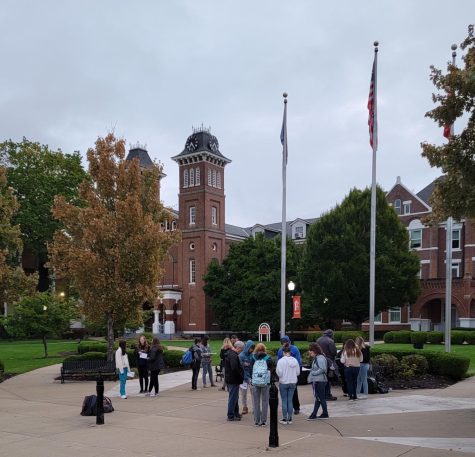 The Minister and Advisor of Cal Catholic, Meghan Larsen-Reidy, stressed the importance of events such as See You at the Pole. "I think it is important because it brings a community of Christians together to pray and makes students feel less isolated in their prayer practices," said Larsen-Reidy.
Larsen-Reidy also talked about the takeaways for students that go to See You at the Pole, "To gather in a public space to pray on a public campus risks looking a little odd or out of place; however, Christianity challenges us to often share God's love in the most unexpected spaces."
Pete Ware, minister, and the Advisor of STAND also stressed the importance of See You at the Pole. "It is a Prayer for everyone. It is a way to gather and acknowledge our need for God and place our faith in him."
"Above all, God hears our prayers," said Ware.
If students are interested in attending any of the campus ministries gatherings, they can attend their meetings. Cal Catholic currently meets for Mass on Sundays at 10 a.m. and will meet on Mondays at 7 p.m. in mid-October. New Life meets Tuesdays at 7 p.m. in Natali 319 and they also hold events on Thursdays at 7pm. STAND meets Wednesdays at 9 p.m. in the Vulcan Theater.