PennWest California: Students React to Loan Debt Forgiveness
PennWest California Students share their thoughts on Loan Debt Forgiveness.
On Aug. 24th, President Joe Biden announced the cancellation of $10,000 (and up to $20,000) of student debt for the approximately eight million American loan borrowers who qualify. The announcement, nicely squeezed in before the 2022 midterm elections, comes as a relief to many young people who have received the brunt of the student loan debt crisis, which has continued to balloon in the last few decades. Since the vast majority of student loans are federally backed, it is the Federal Government which has the power to relieve them.
As for PennWest Cal, most of the over 6,000 students anticipate relief when the plan goes into effect. The median debt for a PennWest Cal graduate nearly eclipses $25,000, around the national average. This, compared to private and Ivy-League schools across the nation, is significantly less and leaves graduates with more breathing room. Canceling a large portion of that debt would be an economic liberation for many students, not just the ones located in Southwestern Pennsylvania. Still, small-town California will feel the impact. Upwards of 90% of students at this University receive financial aid in some form or fashion.
As Joe Biden's popularity hits a slight rebound before the Midterms, the majority of students are backing the debt plan and its consequences. With new polling results coming in daily, PennWest Cal students are reaching just below 90% approval of the plan, citing the positive impact it will have on their family's financial burdens. Similarly, more than 80% of responding students say that they qualify for Biden's forgiveness under the new plan, according to the charts below: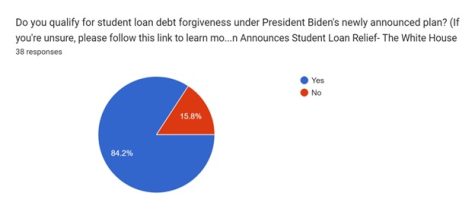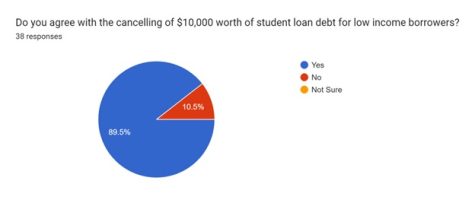 How do you know you qualify? Well, both current students and graduates are eligible for forgiveness, given that you hit certain benchmarks of financial qualification. Specifically, your household income is the deciding factor. According to USNews's FAQ, The White House announced that single borrowers earning less than $125,000 per year, or households earning less than $250,000, are eligible for up to $10,000 in loan forgiveness. Borrowers who fall under the income caps and received Pell Grants in college will receive up to an extra $10,000 – totaling up to $20,000 in forgiveness.
While some viewed this as helpful, others saw it as only the beginning. Multiple comments from students implied a complete overhaul of the student loan system, even calling for a ban on student loans entirely and free public education for all citizens.
Lochlan Sudarshan, a 2nd year Graduate Student in Criminal Justice, was all in favor of canceling student debt altogether, and even adjusting the educational system to allow for taxpayer-funded higher education: "it is objectively beneficial both on an individual level for students trying to engage with higher education and for the government both in the long and short run. Currently, working class people who lack the enormous wealth currently necessary to go to college are stuck," said Sudarshan.
Some, though, are still not convinced that student loan debt forgiveness is a smart choice. Declan Johnson, a Junior Chemistry major, sees the move as an affront to personal responsibility among young people. "When does it end? Because eventually, it becomes a situation where personal responsibility can be discarded… and the whole will handle your mistakes." Johnson, despite his potential plans to take out student loans in the future, remained steadfast in his moral arguments, and said that he fully understood the consequences of agreeing to pay that large sum of money: "It's on you, not on somebody else… Do we not have the responsibility to handle our own finances?"
Paul Hettler is an Economics Professor at PennWest and serves as Chair in the Department of Finance, Accounting and Economics. Though he agreed with this temporary fix of loan forgiveness, Hettler emphasized the need for a larger overhaul of the student loan system.  "Personally, partial loan forgiveness was a good way to assist with what has become a crisis situation for many people. This will dramatically improve the financial situation for some of those affected. That said, a systematic long-term solution to the issue of student debt must also be found."
Hettler noted that this move was a "significant achievement" by the Biden administration, and noted that any inflationary downsides should be viewed alongside the benefits given to individual households who will now have less debt to deal with. The $10,000 forgiveness, which Hettler said is an "appropriate amount", might have some impact on Biden's favorability, but Hettler asserted that most of the target demographic in this case already supports the Democratic party come election time.
Thank you to all survey participants and interviewees. Any students with questions regarding Student Loan Debt Forgiveness should direct any questions studentaid.gov or this following link.