Football players mourn the loss of Steelers quarterback Dwayne Haskins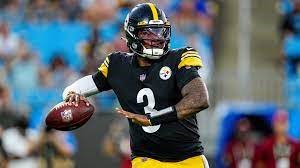 Pittsburgh Steeler Dwayne Haskins, 24, died after being hit by a truck along a South Florida highway on his way to the airport. He was spending the weekend with his new teammate and fellow quarterback, Mitch Trubisky, along with other players.  
"I am devastated and at a loss for words with the unfortunate passing of Dwayne Haskins," Pittsburgh's head coach, Mike Tomlin, said in a statement. "He quickly became part of our Steelers family upon his arrival in Pittsburgh and was one of our hardest workers, both on the field and in our community.  
His teammates all had the reaction, including wide receiver Chase Claypool. He posted a video after finding out about Haskins' death. 
"I was just with you man," said Claypool on Twitter. 
Other members of the football community have voiced their thoughts and prayers including former teammates Michael Thomas from the New Orleans Saints and Super Bowl-winning quarterback Patrick Mahomes.  
In honor of him, the Ohio State Buckeyes college football team hung two jerseys at the gate of the stadium. Members of the campus community paid their respects at the stadium by leaving flowers, candles and other tokens to tribute to the former player. 
Haskins, who signed with the Steelers last spring, was preparing to go to training camp to fight for the starting quarterback position after long time franchise quarterback Ben Roethlisberger announced his retirement earlier this year. 
"Saying we are heartbroken is an understatement," said the Washington Commanders in a statement. "Our thoughts and prayers go out to his family." 
Info gathered from the following:
https://www.nfl.com/news/steelers-qb-dwayne-haskins-dies-at-24-after-being-hit-by-vehicle 
https://247sports.com/Article/Dwayne-Haskins-wife-releases-statement-after-Steelers-QBs-death-186150971/