More influential than God?
Kanye Takes Hubris to a Higher Level
Today's celebrities may have a tougher job than ever before. With technology revolutionized in this modern day era, the big names in entertainment are being pushed out and forgotten as quickly as the new names come in. With Youtube, Facebook, Twitter and other social media outlets, finding the next big name has become as easy as clicking the Google icon. In order for the new names to transition to great names, to remembered names, they have to bring something to the table that nobody has seen before.
   Kanye West is trying hard to not be another name that is forgotten. His attempt to catapult his name into infamy has been working well with his new "I AM a God" comments that have been retweeted and repeated by most of fans and most people that own a computer. He claims that he is more influential than God and compares himself to Jesus by saying "people hate me like they hated Jesus yet they worship me". He also tweeted " I Am Yeezus! Ppl respect me I am ur God".
   So since Kanye will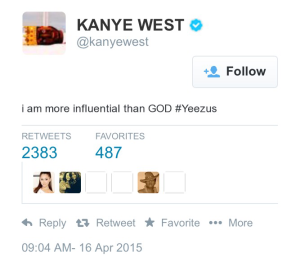 never be God, this publicity stunt is brilliant only in one way… people will remember him and he will not be pushed out by the next person who can sing a cover of Sam Smith or one who can rap a Wiz Khalifia song using auto tune. In the way of only public view he may actually not be wrong in the comment of being as influential as a god. Kanye West has a net worth of around 145 million dollars (celebritynetworth.com). How does someone come to have made that much money by picking up a microphone? The celebrity only makes money because of their fans. If people are influenced enough to pay more to hear what he has to say than any other celebrity, then he may have a point. But since the only credibility he has is in entertainment then that can and will only make him a "god" in entertainment. Anybody who can make that much money by using the same words as rhymes definitely has people on a string.
   For anybody that takes this as a personal offense to Christianity or other religion that has a god it should not simply be worth your effort to think he actually claims to be greater than the Almighty God. As he said people hate him like they hated Jesus. If you are a religious person who clicks and reads everything he says just so you can hate him more, then take a step back and think about how much money you are making him by giving him views on youtube or clicking his advertisements. I know who my God is and He can spell His Son's name correctly. Gimics will be gimics and for Kanye, he has found one that makes him a pile of money from the ground to the "gods".